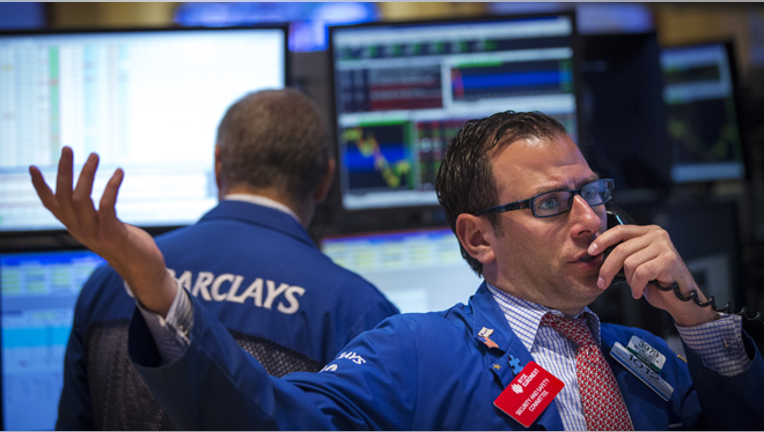 Wall Street shed substantial early gains, capping the trading day near session lows after data from the Bureau of Labor Statistics showed more job openings in July than anticipated, reigniting Fed rate hike worries.
The Dow Jones Industrial Average tumbled 236 points, or 1.44% to 16255. The S&P 500 slid 27 points, or 1.38% to 1942, while the Nasdaq Composite declined 55 points, or 1.15% to 4756.
Energy, consumer staples, and materials led all 10 S&P 500 sectors in decline.
Today's Markets
The phrase of the day: Monetary policy.
The rally in U.S. equities faded in late-morning action after a survey on job openings and turnover from the Labor Department showed openings rose to 5.75 million, a record in July, from 5.32 million the month prior.
The report is the latest number to indicate a tightening labor market, which, theoretically, could give the Federal Reserve reason to hike rates sooner rather than later. By the same token, talk of higher rates have tended to worry Wall Street.
"U.S. indices surged out of the starting gates, but then ran into trouble as a survey of job openings in the U.S. came in well above expectations. More openings suggest that wage pressures will start to build, giving some more ammunition to those that think a September rate move from the Fed is still a necessity," Chris Beauchamp, IG market analyst said in a note.
Opinions on whether the Fed should or should not hike are wide ranging.  While many big banks on the Street – including Deutsche Bank and Merrill Lynch – still expect the first rate hike to come this month, others like Goldman Sachs (NYSE:GS) are paring back expectations until December, and some, like Barclyas, until well into 2016. Adding fuel to the delayed rate-hike timeline were comments from the World Bank's chief economist, Kaushik Basu, to the Financial Times late Tuesday, warning that higher rates too soon could trigger "panic and turmoil" in emerging markets.
Basu said EMs are still feeling the aftershock from China's surprise yuan devaluation last month, and the Fed should wait until the U.S. economy is on surer footing to hike rates.
Michael Block, chief strategist at Rhino Trading Partners, said in a note late Tuesday night that, essentially, no matter what the Fed does, there will be a case against its actions.
"The curse of globally-coordinated monetary policy is that different parts of the world are in different circumstances. This phenomenon renders the data in any particular geography worthless as a guide to resolution. The U.S .may be in the latter part of the business cycle…but Europe and emerging markets are well beyond the curve. If the late cycle guy hikes rates, he throws the others into the soup," Block said.
Bank of America Merrill Lynch Global Economist Ethan Harris wrote in a note to clients that while the global picture might look murky, it's still important for the U.S. central bank to focus on what's happening in the U.S. – and the data look good.
"A 10% equity market correction has a very small impact on economic growth; only large and persistent moves in equity markets are sufficient to adversely impact consumer spending. Although business spending could be affected, strong potential U.S. GDP growth and historically low financing costs are probably mitigating factors to that outcome," he wrote.
Harris added that it is important to note the U.S. was able to withstand the emerging-market currency crisis and domestic stock market declines from 1997-1998.
Even with tempered gains, U.S. equities followed a global rally that sent Japanese shares to seven-year highs after Prime Minister Shinzo Abe said the government looks to lower the nation's corporate tax rate 3.3 percentage points over two years, and reenergize growth by speeding up major construction projects.
Japan's Nikkei was 7.71% higher on the session. Elsewhere in Asia, China's Shanghai Composite jumped 2.29%, while Hong Kong's Hang Seng index rallied 4.10%.
In Europe, the Euro Stoxx 50, which tracks large-cap companies in the eurozone, rose 1.12%. The German Dax rose 0.31%, while the French CAC 40 climbed 1.44%, and the UK's FTSE 100 jumped 1.35%.
Elsewhere, in commodities, global crude prices declined. U.S. crude fell 3.90% to $44.15 a barrel, while Brent, the international benchmark, shed 3.92% to $47.58 a barrel.
Gold prices also saw red as they paced 1.62% lower to $1,102 a troy ounce, while silver lost 1.23% to $14.57 an ounce. Copper, meanwhile, added 0.16% to $2.44 a pound.
The U.S. dollar rose against a handful of global currencies, while the euro declined 0.34% against the greenback. The yield on the benchmark 10-year U.S. Treasury bond rose 0.018 percentage point to 2.211%.
In corporate news, United Continental Holdings shares (NYSE:UAL) were half a percent lower in recent action after the company said Tuesday afternoon its CEO and two senior executives would depart the company amid a federal investigation into the airlines relationship with the Port Authority of New York and New Jersey's former chairman.
Yahoo (NASDAQ:YHOO) also took a hit on Wednesday after the company revealed in a regulatory filing the IRS declined to give Yahoo a confirmation that it's spinoff of Aabaco, which includes its 384 Alibaba (NYSE:BABA) shares and a small-business unit, would be tax free.
Apple (NASDAQ:AAPL) shares dipped as the tech titan unveiled a refresh to its product line including updated Apple Watch software, and new, larger-screen iPads.