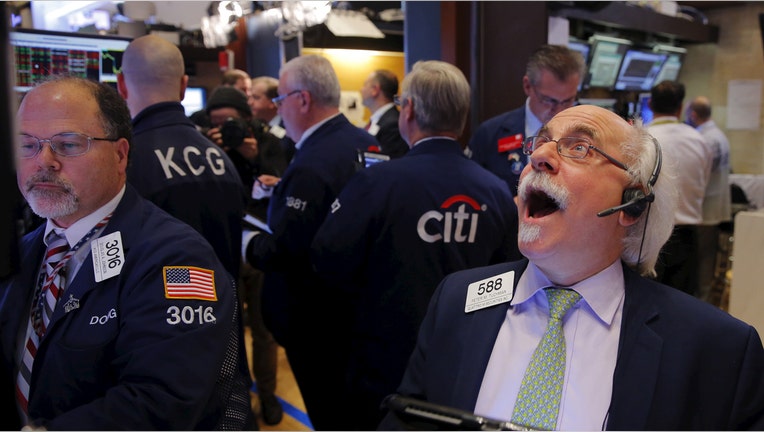 U.S. equity markets capped a tumultuous trading week on a high note Friday as the major averages snapped a three-week losing streak.
The Dow Jones Industrial Average jumped 210 points, or 1.32% to 16092. The S&P 500 gained 37 points, or 2.03% to 1906, while the Nasdaq Composite jumped 119  points, or 2.89% to 4591.
The energy sector rallied more than 4.5% as it led all 10 S&P 500 sectors into positive territory.
Today's Markets
After a wild week of extreme ups and downs, Wall Street notched its first week of gains for the new year thanks to a rally in the oil patch.
The Dow ended the week up 0.66%, while the S&P gained 1.4% and the Nasdaq surged 2.29%. Keep in mind, that was after a day in which the major averages tumbled and the Dow saw losses of as much as 565 points.
Oil prices, which have held steady near multi-year lows, rallied on Friday, helping the major averages end in green. West Texas Intermediate crude jumped 5.91% over the week to settle at $32.19, the biggest one-day gain since last October, snapping three weeks of losses.
Meanwhile Brent, the international benchmark, surged 11.20% for the week to settle at $32.18 – the biggest one-week percentage gain since March 2009.
Larry Shover, chief investment officer at Solutions Fund Group, pointed out the significant move higher came after a similar rally in the prior session, fueled by data from the Energy Information Administration. The figures showed robust domestic demand and consumption for oil products including gasoline, distillates, diesel, and heating oil as the winter weather finally creeps in after an unusually warm start to the season.
Phil Flynn, FOX Business contributor and senior market analyst at the PRICE Futures Group, said on Mornings with Maria, the oil market is beginning to see a return of confidence and more risk-on moves.
"We're seeing calmness come back into the market and that's giving us confidence that global demand isn't going to fall off the map," he said.
However, Shover added the market was "deeply oversold" and at least some part of the rally is likely a result of positive reaction on moderate news.
To that point, Chesapeake Energy (NYSE:CHK) announced it will suspend preferred stock dividends, which the company said will allow it to hold onto about $170 million of cash each year to use on discounted debt purchases.
"[This move] shows the industry continues to go through a lot of pain," Flynn said. "It's another signal that the market is starting to re-adjust to lower energy prices."
Despite Friday's jump in oil prices, Reuters data showed oil was set for its biggest January decline in 25 years.
Elsewhere, global markets rallied both on higher oil prices, and continued central bank stimulus measures after comments from European Central Bank President Mario Draghi Thursday who said there were "no limits" in policy action to achieve the ECB's inflation goals. He added that the central bank has the "power, determination, and willingness to act," strongly hinting at the possibility of more stimulus measures at the ECB's March meeting.
Asia markets finished solidly higher. China's Shanghai Composite index rose 1.25%, while Hong Kong's Hang Seng jumped 2.90%, and Japan's Nikkei surged 5.88%.
The Euro Stoxx 50, which tracks large-cap companies in the eurozone, rallied 2.59%, while the German Dax gained 1.96%, the French CAC 40 surged 3.05%, and the UK's FTSE 100 clmbed 1.97%.
On the economic data calendar in the U.S., traders parsed the latest figures on the housing market. The Commerce Department reported sales of existing single-family homes jumped a record 14.7% to an annualized rate of 5.46 million units in December from a 19-month low.