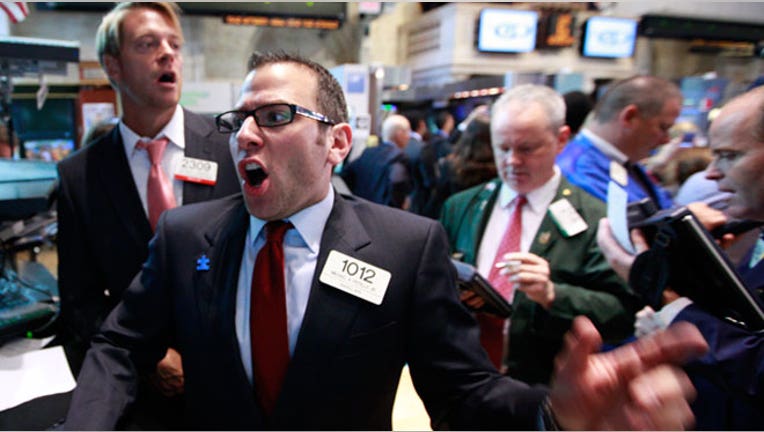 FOX Business: Capitalism Lives Here
Wall Street charged higher in the first trading days of 2013, with the S&P 500 notching its highest close since December 2007, as traders cheered an agreement to dodge the fiscal cliff.
Today's Markets
The Dow Jones Industrial Average rose 43.9 points, or 0.33%, to 13435, the S&P 500 gained 7.1 points, or 0.49%, to 1466 and the Nasdaq Composite climbed 1.1 points, or 0.04%, to 3102.
For the week, the Dow leapt 3.8%, the S&P 500 surged 4.6% and the Nasdaq soared 4.8%.
The vast majority the week's gains were made during Monday and Wednesday. On Monday, traders grew more hopeful that a fiscal cliff deal would be forged, and Wednesday, traders reacted positively when the hopes came to fruition. As a result of the gains, the S&P 500, seen as one of the best broad-market barometers, closed out the week at the highest level since December 2007 -- before the financial crisis.
With Congress fading out of the picture for the moment, traders are getting a fresh chance to focus on the U.S. economy.
The Labor Department said non-farm payrolls increased by 155,000 in December, beating expectations of an increase of 150,000. The unemployment rate held steady at 7.8%, compared to expectations of 7.7%. November's jobless rate was revised up by 0.1 percentage point to 7.8%. Digging into the report, the private sector added 168,000 jobs, while the government shed 13,000.
Meanwhile, the Institute for Supply Management said its index of U.S. non-manufacturing activity came in at 56.1 in December, beating expectations of a rise to 54.2 and an increase from 54.7 in November.
Certain commodities came under heavy selling pressure after minutes from the Federal Reserve released Thursday showed many members of the central bank's policy-setting board see asset purchases ending this year. Those remarks pushed the dollar higher against a basket of world currencies Thursday and Friday, which tends to put pressure on dollar-traded commodities.
Gold tumbled $25.70, or 1.5%, to $1,649 a troy ounce. The benchmark U.S. crude contract rose 17 cents, or 0.18%, to $93.09 a barrel. Meanwhile, wholesale New York Harbor gasoline sold off by 1.2% to $2.764 a gallon.
Foreign Markets
The Euro Stoxx 50 rose 0.3% to 2709, the English FTSE 100 gained 0.7% to 6090 and the German DAX climbed 0.26% to 7776.
In Asia, the Japanese Nikkei 225 soared 2.8% to 10688 and the Chinese Hang Seng fell 0.29% to 23331.