Wall Street Rallies on Tech Strength, PBoC Rate Cut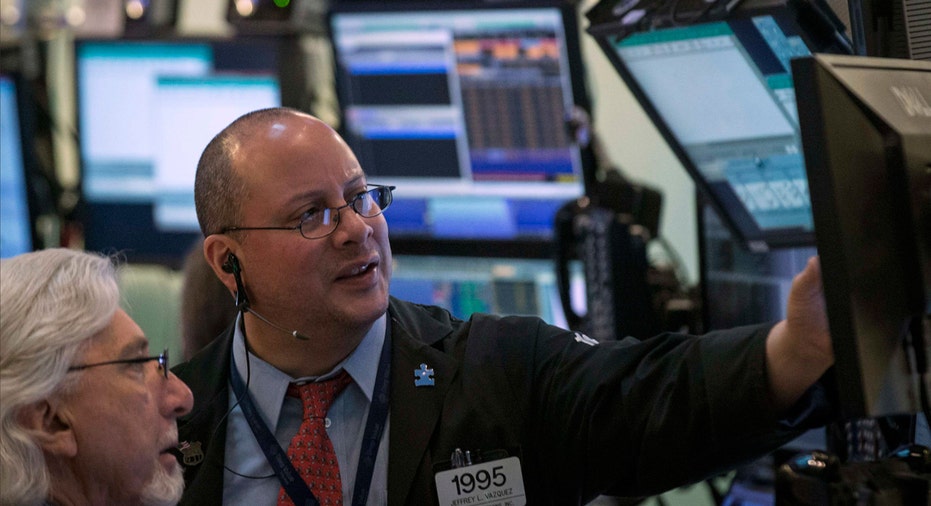 U.S. equity markets got a boost after a surprise change in China's monetary policy, and continued earnings momentum.
The Dow Jones Industrial Average was up 157 points, or 0.90% to 17646. The S&P 500 gained 22 points, or 1.10% to 2075, while the Nasdaq Composite added 111 points, or 2.27% to 5031.
The technology sector jumped 3.2% thanks to much better-than-expected earnings results after the prior session from Microsoft (NASDAQ:MSFT), Amazon (NASDAQ:AMZN), and Alphabet (NASDAQ:GOOGL). Meanwhile, consumer staples, energy and utilities were the only two sectors in decline on the session.
Today's Markets
Wall Street got an early-morning surprise when China's central bank unexpectedly said it was cutting interest rates for the sixth time since November. The People's Bank of China slashed its benchmark rate by 0.25% to 4.35% effective Saturday, and cut controls on deposit rates. The change in policy is the latest attempt from the nation to try and kick start its slowing economy. On Monday China said the economy was growing at the slowest pace since 2009.
"What's happening is China is starting to run into the limits of what monetary policy can do to improve growth there," Xavier Smith, investment director and fund manager at Centre Funds said. "What's more important is the policy changes on the fiscal side, which, back in September the country announced a $160 billion stimulus and over the medium term, that'll be a bigger generator of growth."
U.S. equity markets rallied on the news, sending indexes solidly higher after trading slightly to the upside. The move also positively impacted global markets, which were already seeing a significant pop thanks to dovish comments in the prior session from ECB President Mario Draghi who left the door open for more economic stimulus efforts in December.
The Euro Stoxx 50, which tracks large-cap companies in the eurozone, jumped 2.09%, while the German Dax rose 2.88%, the French CAC 40 rose 2.53%, and the UK's FTSE 100 1.06%. Markets in Asia, which had closed hours before the PBoC's announcement, ended solidly higher. China's Shanghai Composite jumped 1.30%, while Hong Kong's Hang Seng rose 1.34%, and Japan's Nikkei leaped 2.17%.
"I think at the margins, the rate cut might help more of the rate-sensitive segments of the economy like autos and real estate. But given that the first give cuts didn't do much on that front, I'm not sure how much a sixth will change things. They need more creativity for what spurs demand, and fiscal is the way to go forward," Smith said.
In recent action, the euro declined 0.9% against the U.S. dollar, while the greenback fell against a basket of global currencies. Meanwhile, the yield on the benchmark 10-year U.S. Treasury bond rose 0.058 percentage point to 2.08%.
No economic data was on the calendar for the session. And while traders all over the world have heard from two influential central banks, they were not scheduled to hear any news on policy action from the Federal Reserve. The U.S. central bank is in a quiet period ahead of next week's October policy meeting, which ends with a policy statement on Wednesday.
"We doubt the FOMC will significantly alter its descriptions of the current economy or its economic or policy outlooks," economists at RBS said in a note. "We continue to expect the first policy tightening in December, contingent on improvement in labor market measures and 'financial and international developments.'"
Back in the U.S., one of the underlying reasons for continued strength in the equity markets was much better-than-expected earnings results at the end of the prior session. Microsoft, Amazon, and Alphabet, the now parent company of Google, all blew past expectations in the most recent quarter. Amazon, while expected to post a negative profit in 3Q, surprised investors by revealing a solid quarter of gains.
On the heels of those earnings reports, Amazon and Alphabet struck new lifetime highs, while Microsoft saw its highest level in 15-1/2 years and was the biggest gainer on the Dow.
Only a handful of companies reported before the opening bell Friday, and the results were mixed. Procter and Gamble (NYSE:PG) revealed a decline in sales thanks to the impact from a stronger dollar. The company said it continues to spin off nearly 100 brands in an effort to focus on its core products.
American Airlines (NASDAQ:AAL) revealed a beat on both lines as continued low oil prices helped boost its profit.
Elsewhere in the market, global oil prices traded lower on continued concerns of global supply. U.S. crude declined 1.7% to $44.60 a barrel, while Brent, the international benchmark, slid 0.03% to $48.05.
Metals were also lower as gold declined 0.3% to a two-week low of $1,162.80 a troy ounce. Silver declined 0.1% to $15.82 an ounce, while copper declined 1.3% to $2.35 a pound.