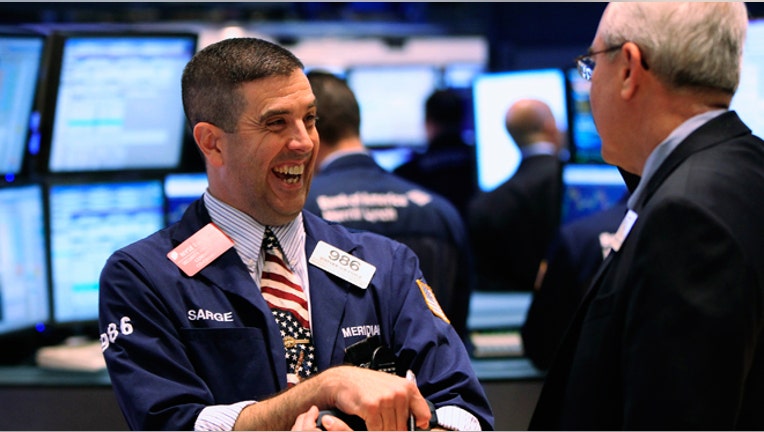 FOX Business: The Power to Prosper
After posting five-straight sessions of losses, Wall Street got a powerful jolt of optimism on Wednesday from Alcoa's earnings beat and easing bond yields in Spain and Italy.
Today's Markets
The Dow Jones Industrial Average climbed 89.5 points, or 0.7%, to 12805, the S&P 500 rose 10.1 points, or 0.74%, to 1369 and the Nasdaq Composite gained 25.2 points, or 0.84%, to 3016.
In a stark contrast to Tuesday, investors began racing back into equity markets. Yields on U.S. Treasury bonds jumped as traders ditched the safe-haven asset in search of better returns elsewhere. Meanwhile, volatility dipped 2.6% as tracked by the Chicago Board of Options Exchange's VIX.
Financial, basic materials and industrial stocks performed the best, while safety plays like utilities and consumer staples lagged behind the broader markets. According to data compiled by FOX Business, three S&P 500 components hit all-time highs on the day: Starbucks (NASDAQ:SBUX), Philip Morris (NYSE:MO) and Sherwin-Williams (NYSE:SHW).
The Dow had been down for five days in a row, the longest losing streak since August. Over that time period, the blue-chip index has shed some 4.1%.
However, the markets got relatively strong news after the closing bell on Tuesday. Alcoa (NYSE:AA), which is seen as a bellwether since it is usually the first major U.S. company to report earnings, posted a first-quarter profit and revenue that beat Wall Street's expectations.
"We were extremely oversold, and then all the sudden Alcoa came out with this nice surprise," Cuttone & Company Senior Vice President Keith Bliss said in an interview with FOX Business. Still, Bliss warned "people are still suspicious about what the earnings picture will be like for the rest of the quarter."
Indeed, the bar has been lowered to some extent as many firms have pared back expectations in light of high energy prices and a slowing of economic growth in China and many major European countries.
On the economic front, the U.S. economy grew at a modest-to-moderate pace in mid-February though late March, according to the Federal Reserve's Beige Book. However, the central bank is growing increasingly concerned over what impact rising energy costs will have on consumers.
A separate report showed import and export prices both climbed in March by the biggest margin since April 2011. Import prices rose 1.3%, topping estimates for a 0.8% increase, while export prices rose 0.8%, coming in higher than the 0.4% increase expected. The rise in exports was led by a big gain in the price of petroleum products and industrial supplies, while imports saw the biggest gains in the food and industrial supply components.
The report is the first of three on U.S. inflation due out this week. Analysts have been questioning what role soaring gasoline and oil prices have had on the broader price level.
The federal budget gap grew to $198 billion in March from $188 billion the year before, but the Treasury Department said the uptick was due to time-related transactions. On a cumulative basis, the deficit is running $50 billion lower this fiscal year than last.
In Europe, the yields on Spanish and Italian yet have tightened somewhat overnight. The yield on Spain's 10-year fell 0.11-percentage point to 5.86%, while Italy's dropped 0.14-percentage point to 5.54%. Traders have been paying particularly close attention to these borrowing costs again as anxiety has swelled about these countries' ability to payoff their sovereign debt while also keeping their economies afloat.
Energy futures got a boost from a generally bullish inventory report from the Energy Department. Gasoline stocks dropped 4.3 million barrels last week, a much bigger draw than the 1.3 million analysts expected. Meanwhile, oil stocks rose 2.8 million barrels, just slightly more than the 2.1 million forecast.
Crude oil traded in New York jumped $1.68, or 1.7%, to $102.70 a barrel. Wholesale New York Harbor gasoline gained 4 cents, or 1.4%, to $3.30 a gallon.
In metals, gold fell 40 cents, or 0.02%, to $1,660 a troy ounce.
Foreign Markets
European blue chips climbed 0.85%, the English FTSE 100 rose 0.7% to 5635 and the German DAX rallied 1% to 6675.
In Asia, the Japanese Nikkei 225 fell 0.83% to 9459 and the Chinese Hang Seng sold off by 1.1% to 20141.