Wall Street Rallies For Second Day as Sentiment Brightens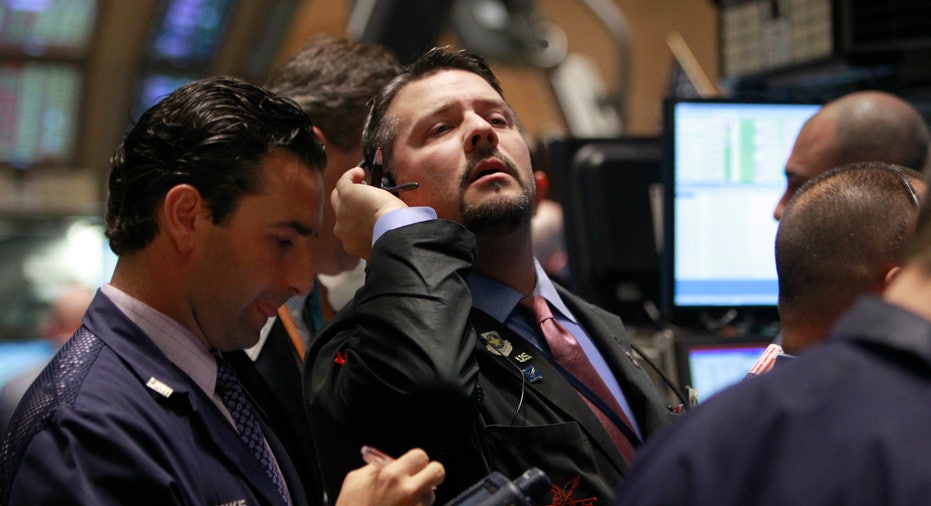 FOX Business: The Power to Prosper
Wall Street rallied for a second-straight day, sharply halting what had been a steep, multi-day retreat, as market participants reacted to big gains in commodities markets, a slew of corporate news, and encouraging economic and Europe-related developments.
Today's Markets
The Dow Jones Industrial Average rose 131 points, or 1.2%, to 10,940, the S&P 500 gained 20.1 points, or 1.8%, to 1,144 and the Nasdaq Composite soared 55.7 points, or 2.3%, to 2,461.
Wall Street has made a dramatic comeback in the past two sessions, tacking on big gains on the heels of a nearly 500-point losing streak for the Dow.  The gains were broad once again, with energy and material shares posting the steepest gains by far on the back of a strong rally in commodities markets. The only sectors to lag behind considerably were consumer staples like Wal-Mart (NASDAQ:WMT) and utilities such as Consolidated Edison (NYSE:ED).
Oil prices soared $4.01, or 5.3%, to $79.68 a barrel after falling to the lowest level since 2010 in a three-session rout. Gold was up $25.60, or 1.6%, to $1,642 a troy ounce after plunging on Tuesday.
Volatility, meanwhile, tumbled 7.6% as measured by the VIX, widely considered to be Wall Street's fear gauge.  Treasury yields have made a move higher from historic lows in the past two sessions as traders have made a move back into equity and commodities markets. The benchmark 10-year note recently yielded 1.9% from 1.824%.
Technology Takeover Speculation
Microsoft (NASDAQ:MSFT) is mulling plans to buy struggling technology firm Yahoo! (NASDAQ:YHOO), according to a report by Reuters. This comes three years after the Redmond-based company made a failed attempt at scooping up the company, in what became a public embarrassment.  Yahoo and Microsoft shares were both up considerably after the report.
Struggling BlackBerry-maker Research in Motion (NASDAQ:RIMM) also got a big boost from speculation that it too might be the subject of a takeover. Other technology shares were broadly higher on the day, including Apple (NASDAQ:AAPL), which had experienced some weakness earlier over disappointment over its new iPhone 4S.
Focus on the Economy
The private sector tacked on 91,000 jobs in September, easily besting consensus estimates of a rise or 75,000. Small and medium-sized businesses added 96,000 jobs combined, while businesses with over 500 employees shed 5,000 jobs.
"The recent trend in private employment remains moderate, and probably is below a pace consistent with a stable unemployment rate," the report said.
The ADP Employment report comes ahead of the closely-watched monthly employment report from the Labor Department this Friday.
The labor market has been struggling to find its footing since the financial crisis of 2008, with the unemployment rate presently stuck above 9%. In fact, weakness in the jobs market has been a major impediment to broader economic growth because consumers have lacked the confidence to make purchases, hence reducing overall demand, Federal Reserve Chairman Ben Bernanke said in a statement to Congress Tuesday.
The Institute for Supply Management reported the services sector continued expanding in September.  The gauge of non-manufacturing activity fell to 53 from 53.3 in August, but beat forecasts of 52.9.  Additionally, business activity jumped to 57.1 from 55.6, easily topping calls of 54.5. This comes in a string of relatively upbeat data on the manufacturing and services sector from the ISM, helping to lessen worries that the economy may be heading into recession territory.
Easing European Tensions
A report from the Financial Times suggesting euro zone finance ministers are discussing ways to boost the ailing European banking sector sparked a rally in Europe on Wednesday that has been extended in U.S. trading.
Market sentiment has improved "on the back of the EU bank recapitalisation hopes," analysts at Nomura wrote in a research note.
European banks have taken a hit from their exposure to sovereign debt of numerous embattled countries that are part of the 17-member euro currency bloc; and there have been fears that a deepening of the debt crisis could potentially put major banks a tight squeeze, in turn, damaging the global economy. Indeed, French and Belgian officials are working to prop-up Dexia as the Belgian municipal lender has seen its access to capital dry up, according to numerous media reports.
The "troika," a group of euro zone inspectors, said Wednesday they are making progress on a review of struggling Greece, but a much-needed aid tranche due in the middle of the month is not yet guaranteed. There were also massive protests in the Mediterranean country over deep austerity measures, including deep public job cuts, that have been a key component of receiving rescue aid.
Also on the European front, Moody's downgraded Italy's sovereign debt and put the country on negative watch.  The move, however, was largely shrugged off my market participants.
The euro recently gained 0.25% against the dollar, while the greenback fell 0.13% against a basket of world currencies.
Corporate News
Costco Wholesale (NYSE:COST) posted quarterly profits of $1.08 a share, missing estimates of $1.10.  The retailer posted sales of $27.59 billion, also missing forecasts of $27.84 billion.
Foreign Markets
The Euro STOXX 50 jumped 4.2% to 2,179, the English FTSE 100 climbed 3.2% to 5,102 and the German DAX soared 4.9% to 5,473.
In Asia, the Japanese Nikkei 225 fell 0.86% to 8,383 and the Chinese Hang Seng plunged 3.4% to 16,250.