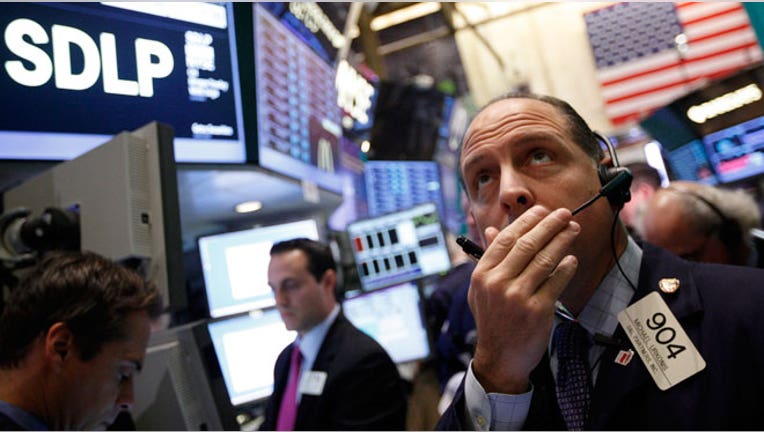 FOX Business: Capitalism Lives Here
Lackluster earnings from several corporate heavyweights triggered a steep selloff on Friday that nearly wiped out the broad S&P 500's weekly advance.
Today's Markets
The Dow Jones Industrial Average fell 205 points, or 1.5%, to 13344, the S&P 500 dipped 24.2 points, or 1.7%, to 1433 and the Nasdaq Composite slid 67.3 points, or 2.2%, to 3005.
For the week, the Dow edged up 0.11%, the S&P 500 tacked on 0.32% and the Nasdaq skidded 1.3%.
Looking at the broad markets, every S&P 500 sector ended the day in the red. Technology stocks performed the worst by far, but the materials, consumer discretionary, health-care, industrial, consumer staples, consumer discretionary, telecommunications and energy sectors were all down by at least 1%. Only utilities, generally seen as a defensive play, fell by a margin of less than 1%.
The yield on the U.S. 10-year Treasury bond slumped 0.056-percentage point to 1.768% as traders bid up the safe-haven asset. Meanwhile the VIX, seen as Wall Street's fear gauge, surged 13.5%. In a sign of the depth of the selloff, there were more than eight trades in declining shares for each in an advancing share on the New York Stock Exchange.
Earnings Spook Wall Street
It has been a busy, and eventful, week for earnings. Several firms posted strong-than-expected results early in the week, helping spur a multi-day rally for Wall Street. However, the sentiment has grown gloomier in recent days.
Ahead of the open on Friday, General Electric (NYSE:GE), which is seen as a global bellwether, revealed profits that met expectations and sales that slightly trailed Wall Street's forecasts. Its shares suffered a decline of greater than 3% as Wall Street panned the results. McDonald's (NYSE:MCD) shares also came under heavy pressure after its earnings per share came in well below expectations as a result of a big negative currency adjustment. The world's biggest burger chain's sales, however, came in better than expectations. Together, the two cost the Dow close to 40 points.
Microsoft (NASDAQ:MSFT) posted mixed results after the close of trading Thursday, pushing shares of the world's biggest software company down by more than 3%. Google (NASDAQ:GOOG) shares took a thrashing on Thursday and Friday after the search giant's quarterly results widely trailed estimates.
"We're going to have a difficult third-quarter earnings period and I think it could continue into the fourth quarter," Ted Weisberg, long-time NYSE floor trader and president of Seaport Securities said in an interview with FOX Business.
Still, Mark Sebastian, chief operating officer at OptionPit.com, told FOX Business he has been "really shocked at the resilience of this market," noting the S&P ended the week in the green. "I'm really wondering what kind of legs this selloff has," he said.
Commodities Thrashed 
In commodities, oil and gasoline prices both sold off. The benchmark crude contract traded in New York slumped $2.05, or 2.2%, to $90.05 a barrel. Wholesale New York Harbor gasoline skidded lower by 1.8% to $2.696 a gallon.
Gold slumped $20.70, or 1.2%, to $1,724 a troy ounce.
Housing Data Match Forecasts, Europe Eyed
On the economic front, the National Association of Realtors said sales of previously-owned home dropped 1.7% to a seasonally-adjusted annual rate of 4.75 million units in September from August. Sales were up 11% since the same period last year. Meanwhile, median home prices have soared 11.3% to $183,900 from 2011.
The housing market has been showing renewed signs of life recently, with homebuilder sentiment and sales ticking up. However, economists say it will be a long time until the market recovers to where it was before the housing crisis.
Traders were also paying close attention to a two-day European Council meeting that ends on Friday. The group is expected to discuss tighter economic integration among the 17 euro zone countries and the potential for a singular European Union banking supervisor.
Foreign Markets
The Euro Stoxx 50 fell 1.2% to 2542, the English FTSE 100 dipped 0.35% to 5896 and the German DAX slumped 0.76% to 7381.
In Asia, the Japanese Nikkei 225 rose 0.22% to 9003 and the Chinse Hang Seng edged up 0.15% to 21552.