Wall Street Loses Steam Amid Pressure from Energy, Biotechs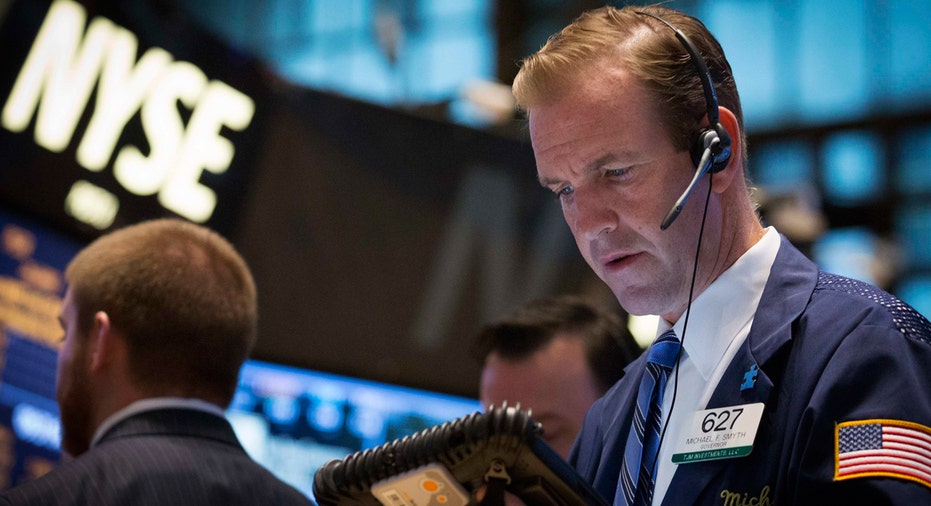 U.S. equity markets lost steam on Wednesday as corporate earnings season continued to be front and center.
The Dow Jones Industrial Average dropped 48 points, or 0.28% to 17168. The S&P 500 lost 11 points, or 0.58% to 2018, while the Nasdaq Composite fell 40 points, or 0.84% to 4840.
Energy, health-care, and materials led the decline, while industrials was the lone sector to edge higher.
Today's Markets
Traders in the U.S. continued to parse results from the third quarter corporate-reporting season on Wednesday morning with a handful of Dow components out ahead of the opening bell.
Coca-Cola (NYSE:KO) was the latest company to tell its investors that the stronger dollar was impacting its sales outside of the U.S. The beverage giant said its Asia-Pacific sales declined 11% during the quarter, while Latin American sales dropped 14%, and sales in Europe slid 7%. Sales in North America, however, saw a 1% bump. On an adjusted basis, Coca-Cola beat its profit expectations by one penny.
Boeing (NYSE:BA) posted a beat on both lines in 3Q. The aerospace giant saw a 25% boost in its quarterly profit thanks to more commercial aircraft deliveries. Revenue, meanwhile, rose 9%.
Following the closing bell, American Express (NYSE:AXP) reported weaker earnings and revenue than analysts anticipated. Shares were down 2.7% in after-hours trading.
"Earnings are in the driver's seat at this point in the calendar and as such, the range bound trade we have been treated to in recent sessions is a result of uninspiring and decidedly mixed quarterly results – particularly by the names that have managed to grab the headlines," Peter Kenny, creator of Kenny's Commentary, said in a note.
Kenny continued that if results thus far are any indication of how the remainder of the reporting season will shake out…don't expect much excitement for U.S. equities in the near term.
"Our recent price action only confirms that a reset is more likely than ever," he added.
Elsewhere in corporate news, Ferrari (NYSE:RACE) raced higher its market debut on the New York Stock Exchange. Shares began trading at $60 a share after pricing at $52, and Ferrari closed 6% above the IPO price at $55.10. The IPO gave the company, now separated from Fiat Chrysler Automobiles (NYSE:FCAU), a market capitalization of about $9.8 billion.
Josh Mahony, IG market analyst, said the company's debut was the "main event" for the session.
"There is substantial interest for such a traditional and reputable brand. For Fiat, it has now accessed a new pool of liquidity to service its substantial debt ahead of a possible 2016 GM merger. For new Ferrari shareholders, there will be a substantial interest in exactly where the company goes from here," Mahony said in a note.
In the health-care sector, the selloff in biotechnology shares gained new momentum with a fresh plunge in shares of Valeant Pharmaceuticals (NYSE:VRX) after a short-seller note was released on the company questioning whether it could be the "pharmaceutical Enron".
Valeant, which was down 39% before trading was halted, called the report "erroneous." Shares closed down 19%.
Valeant has been under pressure recently for drug-price increases. Last week, federal prosecutors subpoenaed the company for information related to its drug-pricing and distribution strategies. The CEO on Monday said in an earnings call that the company would move away from its strategy of buying companies and raising the prices of its drugs.
Allergan (NYSE:AGN) shares also were halted during the session as its shares fell as much as 5% on the back of the selloff in Valeant. The company released a statement clarifying its relationship with specialty pharmaceuticals for distribution.
"There has been recent and potentially distracting speculation regarding the use of specialty pharmacies for the distribution of pharmaceutical products by certain pharmaceutical companies. Regarding the commercial distribution of Allergan's products, the company does not rely on specialty pharmacies for distribution of its products," the statement said.
The health-care sector dropped 0.9%, while the Nasdaq Biotechnology Index lost 0.5%.
Meanwhile, more consolidation in the chip-making industry: Western Digital (NASDAQ:WDC) said on Wednesday it has plans to buy chipmaker SanDisk (NASDAQ:SNDK) in a deal valued at about $19 billion. The acquisition announcement is the latest in a new wave of M&A in the industry as demand for inexpensive chips has pushed a wave of consolidation. Data from Dealogic shows announced M&A deals in the industry have totaled more than $100 billion so far this year.
Lam Research (NASDAQ:LRCX) also said it reached a deal to buy California-based chip maker KLA-Tenor Coproration (NASDAQ:KLA) for $10.6 billion.
No economic data was on tap for the session, and Fed speak was on hold until after the central bank's October meeting next week. The Fed has entered a quiet period until the decision on monetary policy is announced next Wednesday.
In commodities, global oil prices were in the red as supply concerns continued to weigh on the market after an unexpectedly big build in U.S. inventories. The EIA said U.S. stockpiles increased by 8.03 million barrels, more than double the 3.87 million barrel-build expected. U.S. crude prices settled 2.4% lower at $45.20 a barrel, while Brent, the international benchmark, declined about 1.6% to $47.93 a barrel.
The energy sector shed 1.2% on the day.
Metals were also lower: Gold declined 0.89% to $1,167 a troy ounce, while silver paced 1.3% lower to $15.71 an ounce, and copper shed 0.32% to $2.35 a pound.
Overseas, markets were higher: The Euro Stoxx 50, which tracks large-cap companies in the eurozone gained 0.47%. The German Dax jumped 0.89%, while the French CAC 40 gained 0.46%, and the UK's FTSE 100 rose 0.05%.
Markets in Asia, meanwhile, capped the session mixed. China's Shanghai Composite dropped 3.06%, while Hong Kong's Hang Seng slid 0.37%, and Japan's Nikkei added 1.91%.