Wall Street Listens Nervously as War Drums Beat Louder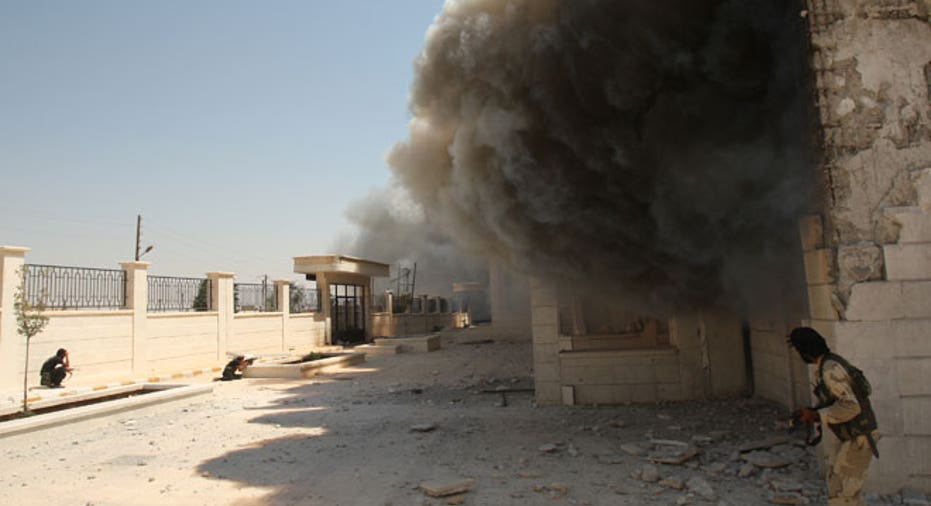 Uncertainty on Wall Street about whether or not the U.S. will unleash a military assault on Syria may have been removed by Secretary of State John Kerry's warlike speech Friday afternoon, but deep concerns about the unpredictable fallout of a potential clash remain.
The low-volume stock market had a mixed reaction to Kerry's aggressive remarks, with the blue chips slumping as much as 77 points during the first half of the speech before rebounding to their earlier levels.
Market participants noted the aggressive nature of Kerry's remarks, which laid out the case for intervening in Syria following the alleged use of chemical weapons that has been blamed for the deaths of at least 1,429 people.
"He really sounded to me like he wanted to pull out his saber and lead the charge into Damascus," said Michael Block, chief strategist at Rhino Trading Partners. "He came across sounding very bellicose. He didn't sound like a diplomat. I think that spooked people at first."
Traders were also parsing through new comments from President Obama, who said the U.S. is still in the "planning process" for how to respond to Syria, but said the likely chemical attack can't go unanswered.
Markets React to Kerry
Kerry said newly-released results compiled by American intelligence agencies about the attack are "as clear as they are compelling."
"The primary question is really no longer what we know -- the question is what are we, we collectively, what are we in the world to do about it?" Kerry said.
Oil prices spiked during Kerry's speech, with crude briefly touching $108.69 a barrel before quickly returning below $107.
Clash With Syria Could be a Windfall for Raytheon
Block said the markets did seem to respond favorably when Kerry acknowledged the reluctance to enter into another prolonged military conflict.
"We know that after a decade of conflict, the American people are tired of war. Believe me, I am too. But fatigue does not absolve us of our responsibility," Kerry said.
"The rest of the speech was like watching Patton," Block said.
'Risk of Contagion'
The stepped-up war rhetoric comes just as Wall Street had been breathing a sigh of relief a strike didn't appear to be imminent.
After tumbling more than 230 points on Monday and Tuesday, the Dow Industrials regained about 65 points the next two trading days as diplomacy appeared to slow things down on the Syria front. Late Thursday the U.K. Parliament narrowly rejected Prime Minister David Cameron's plan to join a potential strike on Syria.
The concern on Wall Street is that a conflict with Syria risks opening a Pandora's box of negative outcomes, including a potential regional war that lures in Iran, retaliatory terrorist attacks, spiking energy prices and even icier relations with global power Russia.
"There's growing concern that the White House has no coherent strategy and that unintended consequences are likely," Greg Valliere, chief political strategist at Potomac Research Group, wrote in a note to clients. "There's a risk of contagion -- nuclear talks with Iran will be jeopardized, and Russia will find a way to capitalize."
Others downplayed the likelihood that a limited engagement in Syria would be the fuse for a regional or even semi-global war.
"Israel has invaded Syrian airspace three or four times this year, hitting specific targets. None of these brought expanded conflict or even counterattack from Syria, Hezbollah or Iran," Art Cashin, director of NYSE floor operations at UBS (NYSE:UBS), wrote in a note.
Can Stocks Overcome Higher Oil Prices?
Still, the Syrian conflict does seem to be weighing on market sentiment at an inopportune time.
Ahead of Labor Day weekend, trading volumes are low, which can exacerbate moves in the market.
Market participants remain on edge over a number of other issues, including the potential for the Federal Reserve to slow its stimulus measures, the battle over who will replace Fed chief Ben Bernanke and signs the U.S. housing market recovery is faltering.
"This is just a lose-lose situation," said Block. "You're going to see further spikes in energy and gold as this drags on. That's not good for consumers or stocks."
Crude oil jumped 1.2%, or $1.23 a barrel, this week amid the escalating Syria talk.
Taking an historical perspective, Dan Greenhaus, chief global strategist at BTIG, noted that the stock market managed to rally during the first and second Gulf Wars.
"Higher oil prices are a problem," Greenhaus wrote in a note this week, "but the act of war has often been quite positive for U.S. equities."