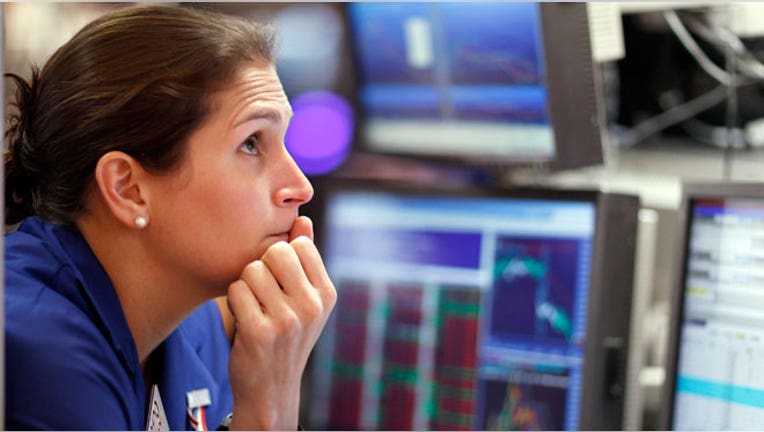 FOX Business: The Power to Prosper
The markets took heavy losses for a second day in a row Thursday in a broad-based retreat late in the session. Every major sector closed to the downside.
Today's Markets
The Dow Jones Industrial Average fell 121 points, or 0.94%, to 12811, the S&P 500 dipped 17 points, or 1.2%, to 1378 and the Nasdaq Composite slumped 41.7 points, or 1.4%, to 2896.
The S&P 500, considered one of the best barometers of U.S. equities, tumbled 2.4% on Wednesday in its worst day on a percent basis since June. The losses added up in late trading on Thursday as well, with the S&P sinking 1.2%.
The focus on Washington, D.C. that has consumed trading desks in the past couple sessions eased somewhat Thursday, with data and European news coming back into the spotlight.
In corporate news, Apple (NASDAQ:AAPL) shares came under heavy selling pressure after plunging into bear market territory on Wednesday. The company's giant market capitalization means movements in its shares have an outsize impact on the broader markets.
McDonald's (NYSE:MCD) revealed its first contraction in monthly same-store sales in nearly a decade, saying sales in October slumped nearly 2% amid lackluster global growth. The stock alone cost the Dow nearly 14 points.
J.P. Morgan Chase (NYSE:JPM) said in a regulatory filing that it has reached an "agreement in principle" with the Securities and Exchange Commission on a probe related to mortgage backed securitizations by two of its units. The biggest U.S. bank by assets also said the Federal Reserve approved a $3 billion share buyback program for the first quarter of 2013.
On the economic docket, a report from the Commerce Department unexpectedly showed the U.S. trade deficit hitting its narrowest level since December 2010 in September. The deficit fell to $41.6 billion for the month from $43.8 billion in August. Economists expected a reading of $45 billion. While the gauge that measures the difference between exports and imports is a lagging indicator, it does figure directly into broader measures of economic output.
Another report from the Labor Department showed new claims for unemployment benefits falling to 355,000 last week from 363,000 the week prior. Claims were expected to rise to 370,000. A Labor Department analyst says superstorm Sandy depressed claims in at least one state and resulted in an increase in claims in others, according to a report by Reuters. The stubbornly-slow recovery for the labor market has been a major focus among economists in recent months.
On the European front, Greece's parliament approved a fresh round of austerity measures by a margin of 153 to 147. The move is important because it likely clears the way for the country to receive more rescue aid from the European Union and International Monetary Fund, which will allow it to stave off a debt default.
The Bank of England held its benchmark interest rate at 0.5% and the size of its quantitative easing program at 375 billion pounds, as expected. The European Central Bank left its main refinancing rate at 0.75% as expected. ECB President Mario Draghi is set to hold a news conference later in the day.
In commodities, oil prices bounced back after sustaining the worst selloff in close to a year. The benchmark contract traded in New York rose 65 cents, or 0.77%, to $85.09 a barrel. Wholesale New York Harbor gasoline climbed 0.71% to $2.607 a gallon.
In metals, gold gained $12.00, or 0.7%, to $1,726 a troy once.
Foreign Markets
The Euro Stoxx 50 gained 0.88% to 2501, the English FTSE 100 rose 0.33% to 5811 and the German DAX advanced 0.51% to 7269.
In Asia, the Japanese Nikkei 225 sold off 1.5% to 8837 and the Chinese Hang Seng plunged 2.4% to 21567.