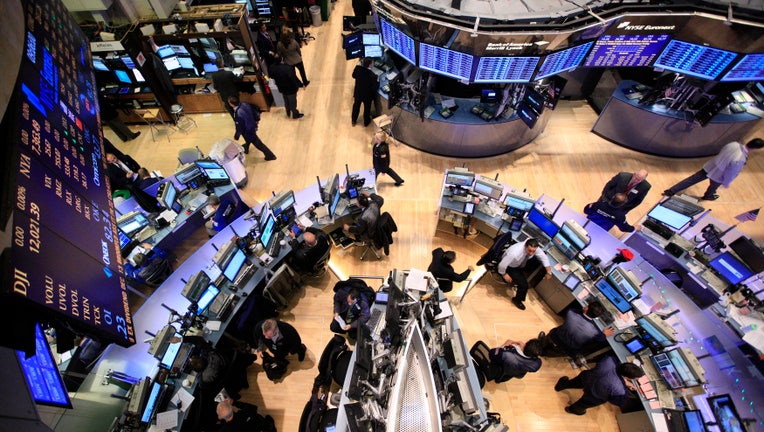 FOX Business: Capitalism Lives Here
The broad S&P 500 ticked up to a fresh closing high Monday. However, traders struck a cautious tone ahead of Apple earnings and a Fed meeting.
Today's Markets
According to preliminary calculations, the Dow Jones Industrial Average rose 1.7 points, or 0.01%, to 15572, the S&P 500 gained 2.5 points, or 0.14%, to 1762 and the Nasdaq Composite declined 3.2 points, or 0.08%, to 3940.
Wall Street will have its plate full this week.
Many big-name companies have reported earnings over the last couple weeks. However, Apple (NASDAQ:AAPL), the world's biggest technology company has yet to weigh in. Analysts are expected to scrutinize the Cupertino-Calif.-based company's results when it posts them after the closing bell. Of particular interest will be how many iPhones it sold, and whether its low cost model snagged the interest of buyers looking for cheaper equipment.
Merck (NYSE:MRK) posted better-than-expected third-quarterly profits ahead of the open, but sales came in short of estimates.
On the economic front, the National Association of Realtors reported signed contracts to buy previously-owned homes fell 5.6% in September from the month prior – the biggest drop since May of 2010 – widely missing expectations contracts would rise 0.1%.
"This is a soft report that is in line with other housing indicators like sales and starts that suggest the pace of improvement in housing markets has slowed relative to that seen in late 2012 and early 2013," Cooper Howes, an economist at Barclays, wrote in  a note to clients.
The data come ahead of the Federal Reserve's policy-setting meeting later this week. The central bank is expected to keep its foot squarely on the economic accelerator, not slowing down the pace of asset purchases until December at the earliest.
Elsewhere, U.S. crude oil futures fell 7 cents, or 0.07%, to $97.78 a barrel. Wholesale New York Harbor gasoline rose 0.22% to $2.593 a gallon. Gold slipped $1.50, or 0.11%, to $1,351 a troy ounce.
Foreign Markets
The Euro Stoxx 50 fell 0.43% to 3022, the English FTSE 100 dipped 0.08% to 6716 and the German DAX slipped 0.03% to 8983.
In Asia, the Japanese Nikkei 225 rallied 2.2% to 14396 and the Chinese Hang Seng rose 0.48% to 22807.