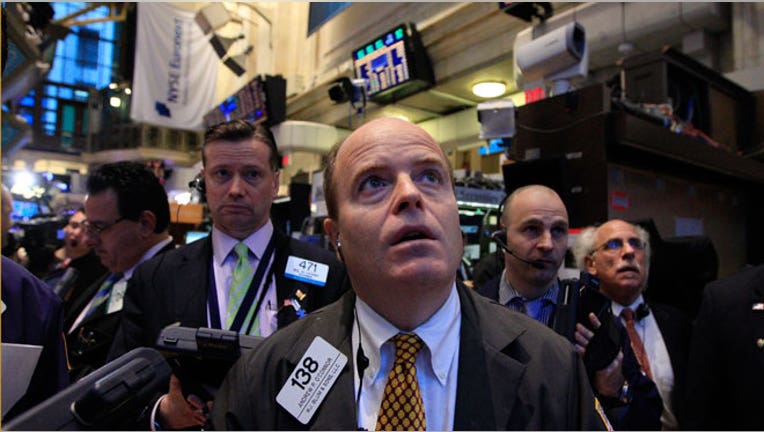 FOX Business: Capitalism Lives Here
U.S. equity markets took a beating as traders fretted about a seemingly unbreakable impasse in Congress over raising the debt ceiling and ending a government shutdown.
Today's Markets
The Dow Jones Industrial Average fell 160 points, or 1.1%, to 14777, the S&P 500 dipped 20.7 points, or 1.2%, to 1656 and Nasdaq Composite fell 75.6 points, or 2%, to 3695.
The broad S&P 500 has shed 2.1% so far this week in the worst two-day rout since June. The tech-heavy Nasdaq has performed even worse, tumbling close to 3%.
On Tuesday, every major sector besides safe-haven utilities ended in the red. Telecommunications stocks took the most pain. Additionally, the newest wave of online companies like Facebook (NASDAQ:FB), Groupon (NASDAQ:GRPN) and LinkedIn (NASDAQ:LNKD) took a thrashing.
Congress triggered a partial government shutdown more than a week ago. Since then, essentially nothing has changed. The legislative body remains deadlocked and without a clear path forward. Meanwhile, the deadline to boost the debt ceiling looms fewer than 10 days away.
In a sign of how worried the financial markets are getting, the VIX, seen as Wall Street's fear gauge, surged close to 6% to its highest level since last December. The Treasury was also forced to pay the highest rates since 2008 to borrow at an auction of one-month bonds.
President Barack Obama did little to ease Wall Street's nerves when he spoke during mid-day trading. The president called on Congress to craft a deal to halt the shutdown immediately, and warned a default on U.S. debt would spark a "very deep recession."
The shutdown has also halted most government-issued economic reports. Generally, the Commerce Department would release data on U.S. trade at 8:30 a.m. ET. However, the furlough of non-essential federal workers has made that impossible.
The International Monetary Fund sliced its 2013 global growth forecast to 2.9% from an earlier estimate of 3.1%. The organization also warned about the perils of the debt debacle on Capitol Hill.
"A failure to promptly raise the debt ceiling, leading to a U.S. selective default, could seriously damage the global economy," the organization wrote in its report.
Meanwhile, the National Federation of Independent Business' gauge of small business sentiment fell to 93.9 in September from 94.1 in August.
"The change in this month's Index was little more than 'statistical noise,' but the drop in outlook for future economic conditions is evidence that many owners are keeping an eye on Washington," NFIB chief economist Bill Dunkelberg wrote in the report.
"Prospects for politicians and policymakers 'getting it right' are low, and job creators are rolling their eyes and shaking their heads thinking, 'This is certainly not the way to run the largest enterprise in the world.'"
On the corporate front, aluminum giant Alcoa (NYSE:AA) unofficially kicks off earnings season in its first quarterly reports since being dropped from the Dow Jones Industrial Average. Taco Bell parent Yum Brands (NYSE:YUM) also posts its quarterly figures after the bell.
J.C. Penney (NYSE:JCP) shares surged in early trading after the struggling retailer said same-store sales would be higher in September than August, hinting at a potential recovery.
In commodities, U.S. crude oil futures rose 46 cents, or 0.45%, to $103.49 a barrel. Wholesale New York Harbor gasoline gained 0.17% to $2.631 a gallon. In metals, gold dipped 50 cents, or 0.04%, to $1,325 a troy ounce.
Foreign Markets
The Euro Stoxx 50 dipped 0.28% to 2915, the English FTSE 100 fell 0.76% to 6389 and the German DAX slipped 0.11% to 8592.
In Asia, the Japanese Nikkei rose 0.3% to 13895 and the Chinese Hang Seng climbed 0.89% to 23179.