Wall Street Gains Powered By Yellen, Oil One-two Punch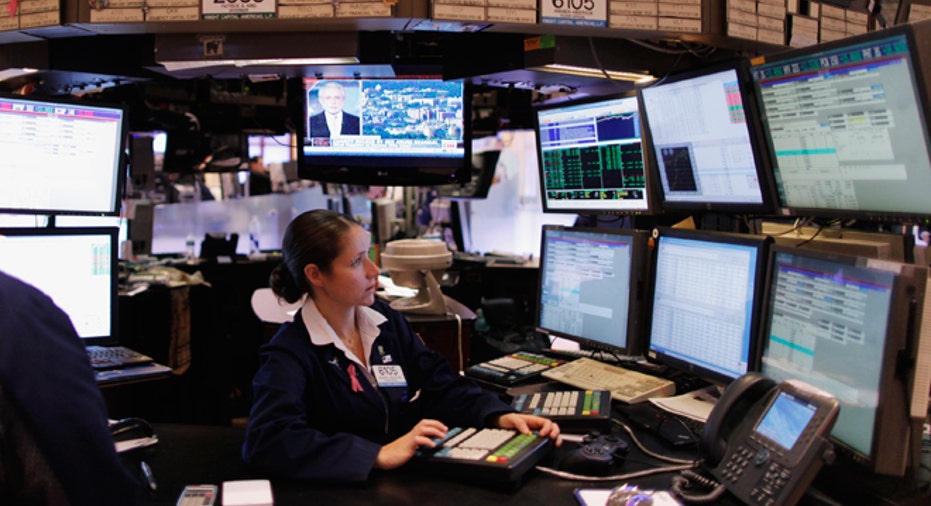 U.S. stocks were poised for a third session of gains on Wednesday as dovish comments from Federal Reserve Chairwoman Janet Yellen, on top of stronger oil, lifted the main indexes.
Speaking at the Economic Club of New York (http://www.marketwatch.com/story/yellen-says-caution-on-rate-hikes-is-justified-and-takes-negative-rates-off-the-table-2016-03-29), Yellen stressed a need for a cautious stance on interest-rate increases. The remarks follow a shift in the Fed's outlook since late last year, as the central bank cut its forecast of rate hikes to two from a prior projection of four.
"Bulls are trying to use decent economic data and a dovish Fed to try and set new highs," said Uri Landesman, president of Platinum Partners.
The S&P 500 added 10 points, or 0.5%, to 2,065, with nine of its 10 main sectors trading higher. Financial stocks led the gains, while utilities was the sole laggard.
The Dow Jones Industrial Average rose 98 points, or 0.6%, to 17,731 with J.P. Morgan Chase & Co. (JPM) leading the winners.
The Nasdaq Composite climbed 24 points, or 0.5%, to 4,871.
"Investors continue to be optimistic because of recent actions by central banks, including the [European Central Bank] and China, which almost appear to be coordinated. But mainly, because the perceived risks of a recession have diminished," said Steve Chiavarone, associate portfolio manager at Federated's Global Allocation Fund.
Read:The S&P 500 is on pace to log its longest streak of calm since June (http://www.marketwatch.com/story/the-sp-500-is-on-pace-to-log-its-longest-streak-of-calm-since-june-2016-03-30)
In economic news, the private sector added 200,000 jobs in March, according to ADP, a modest deceleration from the prior month's revised 205,000 and roughly in line with expectations.
is due on Friday and economists polled by MarketWatch expect 205,000 new jobs created in March.
Outside of a 1.3% drop for the Nikkei 225 as the yen firmed up, shares in Asia rose on Wednesday.
Europe (http://www.marketwatch.com/story/european-stocks-rally-as-yellen-stresses-go-slow-approach-to-rate-hikes-2016-03-30) stocks rallied over 1%, while the dollar (http://www.marketwatch.com/story/dollar-extends-losses-as-yellen-comments-reverberate-2016-03-30) continued to take a hit from Yellen's comments. Signs that rates will remain low diminishes the appeal of owning the U.S. currency. Gold pulled back after Tuesday's robust gains.
Read:Yellen is worried about global growth--and Wall Street loves it (http://www.marketwatch.com/story/janet-yellen-is-worried-about-global-growthand-wall-street-loves-it-2016-03-29)
Stocks are feeling the love from a classic Fed-driven rally for riskier assets, said Wouter Sturkenboom, strategist at Russell Investments. "Basically, a resumption of the weak dollar environment supports risk assets. The market still loves dovishness without apparently worrying too much about what is causing that dovishness," he said.
But Sturkenboom said the coming earnings season could trigger fresh worries about U.S. equities. Alcoa Inc. (AA) will kick off the unofficial start of the first-quarter earnings reporting season on April 11. Analysts have been pessimistic about what American corporations can deliver, given a lower-growth environment.
Sturkenboom said a week ago his group moved to a small underweight from a small overweight in U.S. equities, in a "sell-the-rally" move. The month of March has brought gains of more than 6% to the S&P 500 index and other major U.S. indexes.
Opinion: Central banks will never admit they've run out of ammunition but they have (http://www.marketwatch.com/story/central-banks-will-never-admit-theyve-run-out-of-ammunition-but-they-have-2016-03-30)
A rebound in oil pries also helped to boost investors' sentiment with West Texas Intermediate crude for May delivery up 53 cents, or 1.4%, to $38.04 a barrel on the New York Mercantile Exchange.
Stocks to watch: Fast-food chain Sonic Corp. (SONC) jumped 4.2% after posting a pop in profit and raising its outlook late Tuesday (http://www.marketwatch.com/story/sonic-reports-jump-in-profit-raises-outlook-2016-03-29).
Valeant Pharmaceuticals International Inc. (VRX.T) reversed earlier gains to fall 2.7% after launching a credit facility amendment.
Share of Lululemon Athletica Inc (http://www.marketwatch.com/story/lululemon-profit-and-sales-top-views-outlook-soft-2016-03-30).(LULU) jumped 9.8% after fourth-quarter profits beat expectations.
Restoration Hardware Holdings Inc (http://www.marketwatch.com/story/restoration-hardware-slips-on-disappointing-outlook-2016-03-29).(RH) shares rallied 5.9% after the home-furnishings retailer cut its earnings forecast for the current quarter late Tuesday, citing shipping delays and extra costs with its new line of furniture. Raymond James cut its price target for the stock to $60 from $65.
State Street Corp (http://www.marketwatch.com/story/state-street-to-buy-ges-asset-management-arm-for-about-485-million-2016-03-30).(STT) has agreed to buy GE Asset Management from General Electric Co. (GE) for about $485 million.
Wells Fargo & Co. (WFC) could draw attention after a regulatory filing showed Warren Buffett's Berkshire Hathaway Inc. (BRKA) boosted its stake in the company (http://www.marketwatch.com/story/warren-buffett-buys-more-wells-fargo-stock-on-a-dip-2016-03-29).
Apple Inc. (AAPL) shares were up 1.4% after Cowen upgraded it to a buy. The technology giant will supply every Major League Baseball team with iPad Pro tablets to help teams and coaches make use of performance stats and other data, according to a report in The Wall Street Journal (http://www.marketwatch.com/story/apple-to-equip-every-major-league-baseball-team-with-ipad-pro-2016-03-30).
Boeing Inc. (BA) said Tuesday (http://www.marketwatch.com/story/boeing-to-cut-more-than-4500-jobs-2016-03-30-14851359) it will cut more than 4,500 jobs by June in an effort to accelerate cost cuts.
--Barbara Kollmeyer contributed to this report.
By Sue Chang and Anora Mahmudova, MarketWatch