Wall Street Extends Rally as Indexes Whiz Into Record Territory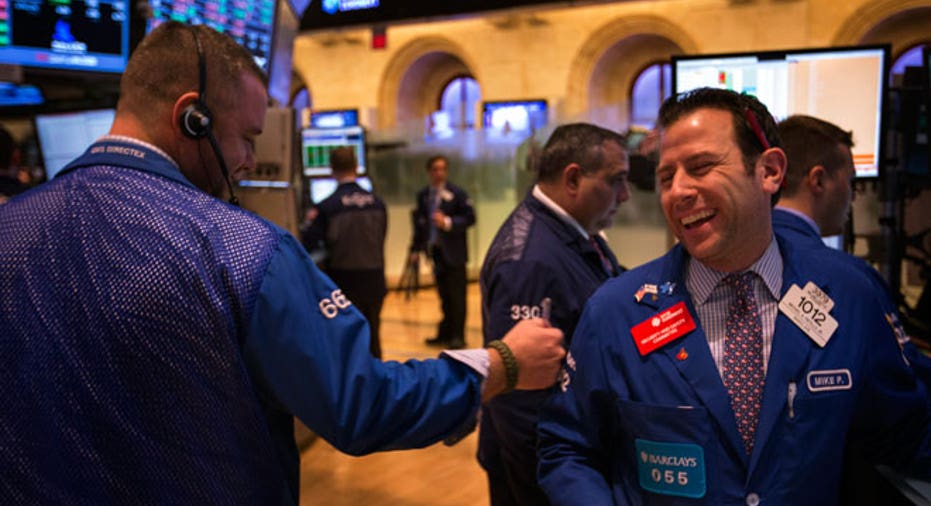 FOX Business: Capitalism Lives Here
The Dow and S&P 500 zoomed into record terrain as traders cheered minutes from the Fed suggesting the central bank is likely to keep the pace of its quantitative easing program steady for now.
Today's Markets
As of 3:09 p.m. ET, the Dow Jones Industrial Average climbed 129 points, or 0.88%, to 14803, the S&P 500 gained 17.3 points, or 1.1%, to 1586 and the Nasdaq Composite rose 55.6 points, or 1.7%, to 3294.
Despite a choppy end of the week last week, the markets have managed to continue their move into uncharted territory. The Dow and S&P 500 both zipped past record intraday levels before pulling back mildly.
The world economy came into focus once again.
Minutes from the last Federal Open Market Committee meeting showed members of the Federal Reserve's policy-setting board generally saw the economic benefits of the central bank's vast quantitative easing program outweighing the costs and risks, but said an "ongoing assessment of the benefits and costs was necessary."
Additionally, the minutes showed "a few" participants were not convinced that asset purchases benefit the economy beyond a short-lived impact on the financial markets. The minutes were released hours earlier than expected after the central bank inadvertently emailed the often market-moving minutes to an email distribution list Tuesday.
Meanwhile, China saw its imports surge 14.1% in March on a year-to-year basis, compared to expectations of a 5.2% increase. Meanwhile, exports jumped 10% on the same basis -- just shy of the 10.5% increase economists forecast. That left the world's No. 2 economy with an $884 million trade deficit, a far cry from estimates of a $15.4 billion surplus.
Jian Chang, an economist at Barclays (NYSE:BCS), wrote in a note to clients that the data pointed to "a pickup in demand amid a gradual, albeit steady, recovery." Combined with a report Tuesday showing price pressure remains in check, the data have helped alleviate fears that the country could be in for a dramatic slowdown.
Elsewhere, oil prices were under modest pressure, and the volatile trade in gasoline continued. The benchmark U.S. crude oil contract fell 58 cents, or 0.62%, to $93.62 a barrel. Wholesale New York Harbor gasoline sold off by 1.3% to $2.905 a gallon. In metals, gold dropped $8.10, or 0.51%, to $1,578 a troy ounce.
Foreign Markets
The Euro Stoxx 50 surged 1.5% to 2633, the English FTSE 100 gained 0.84% to 6367 and the German DAX rallied 1.2% to 7726.
In Asia, the Japanese Nikkei 225 rose 0.73% to 13288 and the Chinese Hang Seng jumped 0.75% to 22035.