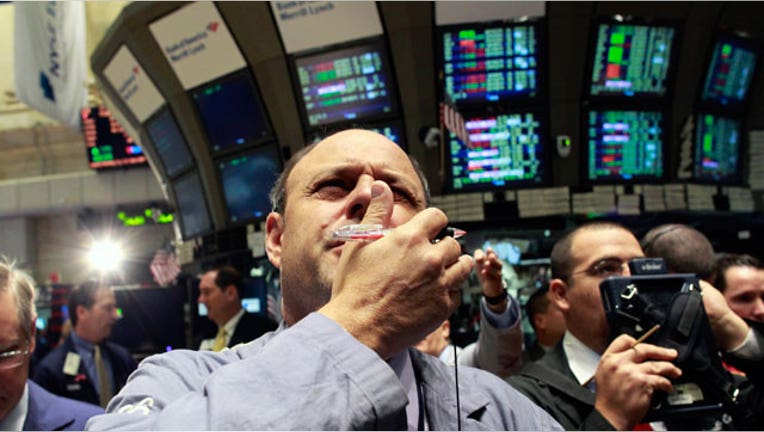 Wall Street stepped back from session lows at the close of trade Monday after the energy sector helped fuel the day's losses.
The Dow Jones Industrial Average was 91 points lower, dropping 0.52% to 17598. The S&P 500 fell 5 points, or 0.28% to 1097, while the Nasdaq Composite added slid 12 points, or 0.25% to 5115.
The energy sector was the biggest decliner of all S&P 500 sectors, falling 2%.
Today's Markets 
A new month didn't bring relief for battered commodities markets.
U.S. oil, which closed out July with the biggest monthly drop since 2008, continued its decline on Monday, notching fresh lows. U.S. crude plunged 4.14% to settle at $45.17 a barrel, while Brent, the international benchmark, dropped 5.15% to settle at $49.52 a barrel.
Oil and gas drillers, and exploration companies took the biggest beating, with ExxonMobil (NYSE:XOM) and Chevron (NYSE:CVX) touched their respective 52-week lows.
Larry Shover, chief investment officer at Solutions Funds Group, said the pressure on oil was a result of many factors including increased OPEC output, higher U.S. rig counts, and softening emerging market demand.
"The energy market is finally coming to its senses that OPEC is putting out more oil than their quota, while U.S. production is cutting back. But you have to realize those cuts aren't going to balance the market…there's still a lot of supply," he said.
A similar story played out in gold and copper as global growth worries persist.
Gold saw the biggest decline in two years in July, despite snapping a five-week losing streak at the end of last week. The precious metal fell 0.50% to  settle at $1,089 a troy ounce in recent trade. Copper, meanwhile, touched its lowest level in six years. The metal fell 0.84% to settle at 2.35 a pound in recent action.
Shover noted that for markets as a whole, the movement can essentially be attributed to the same set of factors, just on different days of the week.
"China, Greece, earnings, and the Fed: Even though all of those narratives are old, stale, and worn out, anything that comes out in regard to that is going to move the market," he said.
To that point, some investors were spooked by data overnight that showed factory activity in China declined the most in two years.
The report sent equity markets there lower. The Shanghai Composite index fell 1.1%, while Hong Kong's Hang Seng dropped 1.09%, and Japan's Nikkei slid 0.18%.
Jitters over and China failed to reach Europe, however, where markets closed mostly higher.
The Euro Stoxx 50, which tracks large-cap companies in the eurozone, rose 0.79%. The German Dax climbed 0.99%, the French CAC 40 rose 0.57%, while the UK's FTSE 100 ticked 0.24% lower.
The technology sector was also among the biggest decliners as tech heavyweights Apple (NASDAQ:AAPL) and IBM (NASDAQ:IBM) weighed the most on the Dow on no particular news items. Those stocks, coupled with Exxon, Chevron, and Goldman Sachs (NYSE:GS) accounted for about half of the Dow's losses.
Twitter shares took a beating on Monday, falling as much as 7% and touching a new lifetime low, below $30 a share. Many analysts have speculated in recent weeks if the social giant's shares fell below that psychologically-significant mark, the company would be ripe for takeover by tech giants like Google (NASADQ:GOOGL).
Investors were set with a moderate amount of economic data due out before Friday's all-important July jobs report. On Monday, the Commerce Department reported personal spending recorded the smallest gain in four months. Spending in June rose 0.2%, matching expectations, while personal income increased 0.4% for the month, surpassing the expected 0.3% gain.
A gauge on the U.S. manufacturing sector from the Institute for Supply Management fell to 52.7 in July from 53.5 in June, while Wall Street expected the gauge to hold steady for the month. Readings above 50 point to expansion, while those below indicate contraction.
Corporate earnings season continued in the U.S. with 91 S&P 500 companies set to report this week. Clorox (NYSE:CLX) andTyson Foods (NYSE:TSN) released their quarterly report cards ahead of the bell, and AIG (NYSE:AIG) after the close.
Elsewhere in corporate news, July auto sales came in above expectations, and were on track to post the best month in a decade, thanks to stronger consumer demand for trucks and SUVs.
Greek stock markets reopened on Monday after five-straight weeks of closure, a result of capital controls initiated in the lead up to a third Greek bailout. Upon reopening, markets there saw a 20% plunge as investors looked to ditch their riskier positions in favor of safe havens.
In currencies, the euro traded 0.29% lower against the U.S. dollar. The yield on the benchmark 10-year U.S. Treasury fell 0.061 of a percentage point to 2.144%. Bond yields move in the opposite direction of prices.