Wall Street Ends Flat Amid Data, Rate Hike Odds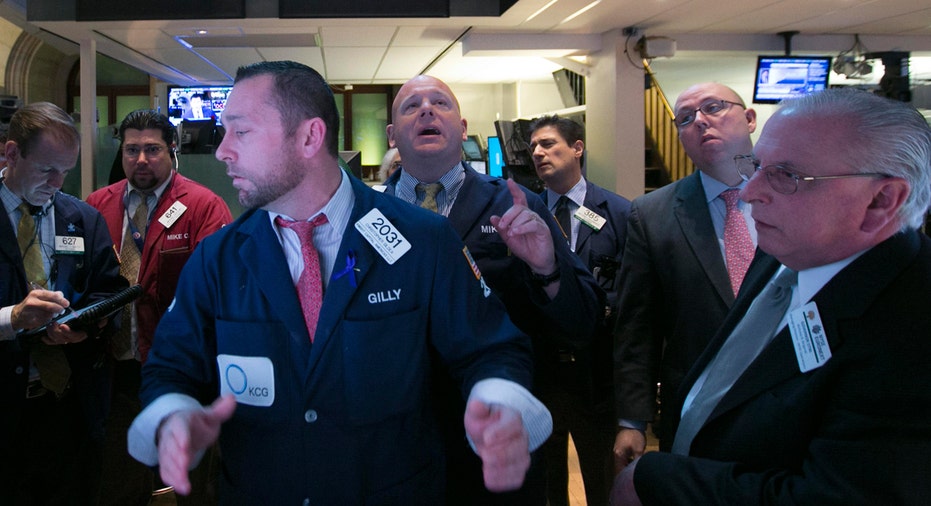 U.S. equity markets were lower on Thursday after of a fresh round of economic data including the first reading on 3Q economic growth.
The Dow Jones Industrial Average was 23 points lower, or 0.13% to 17755. The S&P 500 shed a fraction of a point, or 0.05% to 2089, while the Nasdaq Composite declined 21 points, or 0.42% to 5074.
The health-care sector was the biggest gainer, while utilities lagged the most on the session.
Today's Markets
After the Federal Reserve, in the prior session, appeared to leave the door open a little wider to a December rate hike, Wall Street parsed the latest round of economic reports. The data-dependent central bank is likely to use those key indicators in its next policy-setting meeting.
On Thursday, the Commerce Department said the first reading on third-quarter gross domestic product was in-line with expectations. The world's biggest economy expanded at an annualized pace of 1.5% during the third quarter, compared to expectations for a 1.6% rate of expansion. The reading, however, is significantly below the second quarter's 3.9% pace of growth.
The reading was weakened by business inventories, which knocked off 1.44 percentage points from the third-quarter figure. Still, it's could be seen as only to be a temporary drag on the economy.
Peter Kenny, independent analyst and creator of Kenny's Commentary, said in a note, recent economic readings have pointed more toward slowing expansion rather than an accelerated pace of growth.
"Between our modestly decelerating rate of employment gains (weekly and monthly), moderate expansion and other data points from consumer confidence to Tuesday's durable goods report, the FOMC has been provided plenty of support for a further 'wait and see' approach while remaining vigilant about moving before the horse is out of the barn, so to speak," he said.
Kenny noted the odds of a rate hike in December moved up to 46% at the close of trade on Wednesday compared to 30% that morning.
Investors also parsed the latest reading on weekly jobless claims, which came in better than expected. The number of Americans filing for first-time unemployment benefits rose last week to 260,000 from an unrevised 259,000 the week prior. Wall Street anticipated a steeper rise to 263,000.
Larry Shover, chief investment officer at Solutions Funds Group, said data in focus next week will be key for the Fed at its December meeting.
"I am surprised the market reacted to the information as much as it did considering the Fed is still 'data dependent,'" he said. "The November 6 payroll number needs to be extraordinary, especially after two previous disappointing results. Today's jobless claims data suggest the labor market is strong."
Meanwhile, the National Association of Realtors reported contracts to buy previously-owned homes dropped 2.3% in September, an unexpected decline compared to the 1% increase economists anticipated. The NAR said the move lower was due to "stubbornly-low inventory  conditions" for first-time buyers, and those on the low-end of the market. The financial-market instability over the summer also added to skepticism as prospective buyers took a wait-and-see approach.
Third-quarter corporate earnings continued to trickle out ahead of the opening bell. ConocoPhillips (NYSE:COP) revealed a loss of $1.1 billion loss, compared to a $2.7 billion profit in the same period the year prior. The company added that it plans more cuts to its 2015 capital plans, slashing its budget to $10.2 billion from $11 billion.
MasterCard (NYSE:MA) said its 3Q profit declined 3.8% thanks to an 8.5% jump in operating expenses.
Time Warner Cable (NYSE:TWC) said more high-speed data customers helped boost its adjusted profit during the quarter. It added 232,000 high-speed subscribers compared to 172,000 in 2Q. The company beat expectations on the bottom line, but missed slightly on the top.
Elsewhere in corporate news, Allergan (NYSE:AGN) confirmed reports that it has held merger talks with pharmaceutical giant Pfizer (NYSE:PFE). Allergan said it has had "preliminary friendly discussions" with Pfizer, but no agreement on a deal has been reached.
Elsewhere in the market, commodities prices were mixed. Global crude oil prices bounced between gains and losses. U.S. crude settled up 0.26% to $46.06 a barrel, while Brent, the international benchmark, shed 0.51% to $48.80.
Metals were lower as gold shed 2.42% to $1,147 a troy ounce, and silver dropped 4.54% to $15.54 an ounce. Copper shed 1.74% to $2.32 a pound.
Overseas, European markets were lower. The Euro Stoxx 50, which tracks large-cap companies in the eurozone, shed 0.76%, while the German Dax declined 0.59%, the French CAC 40 lost 0.68%, and the UK's FTSE 100 dropped 0.87%.