Wall Street Caps Volatile Session in Red as Oil Falls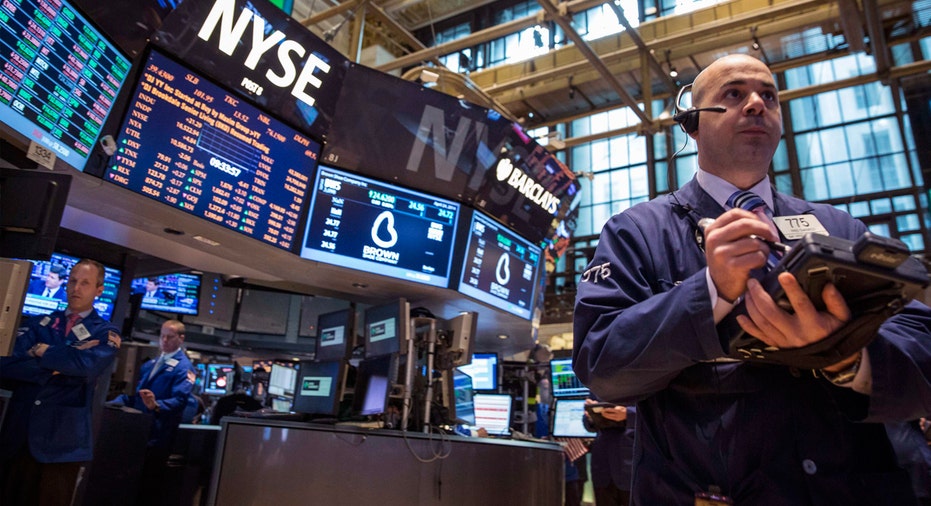 Wall Street capped a volatile session , in which the Dow saw a 364-point swing, in negative territory after oil prices skidded back into the red.
The Dow Jones Industrial Average was 75 points lower, or 0.43% to 17492. The S&P 500 slipped 15 points, or 0.77% to 2047, while the Nasdaq Composite dropped 75 points, or 1.48% to 5022.
Despite continued pressure in the oil market, energy continued to be the strongest sector on the session, while financials and technology lost the most ground.
Today's Markets
Oil prices turned green after two days of bloodletting following Friday's OPEC decision not to cut current production levels, which would have been an effort to help prices find a bottom and allow the excess supply in the market to level out a bit.
On Wednesday, the Department of Energy's Energy Information Administration said weekly crude stockpiles fell by 3.57 million barrels, an unexpected drop compared to expectations for a 0.3 million barrel build.
The move sent West Texas Intermediate crude popping, but prices quickly fell back into negative territory. In recent action, U.S. crude shed 0.93% to $37.16 a barrel, while Brent, the international benchmark, declined 0.37% to $40.11 a barrel.
IG market analyst Alastair McCaig said in a note the fresh multi-year low levels could be concerning despite Wednesday's early pop higher.
"With no sign of an improvement in underlying demand and the continuation of the OPEC-driven oversupply, these could be levels that oil traders need to get used to," he warned.
Peter Kenny, independent market analyst added that the recent declines don't necessarily mean the slide is over.
"We simply saw some moderation in velocity and may as a result see some near=-term stability. That would be therapeutic for the broader equity market and allow for some lift in prices," he explained.
Elsewhere in commodities, metals were mixed as gold shed 0.12% to $1,077 a troy ounce. Silver rose 0.52% to $14.16 a barrel, while copper added 0.59% to $2.06 a pound.
As traders continued to monitor developments in the oil patch, focus was split between a barrage of corporate news headlines.
As the era of easy money looks to draw to a close this year, American companies have rushed to get last-minute deals in before rates rise. Dow Chemical (NYSE:DOW) and DuPont (NYSE:DD) were reported to be the latest in the string of behemoth merger announcements. The Wall Street Journal said the two biggest U.S. chemical makers will seek approval to merge, creating a market value of more than $120 million, and then break into three separate companies based on sector.
DuPont was the Dow's biggest gainer, rising nearly 8% during the session, the biggest one-day percentage gain since FactSet began collecting data in 1972. For scope of the move: The company was the index's worst performer for the year, and if it continues trading at the current level, it will be the Dow's tenth-best performer of 2015.
Meanwhile, after a week of speculation, Yahoo (NASDAQ:YHOO) said on Wednesday it was shelving its plan to spin off its stake in e-commerce giant Alibaba (NYSE:BABA), citing tax concerns as the biggest reason for the decision. The company said it will now shift focus to a "reverse spin off" in which its assets and liabilities would be transferred to a newly-formed company.  Shares of Yahoo were down more than 1% during the session.
The economic data calendar was light on Wednesday as traders looked ahead to import/export prices Thursday, and retail sales, consumer sentiment, and producer prices on Friday to round out a quiet week ahead of next week's all-important FOMC meeting. Central bankers are expected to announce a quarter percent increase in short-term interest rates at the conclusion of the two-day policy meeting.
Overnight, data from China showed consumer inflation came off a six month low as prices rose 1.5% last month from a year earlier, beating expectations for 1.4%. Producer prices, however, showed a 5.9% drop.