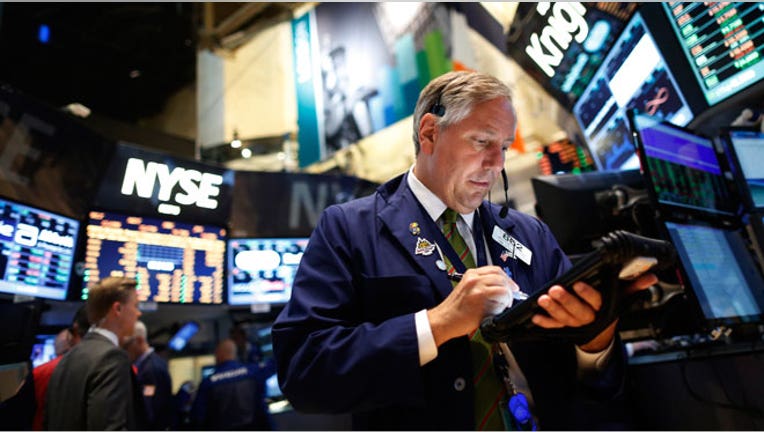 U.S. equity markets moved lower on Tuesday as investors focused on a slew of corporate headlines and quarterly earnings.
The Dow Jones Industrial Average finished 48 points lower, or 0.27% to 17550. The S&P 500 slid 4 points, or 0.22% to 2093, while the Nasdaq Composite shed 9 points, or 0.19% to 5105.
Today's Markets
Wall Street looked to take a bit of a breather amid a deluge of corporate news headlines, and ahead of the all-important July jobs report due out on Friday.
Second-quarter earnings season continued with results from 31 S&P 500 companies due out on Tuesday. Ahead of the bell, investors digested the latest figures from CVS (NYSE:CVS), which recorded a 7.4% drop in quarterly sales, while Aetna (NYSE:AET) recorded a higher-than-expected profit, and lifted its full-year earnings guidance. Traders also parsed earnings from Sprint (NYSE:S), Coach (NYSE:COH), Office Depot (NYSE:ODP), and Charter Communications (NYSE:CHTR).
After the bell, entertainment giants Disney (NYSE:DIS) and DreamWorks (NYSE:DWA) hope to dazzle investors with their quarterly performance. Etsy (NYSE:ETSY) will also report its earnings for the first time as a public company after the closing bell.
Elsewhere in corporate news, Shire made an unsolicited $30 billion all-share proposal to buy Baxalta for the company's rare-diseases drug pipeline. The offer is a 36% premium from Baxalta's Monday closing price.
Alibaba (NYSE:BABA) Group named former Goldman Sachs (NYSE:GS) partner Michael Evans as president. Evans is tasked with leading the e-commerce giant's international expansion. He has served on the company's board since Alibaba's IPO in September 2014.
Apple (NASDAQ:AAPL) shares continued to come under pressure, and fell more than 3% after the tech titan's stock officially entered correction territory, down approximately 14% from its record high of $133.
The economic data front in the U.S. was fairly quiet on Tuesday with the latest factory orders data from the commerce department which showed new orders at the factory gate rose 1.8% in June, matching Wall Street expectations, and rebounding from negative growth in the prior month.
Investors are keeping a close eye on Friday's July jobs report, which could help give the Fed another reason to begin hiking interest rates this year. Odds on Wall Street are still pinned on the first hike coming at the FOMC's September meeting.
In commodities, global crude prices climbed after hitting six-month lows in the prior session, though worries over a possible slowdown in the Chinese economy still weighed in the back of investors' minds. U.S. crude settled 1.26% higher to $45.74 a barrel, while Brent, the international benchmark settled up 0.95% to $49.99 a barrel.
"Although our commodities analysts were bearish on crude over the past few months, they think the market has now gotten ahead of itself and forecast that WTI prices will rebound to the mid-60s," according to a Barclays equity research note on Tuesday.
The note continued to explain that investor perception that's driven recent declines might be a bit off as the investment bank sees OPEC supplies unsustainable at current levels, the return of Iranian supply to be delayed at least until 2016, and U.S. production falling next year if prices are maintained at current levels.
After posting the biggest decline in two years, gold ended up 0.12% on Tuesday to $1,090 a troy ounce. Copper, which touched six-year lows, settled up 0.75% to 2.37 a pound.
In currencies, the euro traded 0.22% lower against the U.S. dollar. The yield on the benchmark 10-year U.S. Treasury rose 0.055 of a percentage point to 2.207%. Bond yields move in the opposite direction of prices.
Meanwhile, tumult continued in overseas markets where Greek bank stocks plunged 30%, a day after markets there reopened after five-straight weeks of closure. Equities continued tumbling there after data showed a mega drop in July factory production.
Still, the losses seemed relatively contained, according to IG market analyst David Madden.
"The Greek stock market has its own problems, but they are self-contained at this stage. The Athens administration must make a number of repayments later this month, and until then, the markets will be lackluster," he wrote.
In China, more government intervention helped markets there recover from the prior sessions declines on the back of data that showed Chinese factory activity had fallen the most in two years.
The Shanghai Composite index rose 3.69% while Hong Kong's Hang Seng slipped 0.02%, and Japan's Nikkei ticked 0.09% lower.
Over in Europe, The Euro Stoxx 50, which tracks large-cap companies in the eurozone, fell 0.55%. The German Dax climbed 0.08%, the French CAC 40 fell 0.33%, while the UK's FTSE 100 ticked 0.18% lower.