Wal-Mart's profit squeeze shows that courting today's shoppers comes at a price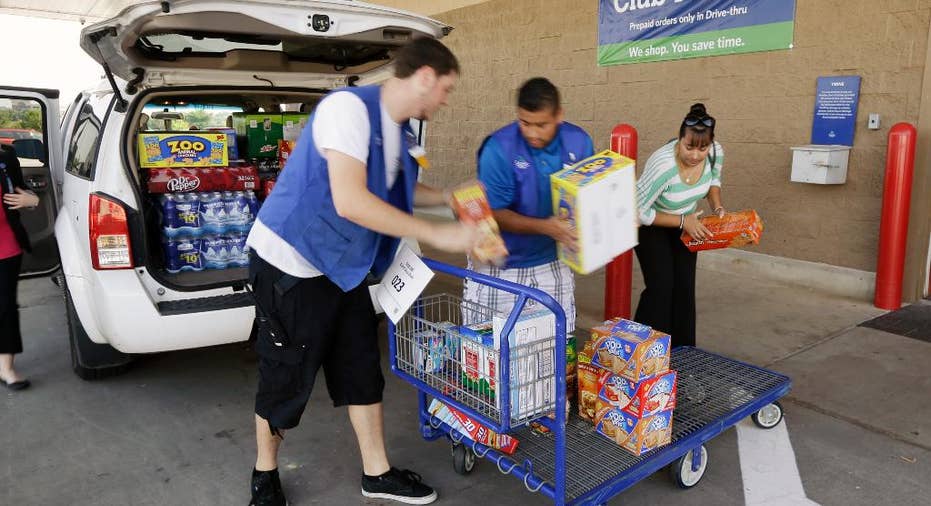 Retailers' reinvention plans come with a price tag.
Wal-Mart's second-quarter earnings report, released Tuesday, showed its investments in its workers and its efforts to overhaul the store experience are dragging down profits more than it expected. The comforting news for Wal-Mart's shareholders: the efforts are perking up sales and traffic at its U.S. namesake stores.
Wal-Mart isn't alone in facing some pain as it aims to deliver cleaner stores and faster and friendlier service to increasingly demanding shoppers shifting their spending to dollar stores or online. Retailers' second-quarter earnings reports shows how the reinvention efforts from the likes of Kohl's, J.C. Penney and Macy's are all weighing on their profits.
But they don't have a choice.
"Investors may not like it, but they have to be patient," said Ken Perkins, president of Retail Metrics LLC, a retail research firm. "You have to reinvent yourself or you won't survive."
Perkins noted earnings expectations for the 120 stores he tracks are now up only 6.3 percent, a step back from the 13.6 percent increase projected earlier in the year.
Wal-Mart and others catering to low- to middle-income shoppers know they can't count on the economy for help as customers remain deal-oriented and frugal even as the job market is improving. So they're staking out new growth opportunities, building their online businesses and aiming to have faster online delivery.
At the same time, traditional department stores are under more pressure because shoppers' money is shifting away from clothes and other standbys to spending it on health care, going out to eat and partaking in other services, such as fitness classes and Netflix subscriptions. People are also investing more in their homes as real estate values rise.
So Macy's is getting ready to open its first batch of off-price stores, while J.C. Penney is bolstering its hair salons and playing catch-up online by adding services such as letting customers order online and pick the items up at the store the same day.
Such shifts in priorities are playing into the hands of TJMaxx and HomeGoods parent company TJX Cos. and home-improvement leader Home Depot, both of which reported bigger-than-expected profits and sales Tuesday. TJX also raised its full-year profit outlook.
"When consumers believe their home is an investment and not an expense, they spend differently," Carol Tome, chief financial officer at The Home Depot Inc., said during a conference call Tuesday.
Because of Wal-Mart's sheer size, making its business more nimble will take time, Perkins said.
But the company is doing a number of things to improve its results. It's increasing spending for its online operations to between $1.2 billion and $1.5 billion this year, up from $1 billion last year. It's opening fulfillment centers dedicated to e-commerce that should speed up delivery and put more items in one box. And it's testing an unlimited free-shipping service for $50 a year, undercutting Amazon's popular Amazon Prime, which costs $99 annually.
Wal-Mart's U.S. store division, which accounts for 60 percent of the company's sales, is undergoing a major overhaul under new U.S. CEO Greg Foran.
The company is trying to improve pricing and selection as well as beef up customer service. It raised the minimum wages for its hourly workers to $9 per hour in April. By February 2016, all hourly workers will make at least $10 per hour.
Those raises are part of a $1 billion investment in its workforce that also includes improved training. Wal-Mart is counting on happier employees to improve the experience for customers. The company is freeing more workers to work the floor or run registers at peak shopping times.
Charles Holley, the company's chief financial officer, told reporters that those store investments, not the economy, helped it perk up sales and traffic. Revenue at stores open at least a year at its U.S. Wal-Mart stores rose 1.5 percent, the best performance in three years.
"We made continued progress towards our plan this quarter," Wal-Mart CEO Doug McMillon said, according to a transcript of a recorded message to investors. "Even if it's not fast as we like, the fundamentals of serving our customers are consistently improving."
________________________
Follow Anne D'Innocenzio at http://www.Twitter.com/adinnocenzio