Wal-Mart's Price War is a Winning Strategy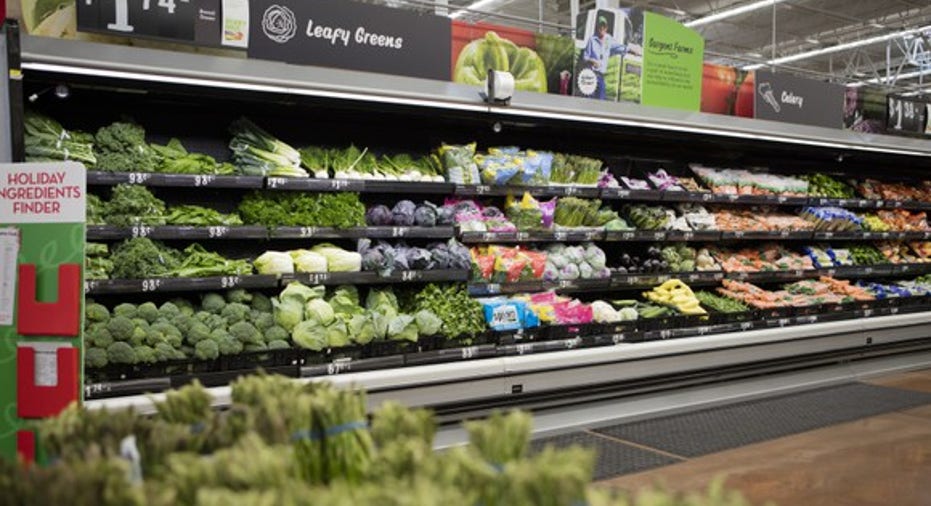 The world's largest retailer is flexing its muscles once again.
Wal-Mart Stores, Inc.(NYSE: WMT), after years of losing market share to rivals like Amazon.com(NASDAQ: AMZN),Costco Wholesale, and dollar store chains, has recommitted to offering the lowest prices on groceries.
As part of its strategy to bring customers back into stores and drive sales growth, Wal-Mart is focused on reclaiming its reputation for rock-bottom prices, the bedrock of its "Save Money. Live Better" slogan and "Everyday Low Prices" promise.
Image source: Wal-Mart
The company is aggressively lowering prices in a strategic test being conducted predominantly in stores in the South and Midwest. The Wall Street Journalreported that a basket of groceries at stores in the Philadelphia area was cheaper by 5.8%, 4.9% in Atlanta, and 2.7% in Southern California compared to prices a year ago.
The move comes as prices at the supermarket are already falling due to food deflation, which has squeezed rivals likeKroger Inc(NYSE: KR), which saw a streak of 52 consecutive quarters of same-store sales growth come to an end last quarter. Wal-Mart, meanwhile, has put up ten straight quarters of comparable sales growth thanks to efforts to clean up stores and become more price-competitive. Those decisions have cut into profits, but have led to a comeback in Wal-Mart stock, which is up 12% in the last three months.
A shift in strategy
For years, Wal-Mart opened stores across the country, part of a decades-long land grab that propelled the retailer to become the world's biggest company by sales. But the rise of e-commerce and Wal-Mart's own saturation in the U.S have forced the company to shift its strategy. The retail giant has dramatically scaled back its new store openings, choosing instead to invest in improving stores with higher wages, better conditions, more competitive prices, and innovations like online grocery pickup. The company has also aggressively pursued e-commerce acquisitions, in particular by purchasing Jet.com last summer for $3.3. billion.
But Wal-Mart also has an edge over rivals like Kroger as it lowers prices. As the biggest retailer in the country and the biggest grocer, Wal-Mart has economies of scale that no other company can match, and greater buying power than any competitor. In addition to slashing prices, Wal-Mart is also squeezing suppliers.
At a recent presentation to key vendors, Wal-Mart said it wanted to have the lowest prices on 80% of its products. In order to do that, it's asking those consumer products makers to find a way to shave 15% off of their prices by doing things like cutting back on marketing expenses. In exchange, Wal-Mart is promising increased distribution and other strategic assistance -- but said it would punish brands that resisted it by limiting placement and pushing its own private brands in those categories.
In addition to its ability to pressure suppliers, Wal-Mart also has better profit margins than its grocery rivals like Costco, Kroger, and Amazon, even after its recent investments, so it can cut prices more easily than its rivals can.
One way to take on Amazon
After blockbuster growth for 20 years, Amazon is now bending the retail rules to its desire. Thanks to its Prime membership program, the company's retail sales continue to soar as customers have embraced the convenience of online shopping, especially with the free two-day delivery shipping that comes with Prime. Amazon once built its reputation on low prices, but has increasingly made convenience its greatest proposition while still pushing the perception that it's the lowest-price vendor.
This creates an opening for Wal-Mart. The company has been stepping up its challenges to Amazon by offering free two-day shipping on orders over $35, and now discounting some online-only items when shoppers pick them up in stores. Re-establishing itself as the low-price leader may be the best way the company can stave off Amazon as the e-commerce giant focuses on convenience and speed of delivery. Consumers still largely prefer to shop for groceries in-store rather than online, and the frequency of grocery trips means it's a significant driver of customer traffic. Therefore, bringing in more grocery sales should boost sales in other departments as customer traffic increases.
Amazon still has plenty of momentum, but Wal-Mart's efforts seem to be reminding the market that it still has its own set of competitive advantages. If it keeps up these tactics, the stock should continue to move higher.
10 stocks we like better than Wal-Mart StoresWhen investing geniuses David and Tom Gardner have a stock tip, it can pay to listen. After all, the newsletter they have run for over a decade, Motley Fool Stock Advisor, has tripled the market.*
David and Tom just revealed what they believe are the 10 best stocks for investors to buy right now... and Wal-Mart Stores wasn't one of them! That's right -- they think these 10 stocks are even better buys.
Click here to learn about these picks!
*Stock Advisor returns as of April 3, 2017
Jeremy Bowman owns shares of Kroger. The Motley Fool owns shares of and recommends Amazon and Costco Wholesale. The Motley Fool has a disclosure policy.