Wal-Mart vs. Amazon: Shipping Cost Comparison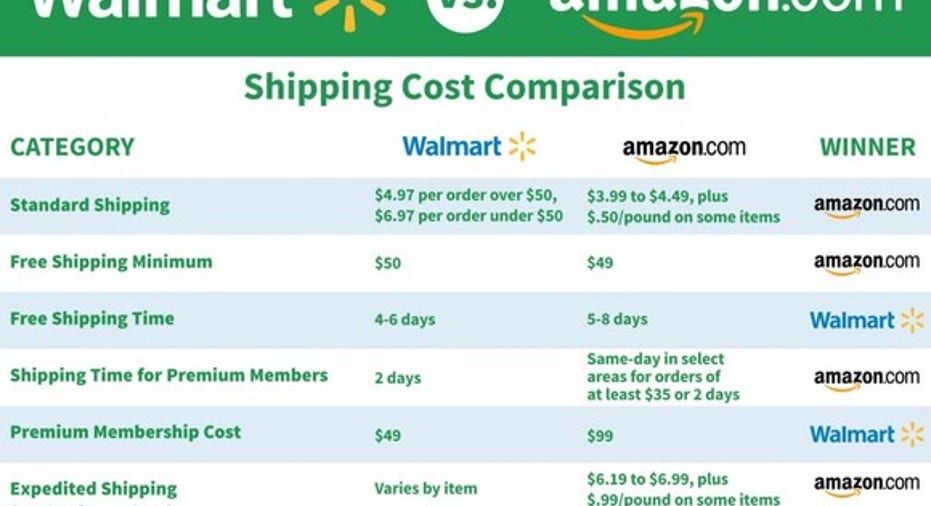 The popularity of online retailerAmazon.com has skyrocketed over the last decade as brick-and-mortar businesses, including big chain retailers like Sears and Toys "R" Us, have seen a decline in sales and have closed stores around the country. In fact, 50% of American households have an Amazon Primemembership,according to a recent report from Consumer Intelligence Partners.
Further proof of the growing shift from in-store buying toonline shoppingis in the current Fortune 500 list: Amazonhas steadily climbed from the bottom -- No. 492 in 2002 -- to No. 18 in 2016. With clear profitability and a pattern of growth,it's no wonder Wal-Mart wants a piece of the online action.
In an effort to nab some of Amazon's growing customer base and compete with Amazon's lightning-fast shipping speeds,Wal-Mart recently announced that ShippingPass, the store's membership service first introduced as a beta program in June 2015, would soon be launching as a pilot program, ShippingPass.ShippingPass isn't available yet, but you can get on the waitlist. Wal-Mart's free value shipping, available on orders of $50 or more, was already on par with Amazon's offering. But now the ShippingPass membership option will give Wal-Mart an extra tool to compete with the online retail giant.
Learn how the product selections, shipping options and shipping costs differ between the two retailers, and find out who offers the best value for your money.
Wal-Mart vs. Amazon: shipping cost comparison
Image source: GoBankingRates.com.
Free shipping
Both Amazon and Wal-Mart offer free shipping without requiring membership.Amazonoffers free shippingon eligible items that total more than$50 and Wal-Martoffers free shippingon eligible items that total more than $49.Wal-Mart beats Amazon on shipping times for these orders by a couple days,guaranteeing delivery between four and six daysversusAmazon's five to eight days.
However, Amazon offers a lower minimum order requirement of $25 for free shipping on eligible books.
When it comes to their speedy delivery membership programs, there are many similarities and a few differences between Wal-Mart's pilot program and Amazon's established counterpart.First, both retailers offer free shipping -- excluding membership costs -- on millions of products. Second, each store now promises a two-day delivery window for members -- Wal-Mart just shaved a day off their original delivery time of three days for ShippingPass members.
Wal-Mart also reduced its annual membership price by $1, making it $49 instead of $50.In contrast, Amazon charges Prime members $99 per year.
Membership restrictions
Both retailers have restrictions on what items are eligible for two-day shipping.
For example, Amazon items that don't qualify for Prime benefits include:
Anything fulfilled by Amazon Marketplace sellersnotmarked as Prime-eligible
Magazine subscriptions
Orders going to international destinations or to U.S. territories other than Puerto Rico
Products eligible for Wal-Mart's ShippingPass are limited by inventory availability and shipping address. Furthermore, products sold and fulfilled by third parties, which include Wal-Mart Marketplace items, do not qualify for ShippingPass.
Beyond two-day shipping
Aside from the cost difference, another distinction between the two programs is the perks they offer. Keep in mind that Wal-Mart's ShippingPass program is still in its beta testing phase whereas Amazon's Prime membership has been around since 2005.
Wal-Mart has not released any information on additional perks for ShippingPass members, but Amazon offers Prime members a number of extra benefits.First, Amazon offers Prime members free same-day delivery on eligible products totaling more than $35 -- if you order before noon, then you're guaranteed to get your delivery before 9 p.m. on the same day.
Additionally, Prime members get other benefits, including access to:
Music
Kindle e-books
Online photo storage
Wal-Mart shipping costs
On Walmart.com, shipping is free if your total is more than $50 and you select value shipping. You'll receive your items in five to seven business days.If your purchase is less than $50, the shipping rate is $4.97 per order as long as you select value shipping.
Otherwise, rates are as follows:
Standardshipping on orders with totals under $50 is $6.97 and takesthree to five business days.
Standard shipping on orders with total over $50 is $4.97 and takesthree to five business days.
Faster shipping options -- two to three business days and one to two business days -- do not have set prices but vary by item.
Additionally, other charges might apply to your order:
Freight surcharges for heavy or oversized items
Location surcharges for areas like Alaska and Hawaii
Marketplace shipping charges for items sold on Walmart.com by our partner retailers
Amazon shipping costs
Amazon ships orders totaling $49 or more of eligible items -- or $25 if the entire order consists of books -- for free. Your order will be delivered within five to eight business days after all your items are available to ship.
Otherwise, rates are as follows:
Domestic standard shipping takes four to 14 business days and cost varies by product: from $3.99 to $4.49, plus 50 cents per pound on some items.
Domestic expedited shipping takes two to six business days and cost varies by product: from $6.19 to $6.99, plus 99 cents per pound on some items.
Wal-Mart vs. Amazon:The verdict
Depending on how much you shop online and your expectations for delivery speeds and extra perks, both Wal-Mart and Amazon offer attractive features. However, the big difference between the two stores is inventory.Amazon is the clear winner in this category, offering 250 million products in contrast to Wal-Mart's 4.2 million products.
Amazon is also more widely available, reaching 185 countries versus Wal-Mart's reach of just 27 countries.
Variety and availability of products, along with ever-faster delivery times and Amazon's lower free-delivery minimum for books, puts the online giant Amazon ahead of big-box retail rival Wal-Mart in terms of delivery services.
This article originally appeared at GoBankingRates.
The article Wal-Mart vs. Amazon: Shipping Cost Comparison originally appeared on Fool.com.
GoBankingRates has no position in any stocks mentioned. The Motley Fool owns shares of and recommends Amazon.com. Try any of our Foolish newsletter services free for 30 days. We Fools may not all hold the same opinions, but we all believe that considering a diverse range of insights makes us better investors. The Motley Fool has a disclosure policy.
Copyright 1995 - 2016 The Motley Fool, LLC. All rights reserved. The Motley Fool has a disclosure policy.