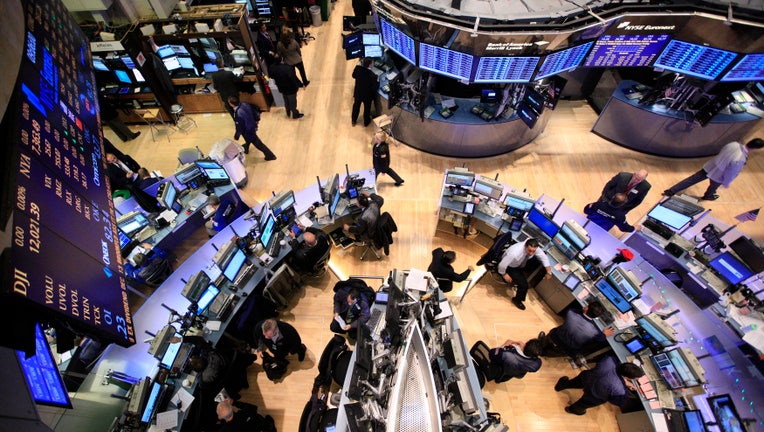 FOX Business: Capitalism Lives Here
The markets slid into negative territory on a report Wal-Mart is paring back on its new orders -- a sign demand could be weaker-than-expected.
Today's Markets
As of 1:45 p.m. ET, the Dow Jones Industrial Average fell 76.5 points, or 0.5%, to 15259, the S&P 500 declined 4.8 points, or 0.29%, to 1693, and the Nasdaq Composite slumped 6.7 points, or 0.17%, to 3762.
The Dow and broader S&P 500 added a fourth day to their losing streaks on Tuesday amid resurfacing concerns about the Federal Reserve's plan to scale back its massive bond-buying program.
Since the central bank has said its moves will be "data dependent," incoming economic data have taken on increased significance.
The Commerce Department reported orders for long-lasting goods ticked slightly higher in August. Excluding the transportation component, orders slid 0.1%. Economists expected durable goods orders to have slipped 0.4% in August from July as big-ticket transportation orders came under pressure.
The gauge is a lagging indicator, but it can affect investment banks' forecasts for second and third quarter gross domestic product.
A separate report from Commerce said sales of new single-family homes jumped to an annualized rate of 421,000 units in August from 390,000 units the month prior. Economists expected sales to rise to 420,000.
The housing market has been a bright spot in the economic recovery. However, Robert Shiller, an economist at Yale University, told FOX Business Tuesday the "scary" jump in rates this year could stall the progress.
Meanwhile, a fiscal battle brewed in Congress. The Senate could take action on a House-passed bill to avoid a government shutdown.
"There appears to be little scope for an imminent tempering of fiscal uncertainty," analysts at Nomura told clients.
The Japan-based investment bank highlighted the duo of issues the legislature needs to tackle: passing a continuing resolution to keep the government's lights on until December and avoiding a breach of the debt ceiling. Indeed, Treasury Secretary Jack Lew told House Speaker John Boehner the U.S. will slam into the debt limit on October 17.
Elsewhere, U.S. crude oil futures climbed 64 cents, or 0.61%, to $103.77 a barrel. Wholesale New York Harbor gasoline rallied 0.96% to $2.672 a gallon. Gold advanced $2.80, or 0.21%, to $1,319 a troy ounce.
Foreign Markets
The Euro Stoxx 50 dipped 0.2% to 2917, the English FTSE 100 slipped 0.35% to 6549 and the German DAX slumped 0.24% to 8643.
In Asia, the Japanese Nikkei 225 skidded 0.76% to 14621 and the Chinese Hang Seng rose 0.13% to 23210.