Wal-Mart Inc. Isn't the Grocery Store King of Customer Satisfaction. Guess Who Is.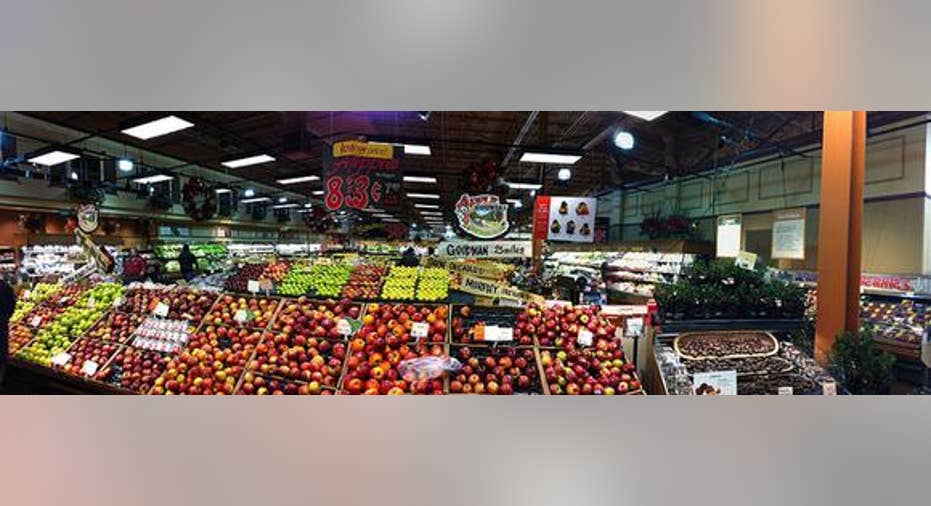 Although Wal-Mart has tried to change consumer perceptions about shopping its stores, such as by opening small-footprint markets, the retail king still ranks low in customer satisfaction surveys. Image source: Mike Mozart.
When it comes to sheer size, Wal-Mart is the undisputed leader, operating more than 11,500 stores under 72 banners in 28 countries. In the U.S., it has about 5,200 stores (including Sam's Club stores) with most of those around 182,000 square feet.
Wal-Mart generated half a trillion dollars in sales last year, or more than the entire GDP of countries like Norway, Austria, and Hong Kong, and almost as much as produced by Taiwan, Belgium, and Argentina. The vastness of Wal-Mart's operations can't be understated, and it makes No. 2 grocer Kroger , with its 2,800 stores in 35 states, pale in comparison. Total sales at Kroger, including gasoline sales and its recent acquisition of the Roundy's chain, stood at $110 billion in 2015.
Bigger not always betterIf size was the sole factor in determining who was best, then Wal-Mart wouldn't be struggling like it is. The retail giant reported lower quarterly profits last month and it expects same-store sales growth this year to be flat, compared to its previous guidance that comps would grow 3% to 4% in 2016.
Kroger, though faring better than Wal-Mart, still disappointed investors when its same-store sales growth came in below expectations, and it was also expecting growth this year to be lower than it was last year.
It's obvious bigger isn't always better, and that also shows up when surveying consumer opinion on how satisfied they are with their shopping experience at supermarkets.
In the express checkout laneThe American Customer Satisfaction Index recently released its latest annual survey of more than 70,000 consumers on how satisfied they are with more than 300 companies across 43 industries and 10 economic sectors. Based on the responses given, the market researchers assign a score to the companies ranging between 100 and -100.
The latest index results gave Kroger a rating of 76 in customer satisfaction, a 2.6% drop from last year's ranking of 78, and 5% below its high score of 80, recorded in 2013. The supermarket hasn't changed much since the mid-1990s when ASCI first began tracking customer opinion, and it's notable that its score is only a few points above the industry average of 73.
For Wal-Mart, the results were even worse. It ranked dead last among supermarkets with a rating of 67 (5.6% below the prior year's 71), and across all of retail, only one company fared worse:Abercrombie & Fitch, which generated a 66 rating.
When it comes to supermarkets, consumers have a broad selection from which to choose, so which grocery store did they think was best? Family-owned regional grocery store chain Wegmans Food Markets.
A Wegmans. Customers continue to rank family-owned regional supermarket Wegman's as the best overall in customer satisfaction. Image source: James G. Milles.
It's a family affairOperating just 88 stores in the mid-Atlantic and New England states of New York, Pennsylvania, New Jersey, Maryland, Massachusetts, and Virginia, Wegmans garnered a customer satisfaction rating of 86 in this survey, a 1.2% gain over last year, and the only grocery store chain to actually see its ranking climb year over year. It was enough to outpoll second-place Trader Joe's, which saw its rating fall 2.4% to 83. Last year, the two had been tied for first, a notable achievement because it was the first time both companies had been included in the survey.
Selected Supermarket Rankings

Supermarket

ASCI
Rating

% Change
1
Wegmans
86
1.2
2
Trader Joe's
83
(2.4)
3
H-E-B
82
0.0
4
Publix
82
0.0
5
Aldi
81
0.0
8
Kroger
76
(2.6)
13
Whole Foods
73
(9.9)
14
Industry Avg.
73
(3.9)
15
SUPERVALU
71
(5.3)
16
Target
71
(12.3)
21
Wal-Mart
67
(5.6)
Data source: American Customer Satisfaction Index. Chart by author.
Despite only recently being counted among the giants, Wegmans is no Johnny-come-lately. It was founded in 1916 and is actually one of the largest private companies in the U.S., and it has been a leader in grocery store innovation. For example, it became one of the first supermarkets to introduce electronic discounts and was one of the earliest to introduce barcode scanning.
But Wegmans describes itself as something more akin to a European open-air market and stocks an awe-inspiring 70,000 products, which the Food Marketing Institute says is almost twice as many as the 40,000 items found in a typical supermarket, allowing it to record the highest average daily sales volumes in the industry.
Having stumbled across a Wegmans only recently, I can attest to it providing sensory overload. There's a lot going on around you, and although its stores average between 80,000 and 140,000 square feet in size, making it comparable to a Wal-Mart, they don't have that same industrial warehouse feel.
A truly super marketThe supermarket space is highly competitive, and with European grocery store chain Aldi rapidly growing across the U.S., with an eye toward soon having 2,000 stores here, the elbows are only going to get sharper. Wegmans Food Markets, however, continues to earn industry accolades, so with a smart management team, a business sporting good economics, and a sterling reputation in the communities it serves, this supermarket supercenter is likely to rank atop customer satisfaction lists for years to come.
The article Wal-Mart Inc. Isn't the Grocery Store King of Customer Satisfaction. Guess Who Is. originally appeared on Fool.com.
John Mackey, co-CEO of Whole Foods Market, is a member of The Motley Fools board of directors. Rich Duprey has no position in any stocks mentioned. The Motley Fool owns shares of and recommends WFM. The Motley Fool recommends SVU. Try any of our Foolish newsletter services free for 30 days. We Fools may not all hold the same opinions, but we all believe that considering a diverse range of insights makes us better investors. The Motley Fool has a disclosure policy.
Copyright 1995 - 2016 The Motley Fool, LLC. All rights reserved. The Motley Fool has a disclosure policy.