Wal-Mart Has a New Plan to Take on Amazon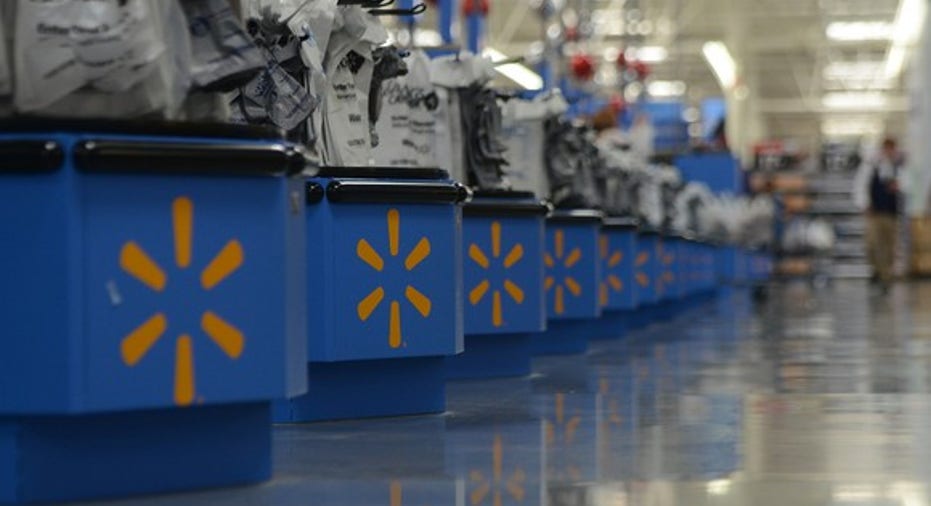 Wal-Mart (NYSE: WMT) is working to leverage the one advantage it has over Amazon (NASDAQ: AMZN) to gain ground on the online leader. The problem is that nearly every bricks-and-mortar retailer pursuing a digital strategy has the same idea: Use the fact that you have physical stores to support your online business. It's a concept that can work to stop sales from dropping or even slightly grow them, but so far the idea that physical stores can push online operations to new heights remains just a theory.
If any company can make it happen, however, it would be Wal-Mart, which has a physical infrastructure on a stunning scale. The challenge for the chain is moving from an operation built to supply its stores to one that can also handle individual orders in a variety of ways.
To make that happen, Wal-Mart will have to change its entire culture. The company can't stop servicing its physical locations, but it has to put its online customers -- including those who want to pick up or drop off a return in-store -- on par with (or even above) those who shop in-person at a bricks-and-mortar location. It's recently made some personnel moves that seem aimed at making that happen.
Wal-Mart makes some moves that could help it better take on Amazon. Image source: Wal-Mart.
What is Wal-Mart doing?
The company understands just how big a challenge it faces. Its first major move was to spend $3.3 billion acquiring Jet.com and then putting its CEO, Marc Lore, in charge of Wal-Mart's entire digital operation.
In theory, that purchase brought some start-up culture to Wal-Mart's entrenched, traditional retail way of doing things. Putting Lore in charge also sent a strong message, but it was one that perhaps did not impact the traditional bricks-and-mortar part of the company because the new digital CEO did not have much pull at the chain's physical stores.
That looks to be changing, however, as the company has moved two key executives under Lore and into roles that bridge both physical and digital operations, ReCode reported. Jeremy King, who served as chief technology officer for the company's online operations in the United States, will now add technology operations at physical stores to his purview. In addition, Tony Rogers, who had been chief marketing officer for Wal-Mart's U.S. stores, will now also head up marketing for Walmart.com and Jet.com.
"We were starting to see our stores and eCommerce teams solving many of the same problems and now we can remove what might've become more duplication in the future," Wal-Mart CEO Doug McMillon said in a memo, according to ReCode. "I know change isn't always easy, but, I'm certain our future success is partially dependent on becoming more of a technology company in our stores and clubs and everywhere else the customer sees us."
Call this a "One Wal-Mart" movement where to take on Amazon the company has to stop thinking of digital as an add-on to or a separate business from its physical stores. It's a way of thinking that could change everything for the chain if Lore actually has the freedom to push digital solutions where they make sense even if it hurts in-store sales.
Wal-Mart wants to make a leap
Making this type of change is not about simply growing online sales. The company has been doing that steadily, with global e-commerce growing by 20.6% in the most recent quarter. Instead, the task facing Lore and his team is completely reimagining how the retailer does business in order to be a true Amazon rival. That ultimately could mean fewer stores or using space inside bricks-and-mortar locations previously devoted to serving in-store customers to fulfill digital orders.
This is about much more than ordering online and picking up in store. It's an internal fight for Wal-Mart to decide whether it wants to put whatever the customer wants and however the customer wants it over doing business more or less as it always has.
This type of change, as McMillon said, isn't always easy, and, in fact, it often proves impossible. Wal-Mart has put people into place and the chain's management seems to understand the challenge, but actually solving the problem could require some very painful moves.
Buying Jet.com, putting Lore in charge, and making these latest moves shows that Wal-Mart at least understands where it needs to go. Getting there, however, won't be a straight line and it will require finding a way to turn the world's largest physical retailer into a company that's a technology-first, consumer-first operation.
10 stocks we like better than Wal-Mart Stores When investing geniuses David and Tom Gardner have a stock tip, it can pay to listen. After all, the newsletter they have run for over a decade, Motley Fool Stock Advisor, has tripled the market.*
David and Tom just revealed what they believe are the 10 best stocks for investors to buy right now... and Wal-Mart Stores wasn't one of them! That's right -- they think these 10 stocks are even better buys.
Click here to learn about these picks!
*Stock Advisor returns as of January 4, 2017
Daniel Kline has no position in any stocks mentioned. He had a miserable experience buying from Walmart.com, but suspects it would be better now. The Motley Fool owns shares of and recommends Amazon.com. The Motley Fool has a disclosure policy.