Wal-Mart, Amazon, Others Have a Surprising Recall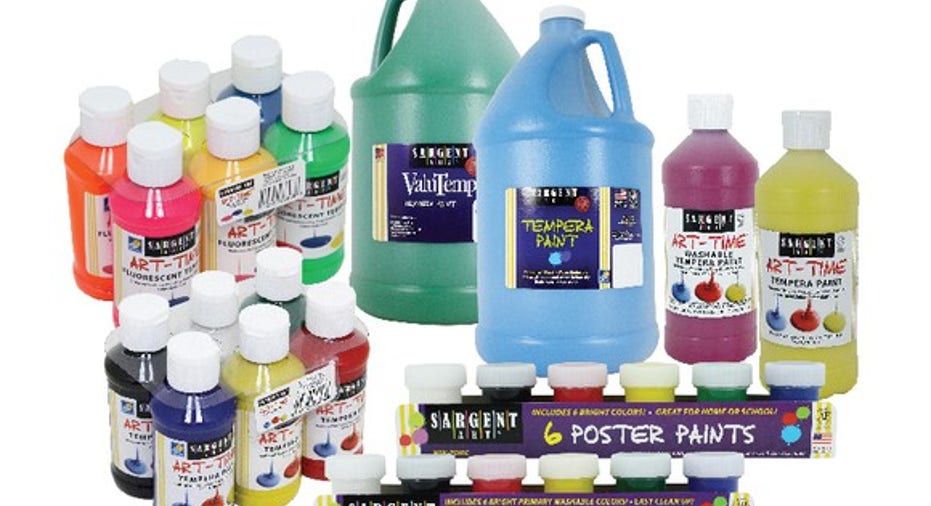 If you have any of these paints, do not use them and do dispose of them safely. Image source: Sargent Art.
When people worry about bacteria, those concerns usually revolve around food.
That makes sense because, in general, getting sick from a tainted product involves ingestion, and aside from the rare kid in elementary school who eats paste, generally non-edible items are not an infection concern. That makes it all the more surprising that Sargent Art has had to recall 2.8 million units of craft paint sold at retailers including Wal-Mart (NYSE: WMT), Hobby Lobby, and Amazon.com (NASDAQ: AMZN) after finding that the tubes, bottles, and other containers may be contaminated with bacteria.
"This recall involves 13 types of Sargent Art tempera and finger paints," according to a recall notice posted on the Consumer Product Safety Commission (CPSC) website.
What is the risk?
According to the CPSC, Sargent Art's tempera and finger paints in different colors and sizes sold from May 2015 to June 2016 "can contain harmful bacteria."Exposure to that bacteria "can have adverse health effects in immunocompromised individuals, posing a risk of serious illness including a bacterial infection," the federal agency wrote. Consumers are warned to stop using those paints immediately and contact Sargent Art at at 800-827-8081or online at sargentart.com to arrange for a refund.
It's worth noting that even though the CPSC says that consumers with healthy immune systems are not generally affected by the bacteria, it's still recommended that anyone with these paints stop using them.
The elevated bacteria levels were discovered by Sargent Art during routine quality control inspections, according to an FAQ posted by the company. People do not need to send the paint back to the company in order to receive a refund, but they must take photos to document that it has been destroyed in order to get their money back."The product can be disposed of by simply pouring it down your sink drain," the company wrote. "Please be sure to rinse any area clean that the paint has touched. The packaging or bottle that your paint was in can be disposed of by utilizing your normal trash disposal."
How does this impact Wal-Mart and Amazon?
If nobody gets sick, a recall for a fairly obscure product line should not have a negative impact on business for Wal-Mart, Amazon, or any other retailer selling these paints. This will only become a problem for those companies if a child with a compromised immune system falls ill in a way that can be attributed to the tainted product.
In this case, Wal-Mart and Amazon have to pull these products from their shelves and hope that nobody gets sick. Children's art paint is not a core part of their business, but any illness caused by these items could lead to bad publicity. Public reaction to bacteria-related recalls can be unpredictable. This case will almost certainly blow over without any major problem, but until the danger has passed, any retailer that sold the paints should be vigilant while hoping that nobody gets sick.
10 stocks we like better thanAmazon.com When investing geniuses David and TomGardner have a stock tip, it can pay to listen. After all, the newsletter theyhave run for over a decade, Motley Fool Stock Advisor, has tripled the market.*
David and Tomjust revealed what they believe are theten best stocksfor investors to buy right now and Amazon.comwasn't one of them! That's right -- theythink these 10 stocks are even better buys.
Click hereto learn about these picks!
*StockAdvisor returns as of September1, 2016
Daniel Kline has no position in any stocks mentioned. He can't promise he never ate paint as a kid. The Motley Fool owns shares of and recommends Amazon.com. Try any of our Foolish newsletter services free for 30 days. We Fools may not all hold the same opinions, but we all believe that considering a diverse range of insights makes us better investors. The Motley Fool has a disclosure policy.