Vulcan Materials' Stock Set for a Big Year After Soaring 32% in 2016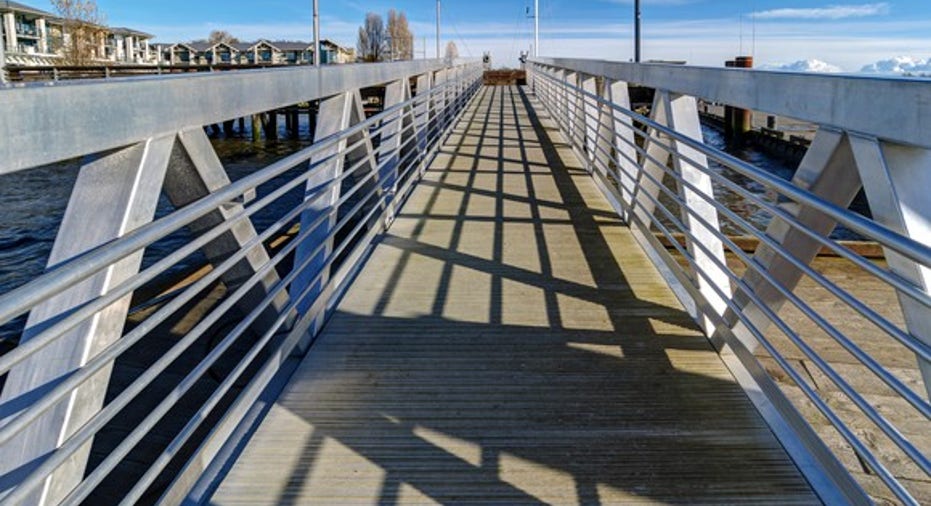 It isn't tough to see why Vulcan Materials Company's (NYSE: VMC) stock held up strong through 2016, even hitting its all-time high in November after Donald Trump won the presidential election. After all, if the president delivers on his campaign rhetoric about rebuilding America's infrastructure, sales for construction aggregate suppliers like Vulcan and Martin Marietta Materials (NYSE: MLM) could go through the roof. Vulcan is, in fact, the nation's largest manufacturer of building materials, primarily crushed stone, sand, and gravel.
But speculation can be dangerous. If Vulcan is going to jump another 32% or more this year as it did in 2016, the stock needs more than just expectations for backing.The company needs to see those infrastructure projects kick off and orders flow in. I don't want to disappoint you, but the world's largest construction equipment manufacturer,Caterpillar Inc. (NYSE: CAT), doesn't expect to see any benefits of higher infrastructure spending before at least 2018.
Image source: Getty Images.
With Vulcan shares also giving back almost 10% gains in the past couple of weeks, should investors be wary of the stock or continue to see any drop as an opportunity? Take heart, because Vulcan has all the growth catalysts in place that could drive the stock higher.
Why Vulcan's earnings surged in 2016
Vulcan's just-released fourth-quarter and 2016 numbers didn't quite go down well with the markets, as the company missed analysts' estimates on both its top and bottom lines for the fourth quarter. But when you scratch beneath the surface, you realize what a strong year 2016 was for Vulcan.
Vulcan's sales rose 5% in 2016, but its net earnings jumped a whopping 90% to $419 million. If you strike out one-time gains and losses on sale of assets, business claims, and asset impairment, Vulcan's adjusted earnings from continuing operations still came in about 33% higher at $2.86 per share.
It's been a mixed bag for Vulcan as far as demand is concerned. While the company is benefiting from strong construction activity in markets like Arizona, Florida, Georgia, and North Carolina, others like California, Illinois, and Texas continue to remain sluggish. However, pricing in all of Vulcan's markets remains strong on supply constraints -- a trend that rival Martin Marietta, which operates in similar geographic regions, also confirmed in its last quarter when it reported 9% improvement in aggregates pricing. Going by this chart from Vulcan's Q4 earnings presentation, the positive pricing trend looks here to stay.
Image source: Vulcan.
In fact, I believe this strength in pricing lays the perfect foundation for a multiyear recovery ahead, making Vulcan a stock fit to be on your radar.
2017 could be another big year for Vulcan
Caterpillar may be rightly cautious about 2017, but the challenges for a construction-equipment manufacturer differ hugely from those of building materials companies, even if they serve similar markets. For example, unlike Caterpillar, Vulcan doesn't have to worry about inventory at the dealers' end. Moreover, builders can buy used and auctioned machines or rent them instead of purchasing new machines from manufacturers like Caterpillar; such is not the case with aggregates. In other words, Vulcan's growth prospects are brighter. Three factors, in particular, could drive its sales volumes higher in 2017 and beyond:
Strong sustained growth in the Mid Atlantic and Southeast regions
Recovery in California and Texas
Pickup in public spending
Private construction spending is already on a roll, having hit levels in December not seen since July 2006. Remember, public construction has yet to take off, which means the pricing strength that Vulcan and other construction material companies are enjoying largely reflects early cycle recovery. As public projects pick up steam, Vulcan should be able to exploit its pricing power further while enjoying higher demand for products. The company's projections for 2017 reflect its growth potential.
| Metric | Forecast 2017 | Actual 2016 |
| --- | --- | --- |
| Aggregates shipment | Up 5%-8% | Up 2% |
| Aggregates freight-adjusted sales price | Up 5%-7% | Up 7% |
| Adjusted EBITDA | $1.1 billion-$1.2 billion | $966 million |
Data source: Vulcan's financials.EBITDA = earnings before interest, tax, depreciation, and amortization.
Meanwhile, Vulcan continues to generate strong cash flow and invest in growth. During its recent earnings call, management clearly mentioned that it'll continue to seek acquisition opportunities this year while returning excess cash, if any, to shareholders in the form of dividends and share repurchases.
Vulcan may look pricey at 40 times trailing earnings, but you shouldn't forget that it's primarily a growth stock, having grown its earnings and cash flow substantially in the past five years, with a focus on reinvesting cash into its business to boost returns on capital and position itself for solid growth as business cycles firm up. Growth stocks usually trade at a premium, and I wouldn't be surprised if Vulcan continues to run higher in 2017 and beyond.
10 stocks we like better than Vulcan MaterialsWhen investing geniuses David and Tom Gardner have a stock tip, it can pay to listen. After all, the newsletter they have run for over a decade, Motley Fool Stock Advisor, has tripled the market.*
David and Tom just revealed what they believe are the 10 best stocks for investors to buy right now... and Vulcan Materials wasn't one of them! That's right -- they think these 10 stocks are even better buys.
Click here to learn about these picks!
*Stock Advisor returns as of February 6, 2017
Neha Chamaria has no position in any stocks mentioned. The Motley Fool has no position in any of the stocks mentioned. The Motley Fool has a disclosure policy.