Volkswagen Seeks to Change the Subject With a New Plug-in SUV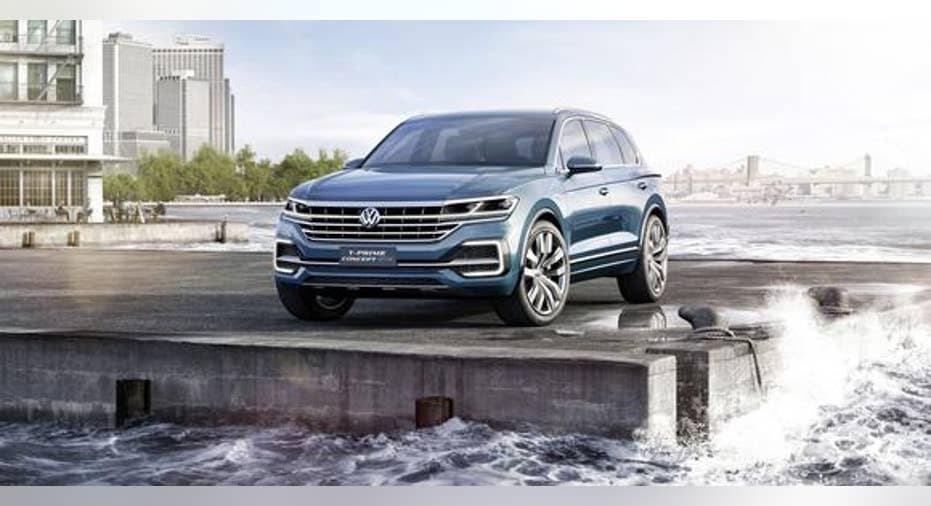 Volkswagen described the T-Prime Concept GTE SUV as a concept vehicle, but it looks like a close preview of the next-generation Touareg. Image source: Volkswagen.
After dropping hints last week, Volkswagen showed off a new plug-in hybrid SUV in Beijing on Monday.
The Volkswagen T-Prime Concept GTE is almost certainly a preview of the next-generation VW Touareg. It follows several other recent VW "concept" SUVs, as the company continues to signal that it wants to be a major player in the booming global market for car-based crossover SUVs -- as well as a leader in the movement toward electrified vehicles.
What Volkswagen said about its new concept SUV"The T-Prime Concept GTE concept car is a premium class sport utility vehicle," the company said in a statement on Monday.
Teslas may feature gianttouchscreens, but VW's iscurved. Take that, Elon Musk. Image source: Volkswagen.
"This plug-in hybrid all-rounder gives a first glimpse of Volkswagen's future flagship," the company stated.
What it means for Volkswagen and its CEOAfter months of terrible headlines related to the company's diesel-emissions scandal, CEO Matthias Mueller needs to give Volkswagen investors and stakeholders a vision of a positive future.
This SUV concept builds on a couple of themes that have become very important for VW since Mueller took the top job last fall. First, it's obviously an SUV. That may not seem like a big deal, but the VW brand's current SUVs have struggled to get traction in the U.S. and China, where SUV demand has been booming. Adding more and better SUVs to its product line is probably the best near-term way for VW to find global sales growth.
In fact, SUV sales (or the lack thereof on VW's part) are probably the biggest reason why General Motors was able to out-sell VW in China last year. Shanghai GM has two big hits in the Baojun 560 and Buick Envision SUVs, introduced last year -- and while sibling Audi's SUVs have done well, the VW brand has no direct counter for either.
Second, the T-Prime Concept GTE is a plug-in hybrid, with a claimed electric-only range of 50 kilometers (31 miles). That's not exactly world-beating range, but it's probably enough to help the vehicle's prospects in China, where plug-in vehicles are often exempted from rules that limit other vehicles' access to major cities. (The rules are an effort to combat smog, which has become a public health problem in cities like Beijing.)
This graphic shows the T-Prime Concept GTE's plug-in hybrid powertrain. Image source: Volkswagen.
Volkswagen's statement on Monday emphasized its renewed commitment to electrified vehicles:
But there's more to it than China. As we've seen with VW's Audi and Porsche brands, the VW Group is making a serious commitment to electric vehicles and plug-in hybrids. Not only is it making a bid to challenge Tesla Motors directly, it's also making a play for market share in China as the Chinese government pushes its domestic auto industry toward electrification.
So will it sell?The VW brand faces a hard road in the United States. I'm not sure anything other than time, a relentless commitment to quality and value -- and a good resolution to the diesel emission mess -- will help the brand's prospects here. Given that, I wouldn't hold out a lot of hope for VW to become a major SUV player in the United States.
But the U.S. isn't the only place where VW is struggling to hold market share as more and more buyers turn to SUVs. The T-Prime Concept GTE isn't a ground-shaking product, but it's a step ahead of the current Touareg in both styling and technology. If it's priced right, it should help the German giant's efforts in China.
The article Volkswagen Seeks to Change the Subject With a New Plug-in SUV originally appeared on Fool.com.
John Rosevear owns shares of General Motors. The Motley Fool owns shares of and recommends Tesla Motors. The Motley Fool recommends General Motors. Try any of our Foolish newsletter services free for 30 days. We Fools may not all hold the same opinions, but we all believe that considering a diverse range of insights makes us better investors. The Motley Fool has a disclosure policy.
Copyright 1995 - 2016 The Motley Fool, LLC. All rights reserved. The Motley Fool has a disclosure policy.