Volkswagen Looks to Move Past Diesel Mess With New Plug-in SUV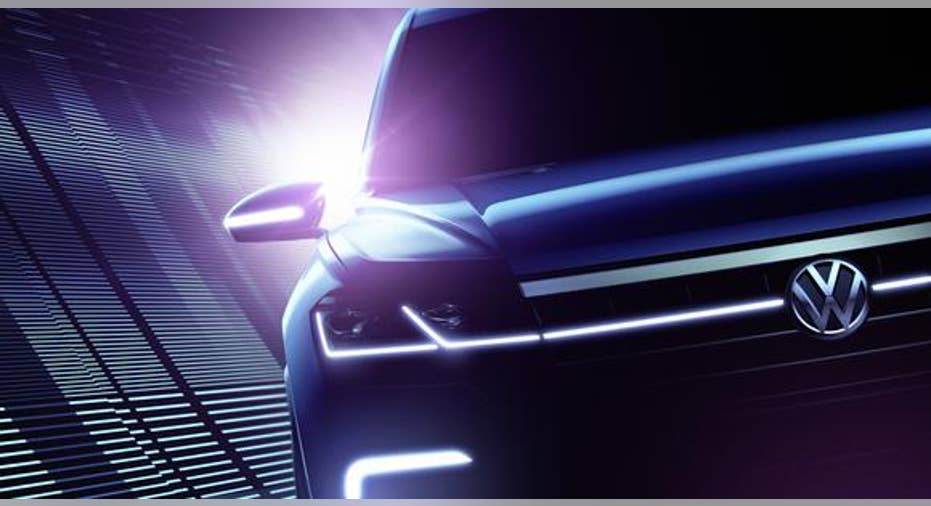 Volkswagen released several "teaser" photos of its Beijing Concept, a new plug-in hybrid SUV that will likely be unveiled next week. Image source: Volkswagen
On Sunday, Volkswagen released "teaser" photos of a new SUV concept it plans to show off at the Beijing Motor Show. The show will get under way this weekend.
What Volkswagen said: VW said that its "Beijing Showcar" is a "new development in the premium SUV segment." It gave "ten key facts" about the concept:
"1. Volkswagen is presenting one of the world's most advanced full-size SUVs.
2. Concept Car transfers full-size SUV design to a new sporty and elegant level.
3. Volkswagen systematically advances digitalisation of the automobile.
4. Digitalised display and control concept of the SUV concept car enables a completely new range of interactivity.
5. Active Info Display and infotainment system merge under a sheet of transparent glass to become a Curved Interaction Area.
6. Interior is a relaxed living space, and digitalised operation focuses on the person more than ever.
7. SUV has a plug-in hybrid drive with 280 kW of system power and 700 Nm of system torque.
8. Electric driving range of the SUV is up to 50 km.
9. Less than 3.0 l/100 km NEDC fuel consumption.
10. Concept Car accelerates to 100 km/h in 6.0 seconds and has a top speed of up to 224 km/h."
Image source: Volkswagen
Simply put: It's a big plug-in hybrid SUV with a high-tech dashboard.
What it means for VW: So far, there's no suggestion that this SUV is anything but a concept car built for show. But following on other recent VW SUV concepts, it shows again that VW is thinking hard about how to become a player in SUVs, a market in which it currently sorely lags.
Image source: Volkswagen
While VW's premium Audi and Porsche SUVs have done well in luxury segments, the SUV offerings from the mass-market Volkswagen have been poor sellers. Compact crossover sales boomed in the U.S. last year, but VW sold just 35,843 examples of its Tiguan SUV -- barely more than Ford's Escape or Toyota's RAV4 manage in a good month. The concept shows that VW is thinking hard about ways to build appealing crossover SUVs for its mass-market brand.
It also shows that VW is making a broader commitment to electrification. This has been expected: CEO Matthias Mueller has signaled clearly that VW will aggressively develop more plug-in hybrids and electric cars as it seeks to move past its diesel-emissions cheating debacle.
Image source: Volkswagen
There's also a local angle with the Beijing Concept: Plug-in hybrids are becoming more important in China, where cities have limited non-electric car use as part of efforts to curb air pollution. The fact that it's an SUV is also significant, as VW lost ground to General Motors in China last year in large part because of GM's strong SUV portfolio.
Looking ahead: We'll take a closer look at this new VW once the company releases full details, likely next week. If the concept turns out to be a preview of an upcoming new production Volkswagen SUV, it could be a significant product. We'll know more soon.
The article Volkswagen Looks to Move Past Diesel Mess With New Plug-in SUV originally appeared on Fool.com.
John Rosevear owns shares of Ford and General Motors. The Motley Fool owns shares of and recommends Ford. The Motley Fool recommends General Motors. Try any of our Foolish newsletter services free for 30 days. We Fools may not all hold the same opinions, but we all believe that considering a diverse range of insights makes us better investors. The Motley Fool has a disclosure policy.
Copyright 1995 - 2016 The Motley Fool, LLC. All rights reserved. The Motley Fool has a disclosure policy.