Volkswagen Agrees to Another Billion-Dollar Diesel Settlement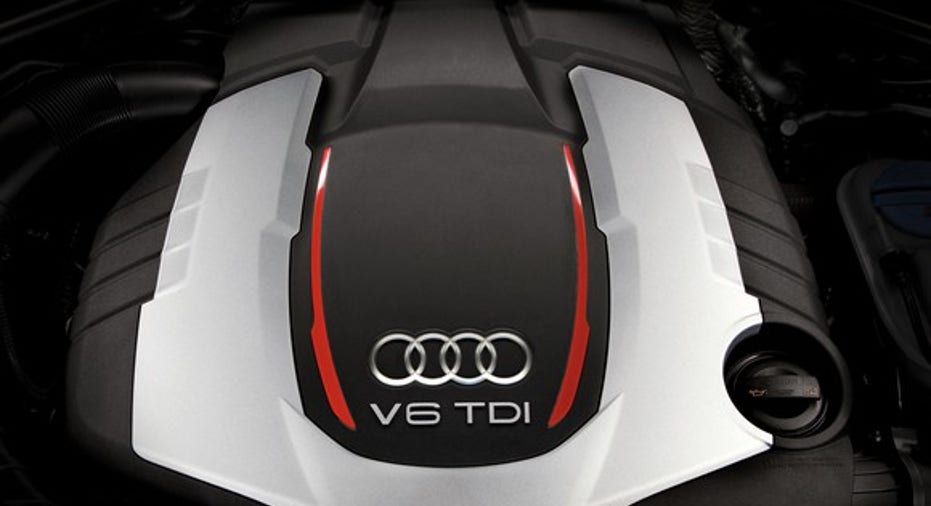 Tack on another billion dollars for Dieselgate: German auto giant Volkswagen AG (NASDAQOTH: VLKAY) on Tuesday agreed to a $1 billion settlement to repair or buy back another 80,000 diesel-powered vehicles that don't meet U.S. emissions standards.
Didn't VW already agree to fix or buy back the cheating diesels?
It did, but for a different set of vehicles. Back in June, VW agreed to a $15.3 billion settlement to fix or buy back roughly 482,000 vehicles sold between 2009 and 2015 with a 2.0-liter four-cylinder TDI turbocharged diesel engine. Those engines, offered in the U.S. in some VW and Audi(NASDAQOTH: AUDVF) models, had software that detected when a government emissions test was under way and temporarily "cleaned up" the vehicles' exhaust so they would pass.
That software was considered a "defeat device," which is illegal under the Clean Air Act. In normal driving, those vehicles emitted up to 40 times the level of pollution allowed by U.S. law.
Variants of this 3.0-liter TDI turbocharged diesel engine were used in some VW, Audi, and Porsche models. Image source: Audi AG.
This new settlement covers another 80,000 VW, Audi, and Porsche models powered by a 3.0-liter V6 version of the TDI diesel engine. VW has admitted that the 3.0-liter engines had a different "defeat device," a less-restrictive second exhaust system that allowed them to emit up to nine times the legal limit of pollutants under some driving conditions.
What are the details of this new settlement?
The settlement breaks the 3.0-liter vehicles into two groups by model year.
For 2009 to 2012 model-year vehicles, VW will offer to buy back or terminate leases without penalty, as it did with the 2.0 liter cars. For owners who would rather keep their vehicles, VW will also offer a way to repair them so that they meet emissions requirements -- but only if regulators approve the repair.
For 2013 to 2016 model-year vehicles, VW will recall and repair them to bring them into compliance -- again, if regulators approve the repair. If regulators don't allow VW's proposed repair, it will offer to buy the vehicles back or terminate leases. It may also seek approval to offer a repair that doesn't quite bring them into full compliance but does reduce their harmful emissions. (Clearly, VW expects that it will be easier to fix these later models, but it sounds like the regulators aren't on board yet.)
VW also agreed to contribute an additional $225 million to an environmental remediation trust that was established as part of the settlement involving the 2.0 liter engines, and another $25 million to the California Air Resources Board (CARB) to support the use of zero-emissions vehicles in that state.
If all eligible owners opt for a buyback, the total cost of this settlement is expected to be about $1 billion.
How much has the diesel scandal cost VW so far?
In the U.S., the tab is up to about $17.5 billion. The 2.0-liter settlement will cost VW about $15.3 billion if all of those eligible owners opt for a buyback. This new settlement adds about $1 billion, and VW also agreed in August to pay an additional $1.2 billion to compensate its U.S. dealers for losses related to the scandal.
VW is also facing action in other countries, and has committed to some settlements outside the U.S. The biggest so far is in Canada: On Monday, Canadian regulators announced that VW had agreed to a settlement related to the 2.0-liter engines sold in that country that will cost up to $1.57 billion (again, if all eligible owners take the buy-back option). VW has also been hit with a fine of nearly $32 million in South Korea.
On top of that, VW is committed to the costs of recalling and repairing millions of vehicles in Germany and South Korea.
Is there likely to be more?
Yes. VW will almost certainly have to pay a big fine and agree to monitoring to avoid criminal charges from the U.S. Department of Justice, and that fine is likely to be the biggest ever imposed on an automaker ($3 billion is a fair guess).
Depending on the results of various ongoing investigations, VW (and/or some of its current and former executives) could face additional criminal charges in Europe, South Korea, and elsewhere.
What's next for VW in the U.S.?
The last big shoe to drop in the U.S. will probably be the one from the Justice Department. It's not clear when that will happen. Meanwhile, VW is beginning the process of moving on, with ambitious plans to launch a new line of electric and hybrid vehicles. This settlement puts the company one step closer to the end of the diesel drama, but there's still a ways to go.
10 stocks we like better than Volkswagen AG When investing geniuses David and Tom Gardner have a stock tip, it can pay to listen. After all, the newsletter they have run for over a decade, Motley Fool Stock Advisor, has tripled the market.*
David and Tom just revealed what they believe are the 10 best stocks for investors to buy right now... and Volkswagen AG (ADR) wasn't one of them! That's right -- they think these 10 stocks are even better buys.
Click here to learn about these picks!
*Stock Advisor returns as of Nov. 7, 2016
John Rosevear has no position in any stocks mentioned. The Motley Fool has no position in any of the stocks mentioned. Try any of our Foolish newsletter services free for 30 days. We Fools may not all hold the same opinions, but we all believe that considering a diverse range of insights makes us better investors. The Motley Fool has a disclosure policy.