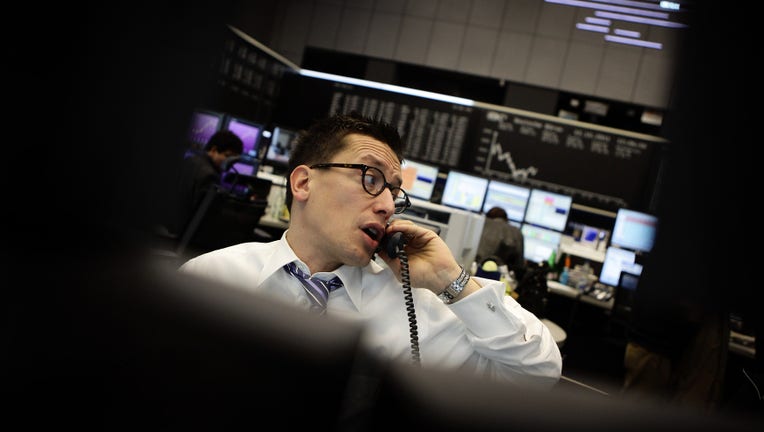 The eerie silence that blanketed Wall Street earlier this year has been shattered by a surge of market volatility that has returned this spring amid renewed concerns about the global growth outlook.
Prior to Wednesday's modest decline in the VIX, the closely-watched "fear gauge" of the market had been in the midst of an eight-day stretch of increases -- its longest streak of gains in 25 years.
While the volatility metric was previously trading at nearly-dormant levels by historical standards, the uptick does underscore a level of nervousness that has crept back onto Wall Street in recent weeks.
Since plummeting to three-year lows of 13.66 on March 16, the VIX has spiked 54% to 21.06 -- a five-week high.
Not surprisingly, the leap in the VIX comes as the equity markets suffer a string of defeats that have backed the major indexes well off multiyear highs.
The Dow Jones Industrial Average tumbled 214 points, or 1.65%, on Tuesday -- its worst performance since November 23 -- leaving the index at its lowest level since early February. The blue chips fell 4.1% during their five-day slump.
Growth, Fed Concerns Return
So what is causing the turbulence to return to the markets?
Look no further than the usual suspects: uncertainty over the Federal Reserve's monetary policy, Europe's sovereign debt mess and questions about the sustainability of the global economic recovery.
The beginning of the pullback on Wall Street and rise in the VIX occurred around March 20 as global markets reacted to signs that China's previously red-hot economy may be slowing down more than feared.
Volatility continued in the coming days as the Fed began hinting that it may not be refilling its easy-money punch bowl via another multi-hundred-billion-dollar bond-buying exercise after all.
"The market felt for so long that no matter what comes out, it's okay because [Fed chairman] Ben Bernanke has your back. For so long people had that complacent attitude," said Joe Saluzzi, co-head of trading at Themis Trading. Just as doubts about QE3 "crept into the market…you saw a little bit of the nervousness" return, he said.
Likewise, eurozone troubles have begun to sprout up yet again. Fears have risen that debt-ridden countries like Spain won't be able to tap the bond markets at reasonable rates now that the European Central Bank's long-term refinancing operation, or LTRO, appears to be over.
Underscoring this concern, the cost to insure $10 million of Spanish debt against default has jumped 21.4% since March 19 to $482,000, according to Markit.
And then this week the VIX soared as much as 20% from Thursday's close in response to the poor March jobs report, which last Friday showed the U.S. created only 120,000 jobs last month -- just over half as many as economists had been forecasting.
"I think people were a little bit forgiving of those [other negative] events because they were under the impression the U.S. job market was creating 200,000 jobs a month," said Nick Kalivas, publisher of the Hadrian Letter.
VIX Not Near Summer Highs
While a confluence of factors has restored some volatility to the markets, it's worth pointing out that the VIX remains at very low and relatively healthy levels.
The fear gauge remains down 58.3% from its 52-week high of 48 set in early August as double-dip fears gripped investors and Congress got dangerously close to an unprecedented default.
Volatility may stay above its 2012 lows in the coming weeks as Wall Street gears up for earnings season, which is expected to show growth slowed dramatically in the first quarter.
But it seems unlikely volatility will return to the scary levels of last summer unless the economic and geopolitical situation dramatically deteriorates.
Kalivas said he will watch to see if the VIX climbs above the 22 level, which could be a "sign the pendulum is swinging towards more volatility."
As evidenced by Wednesday's solid rally in the equity markets, the recent rise in volatility has hardly scared away all of the bulls on Wall Street.
"Another leg up in the stock market still lies ahead, and we think the major indices will all be trading at higher levels 15 months from now," Scott Wren, senior equity strategist at Wells Fargo Advisors (NYSE:WFC), wrote in a note.
Wren adds, "We will be looking for opportunities to add to equity exposure in coming months. The current pullback probably still needs to run its course, but we do not expect substantial downside."