Visa Inc. Cuts Guidance, Amends Visa Europe Pact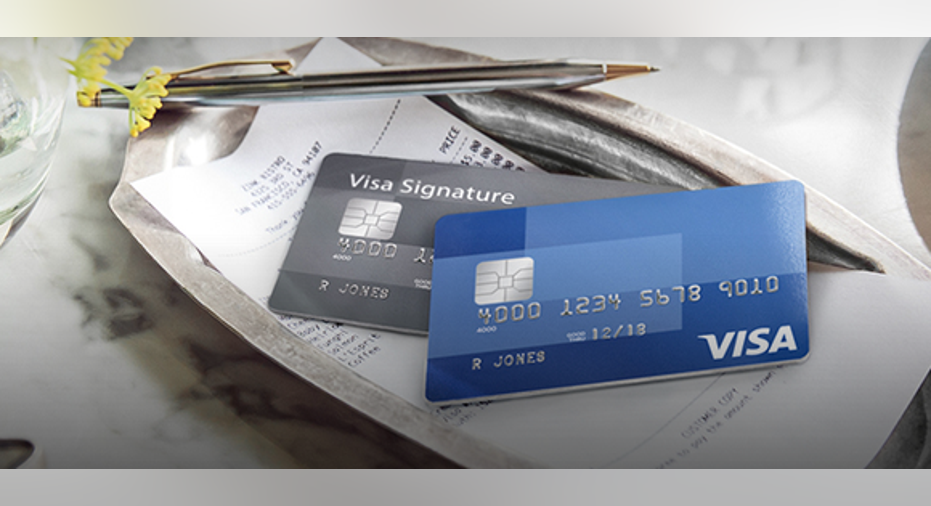 Image source: Visa.com.
Visa reported fiscal second-quarter results on April 21. The global payments network slashed its revenue and earnings forecast due to a lack of improvement in global economic trends and also stated that it would be making a larger up-front cash payment to finalize its acquisition of Visa Europe.
The raw numbers
| | Q2 2016 | Q2 2015 | Growth (YOY) |
| --- | --- | --- | --- |
| Revenue | $3.626 billion | $3.409 billion | 6.4% |
| Net income | $1.707 billion | $1.550 billion | 10.1% |
| Earnings per share | $0.71 | $0.63 | 12.7% |
Data source: Visa Q2 2016 earnings press release.
What happened with Visa this quarter?Net operating revenue rose 6% year over year to $3.6 billion, driven by growth in processed transactions and payments volume. Excluding the effects of foreign exchange rate fluctuations, revenue increased 9%.
Service revenue grew 8% to$1.7 billion, as payments volume increased 12% on a constant dollar basis to $1.3 trillion. Data processing revenue rose 10% to$1.5 billion, with the number of transactions process on Visa's network increasing 9% to 18.5 billion. International transaction revenues grew 8% to$1 billion, and other revenues came in at $198 million, a decrease of 3% over the second quarter of 2015.
Client incentives, which are a contra revenue item, were $789 million. That represented 17.9% of gross revenues, up from 16.5% in the prior year period.
Total operating expenses increased 6% to $1.2 billion, mostly due to higher personnel, network, and processing expenses.
All told, adjusted net income, which excludes certain non-recurring income related to foreign currency hedging, rose 5% to $1.6 billion. And adjusted earnings per share, boosted by share buybacks, increased 7% to $0.68.
Visa EuropeVisa also announced that it would amend its deal to purchase Visa Europe by eliminating the earn-out portion in favor of a larger cash payment. The agreement had originally called for $4.7 billion euros (about $5.3 billion) to be paid after the fourth anniversary of the deal's closing based upon certain revenue targets. However, due to "feedback received from theEuropean Commission" Visa will increase the cash portion of deal by 1.75 billion euros ($2 billion).
In addition, Visa said that the closing of the deal could take place after its fiscal third quarter.
Looking forward Management reaffirmed its expectations for about $7 billion in free cash flow in 2016. However, the company lowered its revenue growth guidance to between 7% and 8% on a constant dollar basis, down from a high-single-digit to low double-digit range. Visa also reduced its adjusted earnings growth forecast to low double digits excluding foreign currency effects, which is down from its previous guidance for growth at the low end of the mid-teens range.
"The continued headwinds of the strong U.S. dollar, lower oil prices, and an uneven global economy are driving continued weak cross-border spend, but domestic spend continues at reasonably strong levels consistent with last quarter," said CEO Charlie Scharf in a press release. "The U.S. consumer remains strong, but we see weakness inChina,Brazil, and oil based economies. Since we are not seeing any material improvements in economic trends, we are cautious as we head into the second half of fiscal 2016."
The article Visa Inc. Cuts Guidance, Amends Visa Europe Pact originally appeared on Fool.com.
Joe Tenebruso has no position in any stocks mentioned. The Motley Fool owns shares of and recommends Visa. Try any of our Foolish newsletter services free for 30 days. We Fools may not all hold the same opinions, but we all believe that considering a diverse range of insights makes us better investors. The Motley Fool has a disclosure policy.
Copyright 1995 - 2016 The Motley Fool, LLC. All rights reserved. The Motley Fool has a disclosure policy.