Virgin America Inc. Earnings Soar Ahead of Deal With Alaska Air Group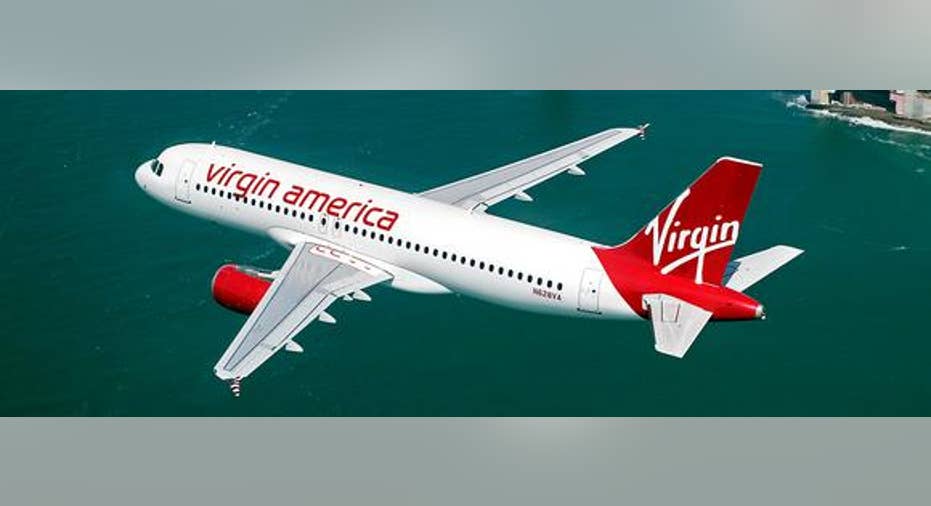 Image Source: Virgin America.
Virgin Americareported first-quarter results on Thursday, delivering sharply higher profits ahead of its proposed merger with Alaska Air Group .
Virgin America results: The raw numbers
| Metric | Q1 2016 | Q1 2015 | Growth (YOY) |
| --- | --- | --- | --- |
| Revenue | $364.009 million | $326.351 million | 11.5% |
| Adjusted Net Income | $18.358 million | $10.523 million | 74.5% |
| Adjusted EPS | $0.41 | $0.24 | 70.8% |
Source: Virgin America Q1 2016 earnings press release.
What happened with Virgin America this quarter? Available seat miles for the first quarter increased 15.8% compared to the prior-year period, with Virgin Americaending the quarter with 58 Airbus A320-family aircraft in service, up from 53 aircraft at the end of Q1 2015.
Passenger revenue per available seat mile, or PRASM, decreased 3.8% year over year to9.88 cents, driven by a 3.7% decrease in yield (average fare paid per mile per passenger) to 12.34 cents per passenger mile. Total RASM decreased 3.7% year over year to 11.15 cents.
Total cost per available seat mile, or CASM (excluding special items) declined 8.8% compared to Q1 2015 to10.13 cents, primarily due to a 35.9% drop in fuel costs.
Those lower jet fuel prices helped adjusted operating income soar 152.8% to $33.2 million, with operating margin improving 5.1 percentage points to 9.1%.
All told, adjusted net income surged 74.5% to $18.4 million, and 70.8% on a per-share basis to $0.41.
What management had to say"Virgin Americaperformed exceptionally well as we entered 2016," saidCEO David Cush in a press release. "We reported record first quarter net income driven by continued unit revenue outperformance as compared with the domestic industry and the benefit of lower fuel costs. Importantly, we achieved these results with capacity growth of nearly 16 percent in the first quarter while also maintaining our focus on non-fuel unit costs."
Looking forwardDue to its proposed merger with Alaska Air Group, Virgin America said that it would no longer be providing forward guidance. The company also declined to provide any information in regard to the timing of the closing of the transaction with Alaska Air Group. Cush did, however, take time to highlight Virgin America's success during the company's conference call.
Cush went on to say that Alaska Airlines has similarly reduced its cost structure and invested in its services.
"We look forward to joining forces with them to bring more high-quality, low-fare service to more markets across North America," he said.
The article Virgin America Inc. Earnings Soar Ahead of Deal With Alaska Air Group originally appeared on Fool.com.
Joe Tenebruso has no position in any stocks mentioned. The Motley Fool recommends Virgin America. Try any of our Foolish newsletter services free for 30 days. We Fools may not all hold the same opinions, but we all believe that considering a diverse range of insights makes us better investors. The Motley Fool has a disclosure policy.
Copyright 1995 - 2016 The Motley Fool, LLC. All rights reserved. The Motley Fool has a disclosure policy.