Viewers Love Netflix Originals More Than HBO's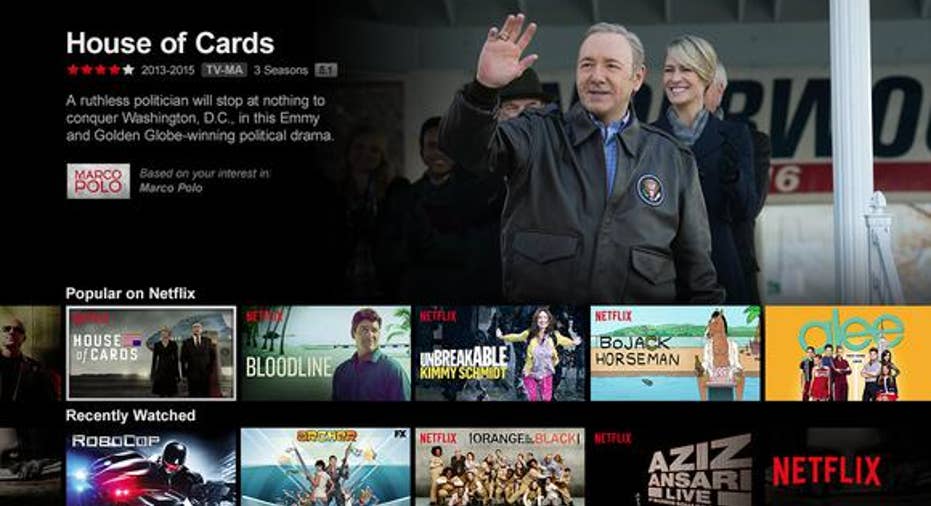 Image source: Netflix.
"It's not TV. It's HBO."
The old slogan has never been more true for Time Warner's premium cable network. HBO has distinguished itself from other television networks, not just with its content catalog, but by becoming one of the first to offer a stand-alone streaming service.
But HBO's newest slogan, "So Original," might not be as fitting. A recent survey from Morgan Stanley found that more Americans say Netflix has the best original shows, not HBO. Nonetheless, the stand-alone streaming service HBO launched last year costs $5 more per month than Netflix. Cable subscribers have to pay a similar amount (if not more) to access HBO, but can often receive promotional offers to get several months for free.
With more Americans preferring Netflix originals to HBO's, does that mean there's room for Netflix to continue raising its prices?
Another price increase?Netflix has already made two price increases in the last 24 months. Most recently, it raised prices for domestic subscribers by $1.00 in October, and subscribers older than 2 years will get hit with a $2 price hike starting next month.
But at $10, Netflix still represents a bargain compared to HBO. While Netflix's content catalog is shrinking, it still dwarfs HBO's. HBO includes licensed films from sister company Warner Bros, Universal Studios, 20th Century Fox, and DreamWorks Animation. Netflix also licenses movies from several major studios, including Disney starting this year, as well as popular television series from just about anyone willing to sell them.
There are few that would argue HBO has a better licensed content catalog than Netflix. When you factor in that more Americans now say Netflix has better originals than HBO, there's no reason HBO should sell for a premium over Netflix.
So, does Netflix have room to increase its pricing still, or is HBO too expensive?With 49 million domestic subscribers between HBO and its sister network Cinemax, HBO doesn't seem to be too expensive. The company added 2.7 millions domestic subscribers in 2015 between the two cable networks and its new HBO Now service, which has nearly 1 million subscribers so far.
Netflix, meanwhile, added 5.63 million domestic subscribers off of a base of 39 million. Nearly all of those subscribers came on board at the higher $9 or $10 per month rate, and it showed almost no slowdown in subscriber growth compared to 2014 when it added 5.69 million subs. If subscriber growth trends remain steady, Netflix may opt to increase prices once again.
But uptake on HBO Now, the company's stand-alone streaming service, has been lower than initially expected. Nearly a year in, HBO Now had fewer than 1 million subscribers. Considering the target market (broadband-only households) is much smaller than Netflix's (all broadband Internet households), it's doing relatively well, capturing about 8% of its target market in one year. Still, that's well below Netflix's market penetration of about 50% in the United States.
HBO's numbers may be skewed by subscribers that are currently stuck in contracts with their cable provider. We may get a better picture of HBO Now's performance in year two. Regardless, HBO has a brand to protect, and if it lowered prices, it would be much harder to raise them back up. So, it's prices aren't going anywhere.
Growth versus profitNetflix is still in growth mode, while HBO is already very profitable. HBO generated an operating income of $1.9 billion for Time Warner last year. Netflix's operating income came in just over $300 million in 2015, but includes its aggressive spending to expand internationally.
Netflix is still set on growing its subscriber base, even in the U.S. CEO Reed Hastings said he believes the company can reach between 60 million and 90 million domestic subscribers by 2024. For reference, there are only 88 million broadband households in the country. To reach that level of ubiquity, Netflix will have to keep its prices relatively low.
The good news is Netflix can afford to do so. As mentioned, it's already generating an operating profit despite its aggressive international expansion. Its content budget is huge, but the spending growth is showing signs of finally slowing down, and its quality originals will allow it to shed some expensive contracts, as it's already done.
While Netflix might have room to increase its pricing, investors' eyes are paying closer attention to subscriber growth than revenue and income at this point. Unless raising prices will allow Netflix to grow subscribers faster (through more aggressive marketing or content acquisition), it should hold off on doing so for now.
The article Viewers Love Netflix Originals More Than HBO's originally appeared on Fool.com.
Adam Levy has no position in any stocks mentioned. The Motley Fool owns shares of and recommends Netflix and Walt Disney. The Motley Fool recommends DreamWorks Animation and Time Warner. Try any of our Foolish newsletter services free for 30 days. We Fools may not all hold the same opinions, but we all believe that considering a diverse range of insights makes us better investors. The Motley Fool has a disclosure policy.
Copyright 1995 - 2016 The Motley Fool, LLC. All rights reserved. The Motley Fool has a disclosure policy.