Vermont teachers: Governor's health plan assault on unions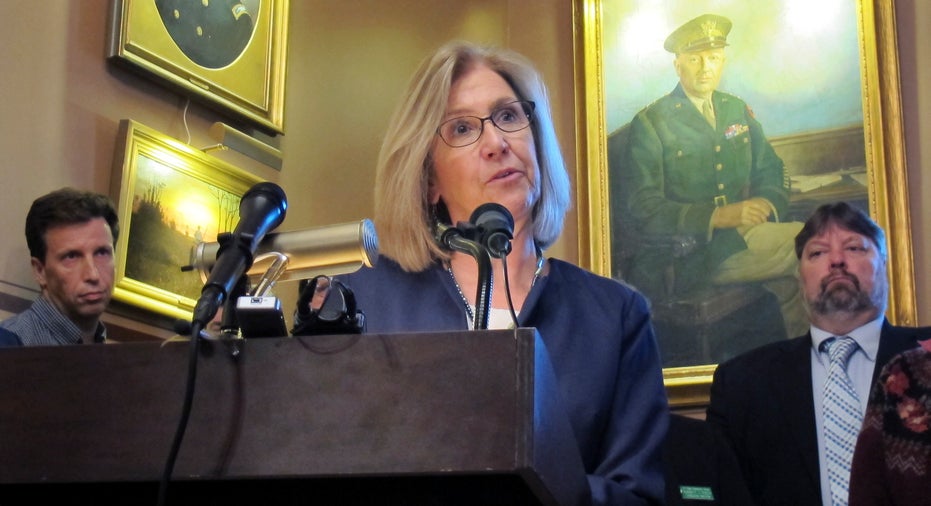 The head of Vermont's largest teachers' union said Tuesday that Republican Gov. Phil Scott's insistence on a statewide health insurance plan for teachers is really an assault on collective bargaining in the state.
In a Statehouse news conference, Martha Allen, the president of the Vermont Chapter of the National Education Association, said the governor last week rejected a plan that was passed by the state Senate that would have saved the same amount of money in health insurance costs as the governor's proposal without affecting collective bargaining.
"The governor and his allies see this as a once-in-a-lifetime opportunity to take power away from working people in the state and in particular to take power away from working women, the vast majority of my fellow members," said Allen, a school librarian from Canaan who leads the 14,000-member union.
Allen and other labor leaders said Scott's plan was akin to efforts in other states, including Wisconsin, to lessen the ability of unions to negotiate on behalf of their members.
"This looks an awful lot like Scott Walker's work to me," Allen said, referring to the Republican governor of Wisconsin who since taking office in 2010 effectively ended collective bargaining for most public workers there and has continued to back measures that reduce the influence of unions.
Scott spokeswoman Rebecca Kelley said Tuesday the governor's plan does not hurt collective bargaining but does ensure property tax savings for Vermont residents.
"His plan maximizes the benefit of this savings opportunity for taxpayers while ensuring teachers are protected, and allows for bargaining by school employees' unions, who would negotiate with the State — or another entity," she said in an email. "With those protections in place, it is clear the governor respects and supports teachers and their rights to collectively bargain."
The dispute is about the best way to take advantage of savings from new health insurance plans that will be offered to the state's teachers beginning in January that have lower premium costs but higher out-of-pocket expenses.
Scott says his plan will ensure the state's property tax payers will see their bills reduced by an estimated $26 million, including $13 million this year. His plan requires that teachers negotiate health care benefits statewide.
Democrats have countered with a plan they say would save the same of money while preserving collective bargaining.
The Legislature had hoped to recess for the year the weekend of May 6, but the two sides have been unable to reach an agreement on the health insurance issue.
On Monday and Tuesday, Legislative leaders were huddled in meetings at the Statehouse. Lawmakers are due back on Wednesday.