Verizon Grows Its Customer Base, EPS in Q1 2016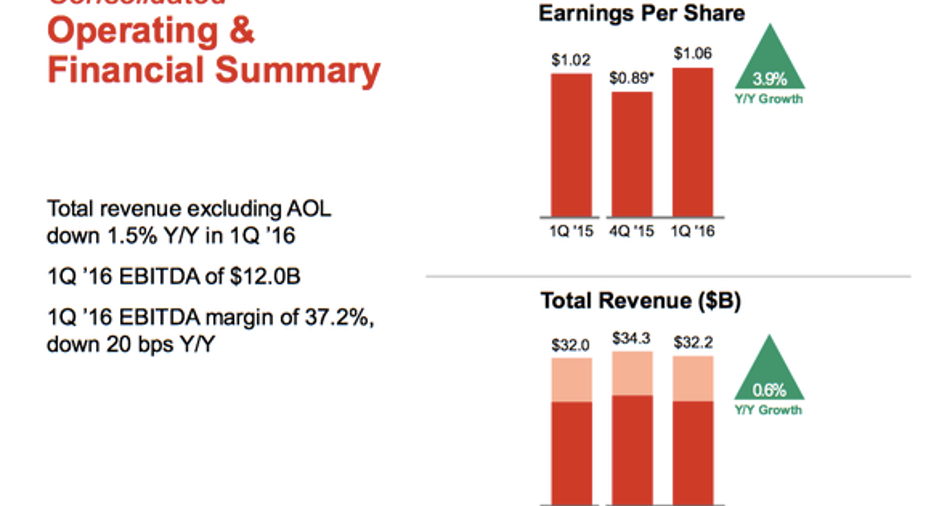 Verizon (NYSE: VZ) added customers and increased its earnings per share (EPS) from $1.02 in last year's first quarter to $1.06 in the same period for 2016 -- a 3.9% gain. "Verizon's strong first-quarter results demonstrate our capacity to compete effectively, while executing on our plan of continued network leadership and seeding new growth markets in mobile video and the Internet of Things," said Chairman and CEO Lowell McAdam in the earnings release.
Growing in IoT and mobile video should prove to be important going forward, but the most impressive thing in the Q1 numbers is the company's growth in wireless, broadband, and even pay television.
Image source: Verizon.
A look at the numbersVerizon added 640,000 retail postpaid wireless customers, while adding 98,000 FiOS Internet subscribers, as well as a 36,000 increase in pay TV. The company noted that Q1 is traditionally a slow time for wireless additions, but it still touted its gains.
That makes sense because the company has been under significant pressure from low-cost carrier T-Mobile (NASDAQ: TMUS). The upstart provider has been seemingly closing the gap when it comes to network quality -- the cornerstone of Verizon's marketing campaign -- but so far, the public has not abandoned Verizon.
Even though T-Mobile has been making its own gains, they do not seem to be at Verizon's expense. At the close of Q1, Verizon had 112.6 million retail connections, a 3.7% year-over-year increase, and 107.2 million retail postpaid connections, a 4.4% jump from the same period in 2015.
Revenue in the wireless segment declined by 1.5%, to $22 billion, which the company blamed on more customers choosing unsubsidized device payment plans, which spreads out the payments rather than providing $199 upfront along with higher monthly bills. In the FiOS broadband and pay-TV segment, revenue actually grew 0.8%, to $4 billion.
New streams don't matter yetWhile McAdam wants to put attention on the company's emerging revenue streams in IoT and mobile video, those segments are still basically rounding errors. The company brought in $195 million from the IoT for the quarter, a 25% gain over the previous year, but still a small number. Verizon did not break out its mobile video revenue, which suggests the numbers are small.
Still, IoT should continue to grow, and the company seems very committed to mobile video adding content from Hearst and AwesomenessTV, as well as being part of a joint venture to buy Complex Media. These brands join AOL, which the company bought last year for $4.4 billion.
Showing continued strengthIoT and mobile video may be important someday; but for now, Verizon's strength is that it has held onto and grown its user base. That's impressive in wireless, where T-Mobile's pricing and lack of overages should be attractive to consumers.
The company's biggest win, however, appears to be pay-TV, where it shows no signs that cord-cutting will impact its business. Even in a market where the industry has shown that people leaving for streaming services is happening as a trickle, not a flood, Verizon's numbers are better than most. This Q1 gain follows the company adding 178,000 video subscribers in 2015.
Verizon has shown it can weather the storms it's facing, and actually come out slightly ahead. That's not to say pricing pressure from T-Mobile won't hurt it, or that cord-cutting may not eventually become more of a thing; but for now, the company has shown remarkable resilience in a changing market.
The article Verizon Grows Its Customer Base, EPS in Q1 2016 originally appeared on Fool.com.
Daniel Kline has no position in any stocks mentioned. Playing slots in the Las Vegas airport seems like adding insult to injury. The Motley Fool owns shares of and recommends Verizon Communications. Try any of our Foolish newsletter services free for 30 days. We Fools may not all hold the same opinions, but we all believe that considering a diverse range of insights makes us better investors. The Motley Fool has a disclosure policy.
Copyright 1995 - 2016 The Motley Fool, LLC. All rights reserved. The Motley Fool has a disclosure policy.