Verizon Communications Inc.'s Worst Segment in 2015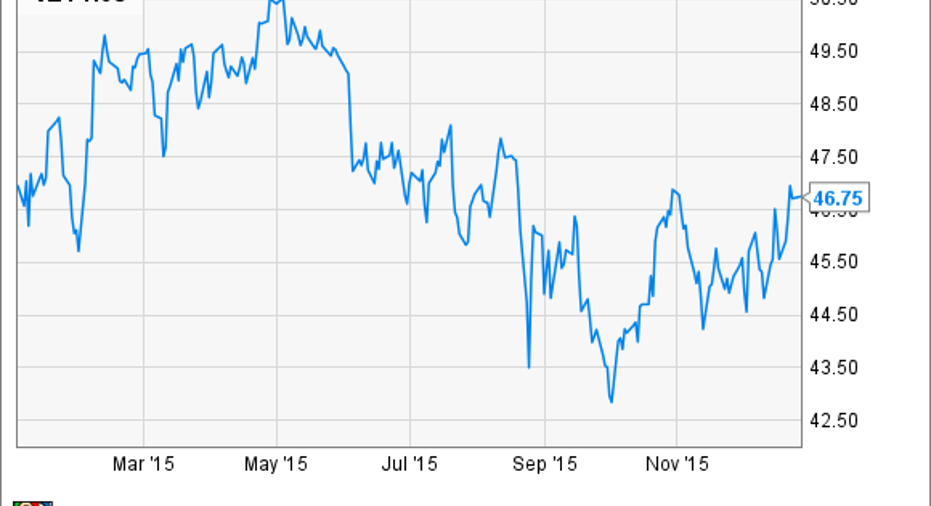 Other than the fact that its stock price will likely finish the year about where it started 2015, it's hard to find any negatives about Verizon's 2015.
Through the first three quarters, the company reported consolidated revenue growth of 3.3% when adjusted for the purchase of AOL in the third quarter and the sale of the company's public sector business in 2014. That growth should continue through the fourth quarter, Verizon said in its Q3 earnings release.
It was a good year during which the company added wireless customers despite stepped up competition from lower-cost providers. In addition, the company grew its pay television customer base at a time when most players in the market lost customers to cord-cutting.
The only real negative for Verizon in 2015 is that its broadband business did not grow as fast as some of its top rivals in a 12-month period where cord-cutters and cord-nevers drove increased broadband adoption. It's not that Verizon has done terribly, but it has not done as well as Comcast , Time Warner Cable , and Charter Communications .
Verizon's stock looked to finish the year about where it began 2015. Source: YCharts.com.
It's qualified bad newsVerizon added broadband customers in two of the three quarters it has so far reported on, but in a nine-month period where the industry added over 2 million subscribers, the company barely grew. In Q1 Verizon added 41,000 Internet customers, but it lost 25,000 in Q2, and added just 2,000 in Q3, according to data from Leichtman Research Group (LRG).
In all three quarters that have been reported on, Verizon gained fewer subscribers than Comcast, Time Warner Cable, and Charter on both a numerical as well as a percentage basis, as you can see in the chart below:
Data source: LRG.
These numbers are disappointing because they show that Verizon hasn't been able to leverage its growth in wireless and pay television to expand its broadband business. That's a broader failure because the pool of customers looking for Internet service is rapidly growing, while the wireless market is mostly steady and the cable audience is shrinking.
Why is this happening?Though Verizon has been expanding and improving its broadband service in order to match the products offered by cable giants like Comcast, TWC, and Charter, many of its markets are still served by DSL. The company's FIOS Fiber service, where available, is a strong match for the best cable has to offer, but DSL is, in most cases, slower, making it a less-attractive option for people looking to cut the cord and move to streaming entertainment options.
"DSL providers not only promise worse speeds than cable and fiber but are less likely to deliver the lower speeds they advertise," wrote ARS Technica in an article on a Federal Communications Commission study on whether ISPs delivered their advertised speeds.
Verizon DSL performed particularly poorly in the FCC study. Only 50% of the company's DSL customers received at least 92% of their advertised speeds, and 90% of customers received at least 50% of their advertised speeds. "That means 10% of customers got less than 50% of what they paid for," wrote ARS.
Consumers may not know the actual numbers, but they most likely know that DSL is not as fast as what the cable companies including Comcast, Charter, and Time Warner Cable offer.
This may not be a long-term problemWhile these numbers are disappointing in an otherwise positive year for Verizon, they may just be a blip in the road. The company has been investing heavily in rolling out FIOS to more markets and upgrading its capabilities. As it continues to do that and expand higher-speed capacity, it should be able to capture a higher percentage of the growing broadband market.
The article Verizon Communications Inc.'s Worst Segment in 2015 originally appeared on Fool.com.
Daniel Kline has no position in any stocks mentioned. He does not own a pair of 2016 glasses. The Motley Fool recommends Verizon Communications. Try any of our Foolish newsletter services free for 30 days. We Fools may not all hold the same opinions, but we all believe that considering a diverse range of insights makes us better investors. The Motley Fool has a disclosure policy.
Copyright 1995 - 2015 The Motley Fool, LLC. All rights reserved. The Motley Fool has a disclosure policy.