Vegas casino workers OK strike that may hobble famed resorts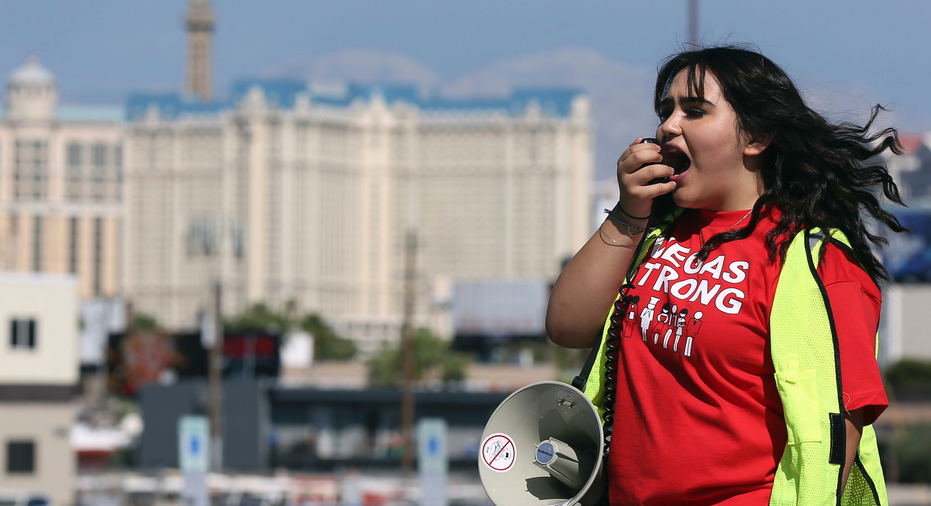 Las Vegas casinos could watch tens of thousands of employees walk off the job for the first time in more than three decades after union members voted Tuesday to authorize a strike at any time starting June 1, a move that could cripple the city's world-famous resorts.
About 25,000 members of the Culinary Union who work at 34 different casino-resorts across the tourist destination cast ballots in two sessions, showing the collective power of the largest labor organization in Nevada. The move hands union negotiators a huge bargaining chip as they work to solidify new five-year contracts.
The union last voted for a strike in 2002 but reached a deal before employees walked out. The last strike, in 1984, spanned 67 days and cost the city and workers tens of millions of dollars.
The latest strike would mean losing workers with roles critical to making a casino-hotel run: bartenders, housekeepers, cocktail and food servers, porters, bellmen, cooks and other kitchen workers. It would affect properties including Caesars Palace, Planet Hollywood, Bellagio, MGM Grand, Stratosphere, The D and El Cortez.
It also could cause problems for fans heading to the city to watch the Vegas Golden Knights hockey team play in the Stanley Cup Final in early June, a rare feat for a team in its first year.
"I'm here to show the younger generations that this is the way we fight to maintain our jobs, job security, health benefits and to gain a pay raise," Lewis Thomas, a utility porter at the Tropicana casino-hotel, said. "This will be a wake-up call to let (the companies) know we are together, we are united, we are not separated."
The contracts of 50,000 unionized workers are set to expire at midnight May 31, and negotiations with individual casino-operating companies have not led to agreements for new terms.
Union officials have said they want to increase wages, protect job security against the increasing use of technology at hotel-casinos, and strengthen language against sexual harassment.
"We've been in negotiations with the companies, and they are not giving the workers what they deserve according to the economy right now," Geoconda Arguello-Kline, union secretary-treasurer, said after the first voting session. "They are very successful. They have a lot of money."
MGM Resorts International and Caesars Entertainment operate more than half the properties that would be affected by a strike. MGM said it will keep meeting with the union.
"A vote such as this is an expected part of the process," the company said in a statement after results were released. "We are confident that we can resolve the outstanding contract issues and will come to an agreement that works for all sides."
Caesars released a statement late Tuesday saying it expects to reach an agreement with the union "on or about June 1."
Union members enthusiastically gathered Tuesday at the Thomas and Mack Center at the University of Nevada, Las Vegas. They high-fived, took selfies and carried signs urging people to vote.
Banners outside said, "Show up or give up, security strike vote" amid pro-union chants in English and Spanish. Some workers chanted, "Hey, Caesars, look around, Vegas is a union town" and "No contract, no peace."
Some employees stopped by in their casino-resort uniforms on their way to or from work, while others donned shirts emblazoned with "Vegas Strong" and the union logo.
Inside, union organizers verified people were eligible to vote, and workers dropped their paper ballots in numbered boxes.
When casino workers across Las Vegas went on a strike in 1984, union members lost an estimated $75 million in wages and benefits and the city lost a similar amount in tourism revenue. Millions more were lost in gambling income.
Don Leadbeter, a bellman at the MGM Grand, has worked at Las Vegas casino-hotels for more than four decades and participated in previous strike votes. He said workers this time want to protect their job security and ensure that employers provide training as they adopt more workplace technology.
He said bartenders are already using automated systems that could potentially eliminate their jobs, and guests are now able to check in and out of resorts without interacting with front-desk personnel, putting those jobs at risk, too.
"I want the companies to open up their eyes and think what's going to happen if we go on a strike," Leadbeter said. "That's a lot of business that's going to go down."
___
Follow Regina Garcia Cano on Twitter at https://twitter.com/reginagarciakNO