Valeant Slashes Guidance; Shares Plunge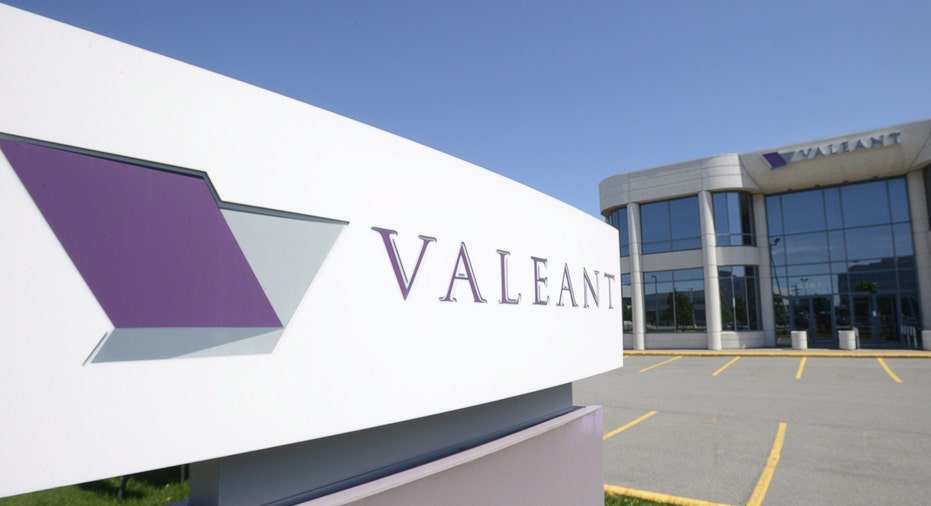 Valeant Pharmaceuticals International Inc. slashed its guidance for the current quarter and reported an unexpected loss for the final quarter of 2015 on softer-than-expected sales of its gastrointestinal products.
The report comes after the embattled Canadian drugmaker postponed its financial results on Feb. 28 and withdrew its guidance as it said Chief Executive Michael Pearson had returned from medical leave. Valeant on Tuesday called the fourth-quarter results preliminary and said it would file final results "as promptly as reasonably practicable."
Shares of Valeant sank 16% to $57.80 in premarket trading.
For the first quarter, the company now expects earnings of $1.30 to $1.55 a share, compared with previous guidance of $2.35 to $2.55 a share. Revenue is expected to come in between $2.3 billion and $2.4 billion, down from previous guidance of $2.8 billion to $3.1 billion.
"The challenges of the past few months are not yet behind us and our goal for 2016 is to better balance our priorities across all of our constituencies--physicians, patients, employees, payers, debtholders and shareholders," Chief Executive Michael Pearson said in prepared remarks.
Valeant said it has lowered the growth outlook for its dermatology, gastrointestinal and woman's health products, as well as certain geographies like Western Europe, while keeping its expenses largely unchanged. The company also pointed to "management transition issues" and "continued organizational distractions" that are expected to hurt operations during the first quarter.
"We plan to work hard to improve these metrics by delivering higher revenues and reducing our costs and, if successful, we hope to beat this guidance in the quarters to come," Mr. Pearson said.
For the full year, the company expects adjusted earnings of $9.50 to $10.50 a share, down from previous guidance of $13.25 to $13.75 a share. Revenue is expected in the range of $11 billion to $11.2 billion, compared with previous guidance for $12.5 billion to $12.7 billion.
Valeant said the reduced guidance reflects lower revenue expectations for certain businesses, new managed care contracts and increased investment in key functions, such as financial reporting, public and government relations, and compliance, as well as the impact of the weak first quarter.
The CEO added that the company is comfortable with its current liquidity position and cash flow for the rest of the year, and remains well-positioned to meet its obligations.
Valeant grew into one of the world's most valuable pharmaceutical companies through acquisitions. Last year, Valeant bought Salix Pharmaceuticals, known for its drugs to treat stomach disorders, and the maker of female-libido drug Sprout Pharmaceuticals, among other deals.
The Quebec-based company, though, is now under investigation by U.S. prosecutors over its drug pricing and distribution practices. It has lost about three-quarters of its value since peaking last summer amid questions about its business practices and disclosures of government investigations.
The drugmaker became a poster child for criticism of high drug prices and a target of congressional inquiries after The Wall Street Journal reported Valeant was buying the rights to certain treatments and quickly raising their prices by substantial amounts.
In all for the fourth quarter ended Dec. 31, Valeant posted a loss of $336.4 million, or 98 cents a share. Adjusted earnings were $2.50 a share. Among other items, the company booked $96 million in restructuring, integration and acquisition-related charges in the quarter.
Revenue was $2.79 billion.
Analysts polled by Thomson Reuters were looking for adjusted earnings of $2.61 a share on $2.75 billion in revenue.
Valeant said its fourth-quarter results were hurt by softer-than-expected sales of its gastrointestinal products, as compared with previous guidance issued in December, as well as reductions in the wholesale and retail channel.
The company has delayed the filing of its annual report because of the company's review of its relationship with drug distributor Philidor Rx Services LLC and related matters. Valeant faces an investigation by the Securities and Exchange Commission, which has requested information about Valeant's now-terminated relationship with Philidor. Valeant has submitted emails, financial documents and other data to comply with the request, according to a person familiar with the matter.
The Wall Street Journal reported that former employees and others said Philidor used aggressive tactics to get insurance companies to pay reimbursements for Valeant's often high-price drugs. A special committee of Valeant's board has been tasked with investigating the Philidor relationship.
Mr. Pearson, meanwhile, has faced a fresh round of criticism and doubts about the company's financial disclosures and business practices. Last month, Valeant said it would probably have to restate its past financial results because it booked $58 million of Philidor revenue when it delivered drugs to Philidor, rather than waiting until they were dispensed to patients.
And earlier this month, Valeant said Deb Jorn, a key executive in charge of its U.S. dermatology products, had left the company for personal reasons.
Write to Anne Steele at Anne.Steele@wsj.com