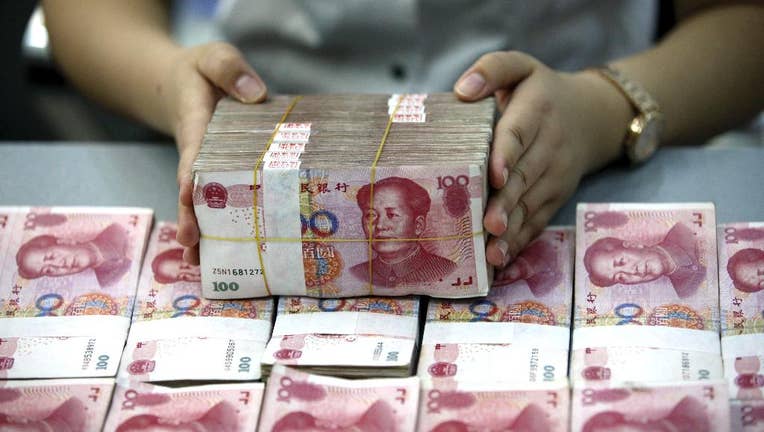 U.S. stocks moved higher in early trading Wednesday after slumping for six straight days amid concern about a slowing Chinese economy. Investors were also following the latest corporate deal and earnings news. Technology stocks were among the biggest gainers.
KEEPING SCORE: The Dow Jones industrial average rose 328 points, or 2.1 percent, to 15,994 as of 9:48 a.m. Eastern time. The Standard & Poor's 500 index gained 39 points, or 2.1 percent, to 1,906. The Nasdaq composite added 106 points, or 2.4 percent, to 4,613.
VOLATILE MARKETS: Markets have been volatile in August on deepening unease over the ramifications of slowing growth in China, the world's second-largest economy and the driver of global growth over the past decade. A rally on Tuesday faded in the final minutes of trading. The three major U.S. indexes have drooped six days in a row, the longest market slide in more than three years. The Dow had fallen about 1,900 points over that period.
OIL DEAL: Cameron International, a maker of equipment for the oil industry, jumped 43 percent after Schlumberger said it was buying the company in a cash-and-stock deal. Cameron rose $18.59 to $60.92.
SECTOR VIEW: The 10 sectors in the S&P 500 index moved higher, led by technology stocks. The sector was up 2.7 percent.
EUROPEAN ACTION: Germany's DAX was down 0.7 percent, while France's CAC 40 fell by the same amount. Britain's FTSE 100 fell 0.7 percent.
ASIA'S DAY: Markets in Asia were mixed. Japan's Nikkei 225 stock index rose 3.2 percent to 18,376.83, South Korea's Kospi gained 2.6 percent to 1,894.09 and Australia's S&P ASX/200 rose 0.7 percent to 5,172.80, helped by buying of resource-related shares. Shares also rose in Taiwan. But Hong Kong's Hang Seng index fell 0.5 percent to 21,305.17, and mainland China's smaller Shenzhen Composite Index lost 3.1 percent.
ENERGY: Benchmark U.S. crude fell 21 cents to 39.10 a barrel in New York. It rose $1.07 a barrel on Tuesday.
BONDS: U.S. government bond prices fell. The yield on the 10-year Treasury note rose to 2.14 percent from 2.07 percent late Tuesday.
___
AP Business Writer Elaine Kurtenbach in Tokyo contributed to this story.