US rejects request for information on Idaho wolf attacks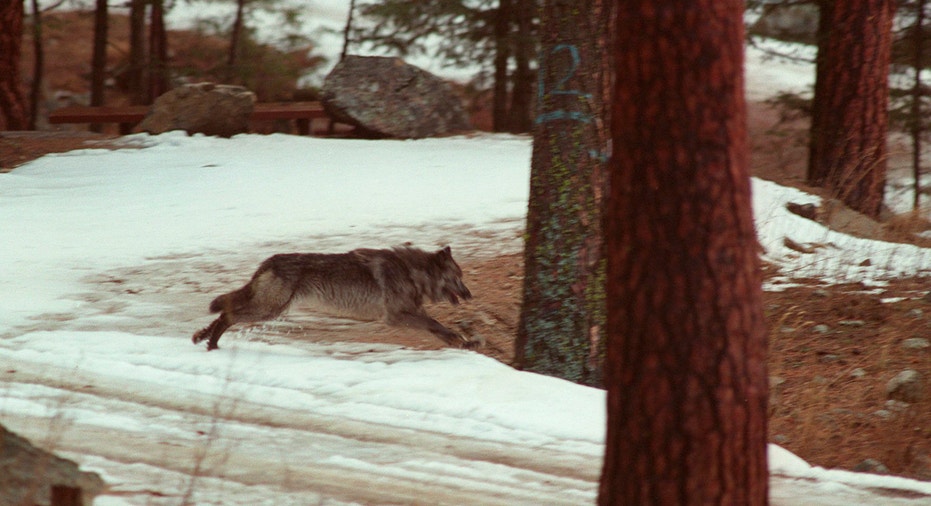 Investigations into livestock deaths in Idaho blamed on wolves don't have to be made public, the U.S. government says.
The U.S. Department of Justice in documents filed Thursday in U.S. District Court said the reports requested by an environmental group contain information that's exempt from Freedom of Information Act requests.
The Western Watersheds Project environmental group said it wants the reports because it suspects the U.S. Department of Agriculture and ranchers are inflating the number of wolf kills of livestock so more wolves are ordered killed in the state.
The group — a public lands and wildlife advocacy group whose main goal is to restore watersheds primarily in western U.S. states — requested the documents in January from the Agriculture Department's Wildlife Services and filed a lawsuit in July when it did not received them. Kristin Ruether, an attorney with Western Watersheds Project, said Friday that the group will press ahead with the lawsuit to get the information.
The group contends that some livestock deaths are being attributed to wolves even though the livestock was not eaten and there's no clear evidence that wolves were involved.
"There's this new theory that cattle are dying by being scared to death by wolves, so we're really interested in seeing how they are determining that," she said.
The Agriculture Department did not immediately respond to an email seeking comment, but has said in the past that it does not comment on pending litigation. The Justice Department which is defending the government did not immediately respond to an email seeking comment.
The Idaho Rangeland Resource Commission, a state agency, said a record 113 sheep and cattle ranches sustained confirmed wolf kills from mid-2017 to mid-2018. Federal workers through mid-July have killed 49 wolves in Idaho following what investigators said were 61 confirmed wolf kills of livestock.
Ruether said Western Watersheds Project suspects part of the reason for the upswing in livestock deaths attributed to wolves has to do with Idaho politics.
The Idaho Legislature in 2014 created the Idaho Wolf Depredation Control Board, which gets $400,000 annually. The board uses that money to pay Wildlife Services to kill problem wolves in Idaho as well as wolves that are thought to be causing declines in elk populations.
The board will finish its work in June unless lawmakers this winter approve funding for it to continue. Ruether said her group suspects ranchers and Wildlife Services are trying to make it appear wolves are killing more livestock so lawmakers will be more inclined to keep the Wolf Depredation Control Board operating and paying Wildlife Services to kill wolves.
Phil Davis, a rancher in west-central Idaho near Cascade, rejects that argument.
He said wolves this year have killed 10 of his cattle, and most were not eaten. He said he's convinced the cattle exert so much energy trying to escape wolves that they later die from the effort. He's also convinced wolves kill cattle and simply leave them uneaten.
"Anybody, including myself, would have a hard time understanding why they would just kill, but they do," he said. "It's just a fact. With wolves, it's a prolonged, inhumane, excruciating death."
Besides killing wolves to protect livestock, Wildlife Services has also killed wolves to try to increase populations of big game, such as deer and elk. The agency earlier this year killed 10 wolves in northern Idaho at the request of Idaho Fish and Game to boost elk numbers. Wildlife Services said workers used a helicopter in the Clearwater National Forest in late February and early March to hunt down the wolves and shoot them.
Western Watersheds Project in its lawsuit also seeks information about those wolf killings.
The last intensive wolf count in Idaho was in 2015 when officials said the state had an estimated 786 wolves at the end of the year. That's also the last year the state Fish and Game agency was required to do that type of count after wolves were removed from the Endangered Species List.
But the Fish and Game officials have said they continue to monitor wolf populations using DNA samples from wolf droppings, remote cameras and other information.
Earlier this year, the state agency estimated Idaho has 90 packs. The agency said it does not count individual wolves or provide an overall wolf count number but notes that a typical Idaho wolf pack has six to nine wolves — meaning there could be 540 to 810 wolves in the state, not counting wolves living on their own outside packs.