US Ecologys Earnings Reflect a Still-Challenging Market, but Signs of Optimism Abound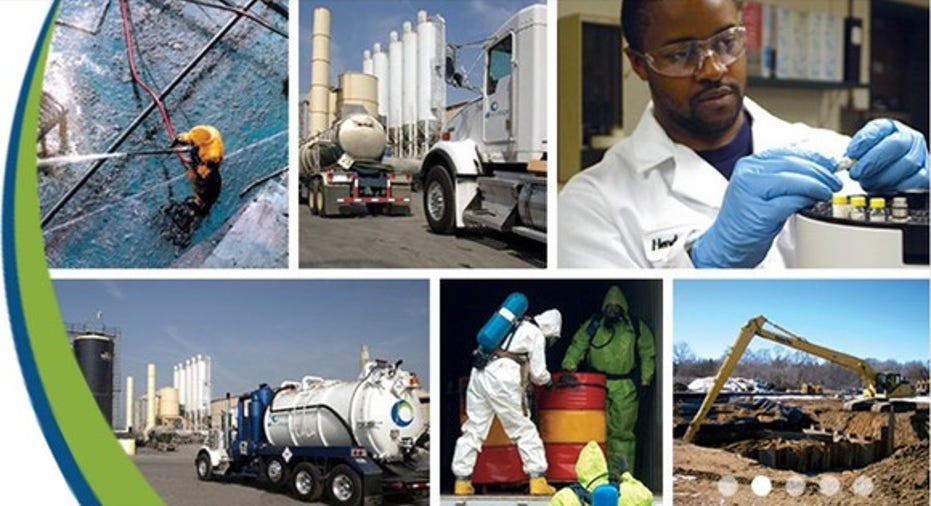 US Ecology(NASDAQ: ECOL)reported first-quarter 2017 results after the market closed on Thursday that reflect ongoing macroeconomic challenges, but management continues to forecast sequentially improved 2017 quarterly results.
Here's how the quarter worked out for the environmental services company and its shareholders.
US Ecology's results: The raw numbers
| Metric | Q1 2017 | Q1 2016 | Year-Over-Year Change |
| --- | --- | --- | --- |
| Revenue | $110.2 million | $113.3 million | (2.7%) |
| Adjusted EBITDA | $23.5 million | $26.1 million | (10%) |
| Operating income | $12.2 million | $15.8 million | (22.8%) |
| Net income | $5.2 million | $7.5 million | (30.7%) |
| GAAP earnings per share | $0.24 | $0.35 | (31.4%) |
| Adjusted EPS | $0.23 | $0.32 | (28.1%) |
Data source: US Ecology. EBITDA = earnings before interest, taxes, depreciation, and amortization. GAAP = generally accepted accounting principles.
Adjusted EPS excludes the impact from foreign currency translation and business development expenses.
For context -- though long-term investors shouldn't pay much attention to Wall Street's near-term estimates -- analysts were looking for US Ecology to turn in adjusted EPS of $0.30 on revenue of $109.9 million. So the company slightly beat the revenue consensus, but fell short on earnings.
Image source: US Ecology.
Key base business: 3% year-over-year revenue increase
Revenue in US Ecology's key base business, which is part of its environmental services business, rose 3% from the year-ago period. (The base business doesn't include the "event business," or non-recurring projects of 1,000 tons or more.) This is a positive, as the base business experienced a year-over-year decline in the previous quarter.
Year-over-year revenue changes in the base business over the previous few quarters are as follows:
Fourth-quarter 2016: down 4%.
Third-quarter 2016: up 4%.
Second-quarter 2016: flat.
First-quarter 2016: up 7%.
Segment performance
US Ecology's environmental services segment continued its year-over-year revenue decline in the quarter, largely because of project completions in its events business -- revenue declined 9% -- that were not fully replaced. Segment revenue was $81.3 million, about flat with the $81.5 million in the year-ago period. This decrease consisted of a 17% decline in transportation revenue, which was partially offset by a 3% increase in treatment and disposal revenue. Gross profit was $28.7 million, a 5.9% decline from $30.5 million in the year-ago period.
The field and industrial services segment once again had a challenging quarter, as expected, which management attributed to the same reasons as last quarter: an expired contract that wasn't renewed and overall softer industrial market conditions.The segment generated $28.9 million in revenue, down 9.1% from $31.8 million in the year-ago period. Gross profit was $3.2 million, down 33.3% from $4.8 million in the first quarter of 2016. Management attributed the decline to the reduced revenue and to a less favorable service mix.
What management had to say
Here's what CEO Jeff Feeler had to say in the press release:
Looking ahead
US Ecology reaffirmed its previously issued full-year 2017 guidance, which is as follows:
| Metric | 2017 Guidance | Projected Year-Over-Year Change |
| --- | --- | --- |
| Adjusted EBITDA | $120 million to $130 million | 5.8% to 14.6%* |
| Adjusted EPS | $1.69 to $1.93 | 10.5% to 26.1% |
Data source: US Ecology. *Over 2016 adjusted pro forma EBITDA.
Management remains optimistic about 2017, with Feeler commenting in the press release that the company's "underlying base business remains strong, and we continue to bid on and secure event business opportunities, further supporting our view of sequentially stronger quarterly financial performance as we progress through the year."
10 stocks we like better than U.S. EcologyWhen investing geniuses David and Tom Gardner have a stock tip, it can pay to listen. After all, the newsletter they have run for over a decade, Motley Fool Stock Advisor, has tripled the market.*
David and Tom just revealed what they believe are the 10 best stocks for investors to buy right now... and U.S. Ecology wasn't one of them! That's right -- they think these 10 stocks are even better buys.
Click here to learn about these picks!
*Stock Advisor returns as of April 3, 2017
Beth McKenna has no position in any stocks mentioned. The Motley Fool recommends U.S. Ecology. The Motley Fool has a disclosure policy.