Upbeat Earnings, Encouraging Data Lift Stocks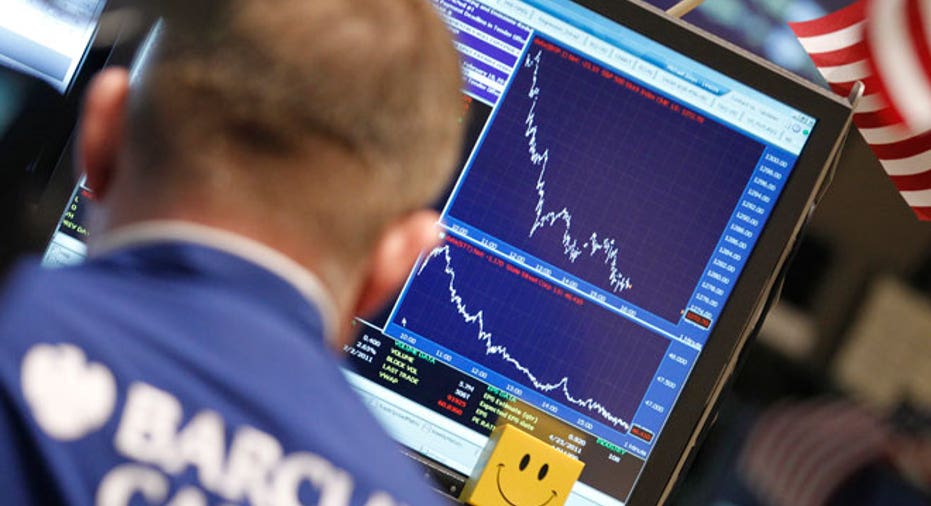 FOX Business: The Power to Prosper
Strong first-quarter results from companies like Johnson & Johnson, paired with data pointing to strengthening in new-home construction, pushed stocks into the green.
Today's Markets
The Dow Jones Industrial Average was up 65.2 points, or 0.53%, to 12,267, the S&P 500 gained 7.5 points to 1,313 and the Nasdaq Composite traded higher by 9.6 points, or 0.35%, to 2,745. The FOX 50 was up 5.9 points to 923.
Materials issues were the top performers on the day as metal markets rallied. U.S. Steel (NYSE:X) and Silver Wheaton (NYSE:SLW) both gained more than 2%. Utilities like Public Service Enterprise (NYSE:PEG) and PPL (NYSE:PPL) lagged behind.
Gold prices settled at record-highs as the dollar weakened and traders sought-out the safe-haven asset. The metal climbed $2.20, or 0.15%, to $1,494 a troy ounce, briefly touching the $1,500 level in mid-day trading.
Corporate earnings were also in focus Tuesday, with several major players reporting first-quarter results.
IBM (NYSE:IBM) unveiled earnings after the close of trading Tuesday.  The technology giant earned $2.41 a share, excluding one-time charges, far higher than the $2.30 analysts were expecting. Chip-maker Intel (NASDAQ:INTC) also beat Wall Street's view with earnings of 59 cents a share, compared with the consensus view of 46 cents. Shares of both companies were higher in after-hours trading.
Johnson & Johnson (NYSE:JNJ) revealed first-quarter profits of $1.35 a share, excluding chargest, easily exceeding forecasts of $1.26 a share.  The medical-giant also boosted its fiscal year 2011 earnings view to between $4.90 and $5.00 a share. Shares were higher after the report.
On the economic front, new home construction jumped 7.2% to 549,000 in March -- the highest rate in six months -- easily beating economists' expectations. Permits to begin building homes were up 11.2% to 594,000 for the month.  The market for new homes was hit hard by the economic downturn as a glut of supply of already-existing homes for sale severely weakened demand for new homes being built.
"The level of starts remains at historically low levels," wrote Michael Gapen, an economist at Barclays Capital, in a research note.
"We foresee a gradual recovery in activity only as an improvement in labor market activity slowly restores demand for housing."
Residential construction issues like Toll Brothers (NYSE:TOL) and KB Home (NYSE:KBH) could be swayed by these data.
Mergers and acquisitions activity has heated up in recent weeks. Samsung Electronics plans on selling its hard disk drive unit to Seagate Technology (NYSE:STX) for $1.4 billion in cash and stock.
In energy markets, crude slid more than 2% in the prior trading session on concerns high prices was beginning to cut into demand for oil.
Light, sweet crude was higher by $1.03, or 0.96%, to $108.15. Prices at the pump continue climbing despite recent losses in oil markets.  A gallon of regular gas cost $3.84 on average nationwide, up from $3.55 last month and $2.86 last year, according to the AAA Fuel Gauge Report.
The U.S. dollar slipped 0.43% against a basket of world currencies and the euro gained 0.64% against the greenback.
Corporate News
Toyota Motors (NYSE:TM) plans on extending production cuts until June 3 due to a shortage of parts from Japan.
Yum Brands (NYSE:YUM) said the plaintiff that levied a lawsuit alleging its Taco Bell chain used sub-par beef products -- sparking a flood of negative publicity -- voluntarily dismissed the suit.
Novartis (NYSE:NVS) unveiled first-quarter profits of $2.77 billion, beating estimates of $2.57 billion.
Apple (NASDAQ:AAPL) sued Samsung Electronics, saying its line of Galaxy tablets and phones copies the iPhone and iPad.
Nasdaq OMX Group (NASDAQ:NDAQ) and IntercontinentalExchange (NYSE:ICE) submitted a merger proposal to the NYSE Euronext (NYSE:NYX) after the company rejected the initial bid rivaling the Deutsche Boerse deal. Nasdaq says its deal is worth $2 billion more than the Deutsche Boerse offer and is willing to pay a $350 million fee should it fail to garner approval from regulators.
Foreign Markets
European shares climbed, but fell from session highs, after high-end clothing companies Burberry and LVMH reported upbeat first-quarter results.
The English FTSE 100 was up 0.4% to 5,893, the French CAC 40 gained 0.58% to 3,904 and the German DAX was higher by 0.04% to 7,030.
Concerns over the rate of inflation in China weighed on Asian shares.  The Japanese Nikkei 225 was off 1.2% to 9,441 and the Chinese Hang Seng sunk 1.3% to 23,521.