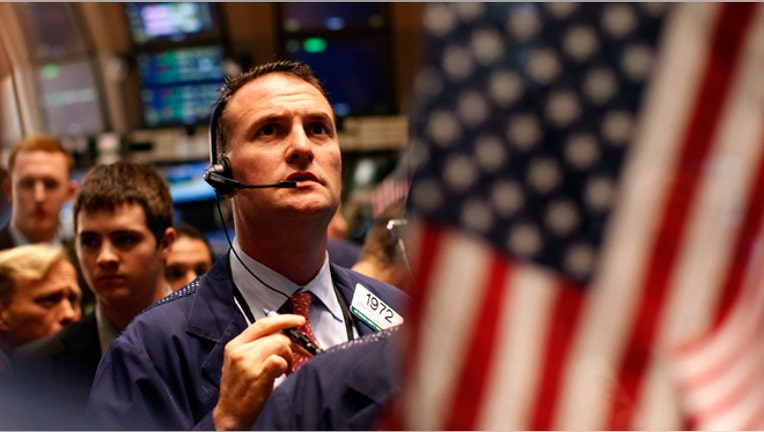 FOX Business: Capitalism Lives Here
A round of strong data on the U.S. economy and housing market helped to at least temporarily ease traders' concerns about the looming fiscal cliff, sending stocks solidly higher.
Today's Markets
According to preliminary calculations, the Dow Jones Industrial Average climbed 60.6 points, or 0.46%, to 13313, the S&P 500 was up 7.9 points, or 0.55%, to 1444 and the Nasdaq Composite rose 6 points, or 0.2%, to 3050.
It has been a manic week on Wall Street. The markets posted a big rally Monday and Tuesday amid optimism talks to avoid the fiscal cliff were heading in a positive direction, and then slid the following day as it became clear serious issues remained.
Market participants were expected to continue watching Washington, D.C. with the Republican-controlled House of Representatives expected vote on two budget-related bills Thursday evening. Both are backup plans aimed at dulling the impact of the fiscal cliff should a broader bargain not be forged. If either are passed, they are expected to face stiff resistance in the Democratic-controlled Senate. The White House has also threatened to veto so-called 'Plan B' if it reaches President Barack Obama's desk.
There were also several economic reports released. A final reading on U.S. gross domestic product from the Commerce Department showed the economy expanded at an annualized rate of 3.1% in the third quarter, up from a previous reading of 2.7%, and higher than the 2.8% economists were expecting. While the report serves as one of the most important economic indicators, economists say the result of U.S. budget talks are likely to have a big impact on the economy's forward trajectory.
Existing home sales rose 5.9% in November from October to a 5.04-million unit annualized rate, the highest since November 2009, according to the National Association of Realtors. The association said sales would have been 'modestly higher' had Hurricane Sandy not occurred.
A report from the Philadelphia Federal Reserve showed the manufacturing sector in the mid-Atlantic region unexpectedly revved up in December. The gauge soared to 8.1 from -10.7, easily besting estimates of -3. Reading above 0 point to expansion, while those below point to contraction.
The Labor Department said new claims for unemployment benefits rose to 361,000 last week from an upwardly revised 344,000 the week prior. Claims were expected to rise to 357,000 from an initially reported 343,000.
In corporate news, IntercontinentalExchange (NYSE:ICE) unveiled plans to buy NYSE Euronext (NYSE:NYX) for $33.12 a share in stock and cash, valuing the exchange operator at roughly $8.2 billion. NYSE closed at $24.05 on Wednesday and was halted in the pre-market.
Commodities markets were fairly flat. The benchmark crude contract rose 15 cents, or 0.17%, to $90.13 a barrel. Wholesale New York Harbor gasoline climbed 0.41% to $2.754 a gallon. In metals, gold sold off by $21.80, or 1.3%, to $1,646 a troy ounce.
Foreign Markets
The Euro Stoxx 50 climbed 0.14% to 2658, the English FTSE 100 fell 0.05% to 5958 and the German DAX edged up 0.05% to 7672.
In Asia, the Japanese Nikkei sold off by 1.2% to 10039 and the Chinese Hang Seng ticked up by 0.16% to 22660.