Universal Display Stock Upgraded: What You Need to Know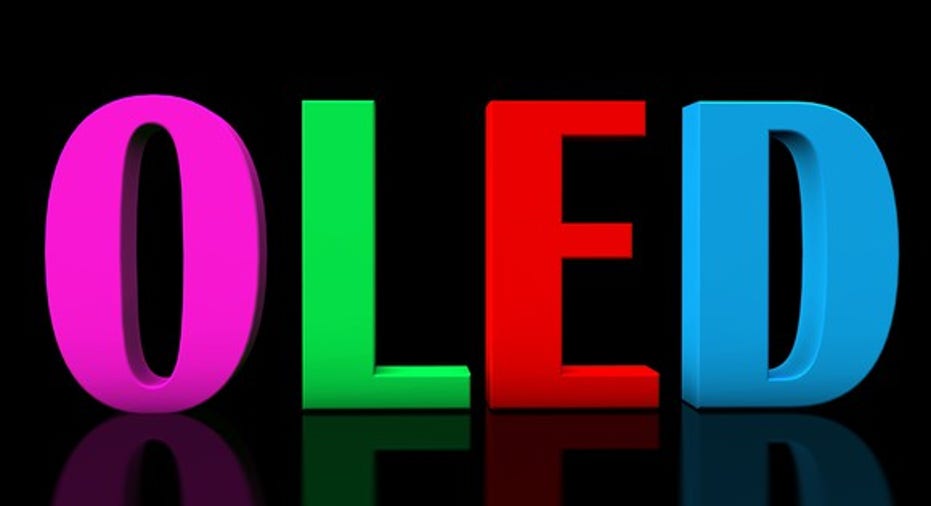 It's been three full months since reports that Apple (NASDAQ: AAPL) would be adding organic light-emitting diode (OLED) displays to only one of its three new iPhone 8 models sent shares of OLED specialist Universal Display (NASDAQ: OLED) stock tumbling 5% in a day. But this week, the momentum is reversing.
On Tuesday, news brokethat Apple has gone ahead and signed a licensing deal with Samsung to order OLED displays for its iPhones. While the rumor doesn't extend to whether Apple will be putting OLED displays in all models of the iPhone 8 or just one, investors are taking the bait either way. Yesterday, Apple stock hit a new all-time intraday high of $135.09 -- and it's pulling Universal Display stock up alongside it.
Here are three things you need to know about that.
OLED screens -- and OLED stock -- are in focus today. Image source: Getty Images.
1. Susquehanna hails the news
It's well-known that Universal Display is a supplier of OLED technology and OLED materials to Samsung -- which we now know will in turn supply OLED screens to Apple. So naturally, Universal Display shares shot 3.6% higher in Tuesday trading, and were up a further 4%on Wednesday morning. Helping to keep the momentum train moving was a new initiation of coverage on the stock from Susquehanna. As reported on StreetInsider.com around about midnight last night, Susquehanna has initiated coverage of Universal Display stock with a "positive" rating and a big, round price target of $100.
2. Stay tuned for more news
Susquehanna's new rating implies a one-year profit potential of nearly 50% on Universal Display stock, which currently sells for just $67 and change. That's a big return for just one year's investment, and we'll get our first clue as to whether it's a realistic hope next week.
On Thursday, Feb. 23, Universal Display plans to release its financial results for fiscal Q4 and full-year 2016.
3. What analysts predict
Here's what Wall Street analysts are telling investors to expect from that report: Profit growth of 8%, from $0.39 per share earned a year ago to $0.42 in profits for Q4 2016. And sales growth of only 10%, with $68.6 million in quarterly sales expected.
If these modest numbers seem like pretty slim reeds to be supporting Susquehanna's expectation of a 50% surge in stock price at Universal Display -- well, they may be. Based on its most recent reported results, Universal Display stock currently sells for nearly 79 times trailing earnings, and 46 times trailing free cash flow. But these numbers could be shrinking soon, as Universal Display's sales (and earnings) increase to meet the new demand for OLED smartphone screens.
According to data from S&P Global Market Intelligence, analysts are looking for Universal Display stock to earn only $0.88 for fiscal 2016 as a whole. But that number is expected to jump 40% to $1.23 in fiscal 2017, then rise to $2.08 in 2018, and $2.80 in 2019. Put it all together, and forecasts currently call for a compound annual earnings growth rate of 47%.
What it means for investors
And I think you'll agree -- if Universal Display can hit the numbers Wall Street is laying out for it, then 47% annualized growth should be sufficient to support a stock selling for 46 times trailing free cash flow.
Whether Universal Display stock can hit and maintain Susquehanna's new $100 target price though, and the even richer valuation that implies, is anybody's guess. It probably depends a lot on whether Universal Display can both achieve the growth rates Wall Street is already expecting -- and then keep those rates growing further.
10 stocks we like better than Universal DisplayWhen investing geniuses David and Tom Gardner have a stock tip, it can pay to listen. After all, the newsletter they have run for over a decade, Motley Fool Stock Advisor, has tripled the market.*
David and Tom just revealed what they believe are the 10 best stocks for investors to buy right now... and Universal Display wasn't one of them! That's right -- they think these 10 stocks are even better buys.
Click here to learn about these picks!
*Stock Advisor returns as of February 6, 2017
Rich Smith has no position in any stocks mentioned. The Motley Fool owns shares of and recommends Apple and Universal Display. The Motley Fool has the following options: long January 2018 $90 calls on Apple and short January 2018 $95 calls on Apple. The Motley Fool has a disclosure policy.