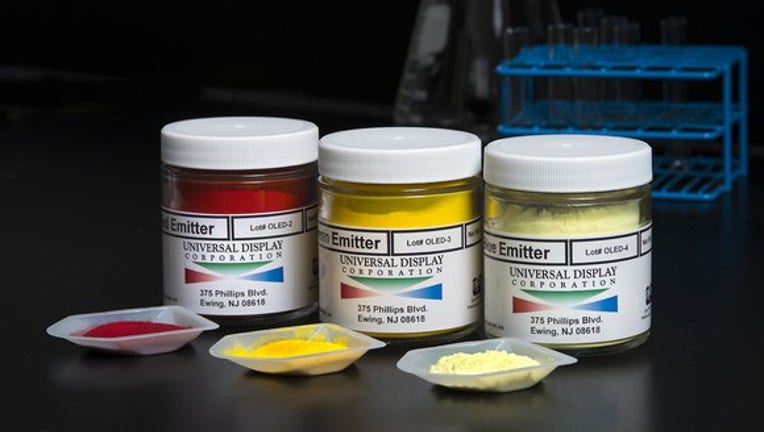 Universal Display Corporation(NASDAQ: OLED)announced fourth-quarter 2016 results Thursday after the market closed. In it, the OLED technologist highlighted the start of adoption of its next-gen emitter materials, declared its first-ever dividend, and offered an encouraging view of the road ahead.
With shares up around 12% in after-hours trading as of this writing, let's take a closer look at how Universal Display ended the year, as well as what investors should expect going forward.
Universal Display's next-generation OLED emitters. IMAGE SOURCE: Universal Display.
Universal Display's results: The raw numbers
| Metric | Q4 2016 | Q4 2015 | Year-Over-Year Growth |
| --- | --- | --- | --- |
| Revenue | $74.6 million | $62.3 million | 19.7% |
| Net income | $25.8 million | $18.1 million | 42.7% |
| Earnings per share | $0.55 | $0.39 | 41% |
Data source: Universal Display Corporation.
What happened with Universal Display this quarter?
This brought full-year 2016 revenue to $198.9 million, marking an increase of 4.1% from $191 million in 2015, and near the high end of guidance provided last quarter-- when the company incidentally told investors it was preparing for accelerated growth -- which called for 2016 revenue of$190 million to $200 million.
This quarter included a $37.5 million payment underUniversal Display's long-term patent and material-supply agreement withSamsungDisplay (SDC). Samsung's total license fee in 2016 was $75 million -- up from $60 million in 2015 -- and is recognized in two equal payments in the second and fourth quarters of each year.
Materials sales climbed 5% year over year, to $29.2 million.
Royalty and license fees rose 27% year over year, to $43.6 million, primarily driven by the increase in SDC royalty revenue.
Contract research services revenue was $1.8 million, stemming from Universal Display's acquisition of Adesis last July.
For the full year of 2016, generated operating cash flow of $80.3 million, down from $113.6 million in 2015. Note that 2015 operating cash flow included an up-front $42 million license and royalty payment.
Ended the year with $343 million in cash, cash equivalents, and investments -- or roughly $7.30 in cash per share outstanding -- up from $301.1 million last quarter.
Universal Display also added $96 million in intangible assets from acquired license rights and "know-how" from its acquisition of BASF patents. The purchase of Adesis also added $16.8 million in intangible assets through customer relationships, internally developed IP, and trade names, as well as goodwill of $15.5 million.
Announced Universal Display's first cash dividend of $0.03 per share, payable on March 31, 2017 to all shareholders of record at the close of business on March 15, 2017.
Invested $15 million in PPG's (NYSE: PPG) Barberton, Ohio, manufacturing facility to double commercial production capacity for UniversalPHOLED phosphorescent emitter products. This expansion project is scheduled for completion in the third quarter of 2017.
What management had to say
According to Universal Display CFO Sidney Rosenblatt:
During the subsequent conference call, Rosenblatt elaborated that the dividend "reflects the board of directors' confidence in Universal Display's robust future growth opportunities, expected continued positive cash flow generation, and commitment to return capital to our shareholders."
Looking forward
Universal Display offered its initial guidance for the coming year as well. With the caveat that "the OLED industry is still at an early state where many variables can have a material impact on its growth," Universal Display expects 2017 revenue to be in the range of $230 million to $250 million, good for year-over-year growth of 15.6% to 25.7% from 2016. Also during the call, management confirmed this guidance includes Samsung's 2017 license fee of $90 million, marking another $15 million annual increase per the terms of their agreement.
In the end, this was an undeniably solid report from Universal Display. Just as management suggested would be the case two quarters ago, it's also encouraging to see its customers finally beginning to adopt Universal Display's next-generation emitters. As its flagship OLED technology continues to proliferate across mobile devices, wearable technology, televisions and (soon) more lighting applications, it's no surprise to see Universal Display stock trading at an all-time high right now.
10 stocks we like better than Universal DisplayWhen investing geniuses David and Tom Gardner have a stock tip, it can pay to listen. After all, the newsletter they have run for over a decade, Motley Fool Stock Advisor, has tripled the market.*
David and Tom just revealed what they believe are the 10 best stocks for investors to buy right now... and Universal Display wasn't one of them! That's right -- they think these 10 stocks are even better buys.
Click here to learn about these picks!
*Stock Advisor returns as of February 6, 2017
Steve Symington owns shares of Universal Display. The Motley Fool owns shares of and recommends Universal Display. The Motley Fool has a disclosure policy.