United Technologies Raises Guidance; Shares Sink (Wait. What?)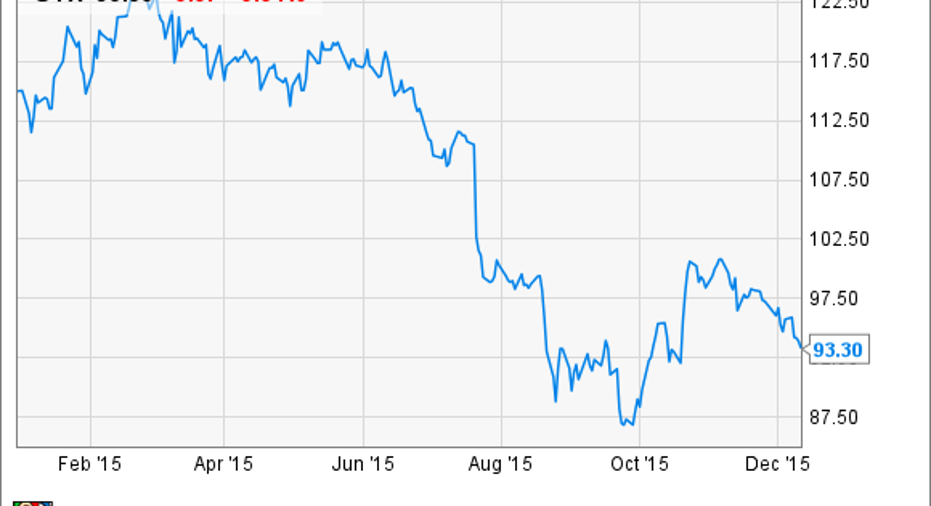 United Technologies shares have gone mainly in one direction (and the wrong one) all year long.UTX data by YCharts.
This is not how things were supposed to work.
On Thursday, United Technologies held a meeting with investors and stock analysts, at which the company raised its guidance on profits for the year. Management went on to promise growing profits in the new year, significant cost cuts to continue expanding profitability -- and a big stock buyback, to concentrate profits among shareholders who stick around while the company gets its financial house in order.
Sadly, the stock sank more than half a percentage point in response to the news. So what went wrong?
ProfitsWith the year more than 90% over, management's view of how profits will shape up this year should be pretty complete by now. It's encouraging that the company raised the floor on profits guidance by a nickel, to $6.20, but United Tech declined to raise the high end on guidance at all. The most we can hope for this year, it seems, is still $6.30 per share.
Meanwhile, management initiated new guidance for the year to come. "Adjusted" earnings are likely to come in between $6.30 and $6.60 per share. Depending on how 2015 shakes out, that could be growth of 6.5% at best -- and 0% at worst.
RevenuesAt last report, United Technologies was hoping to record $57 billion to $58 billion in revenues by year end. Although management raised guidance for profits, it said nothing new on revenues. It seems no improvement in those numbers can be expected this year.
As for next year, the most United Tech will promise is "organic growth" of 1% to 3%, and total sales of $56 billion to $58 billion. Yes, you read that right: Zero growth is the best we can hope for, and revenues could very well shrink.
RestructuringUnited Technologies' sale of Sikorsky to Lockheed Martin this past summer is working out swimmingly -- for Lockheed Martin. Already this year, Sikorsky has announced helicopter contract wins in Saudi Arabia, Jordan, and Mexico, all of which promise to benefit new owner Lockheed Martin. But the loss of a business that generated $7.45 billion for United Technologies last year (according to data from S&P Capital IQ) is going to hit the seller hard.
United Tech is moving quickly to redeploy the $9 billion collected from its Sikorsky sale, however. Some cash may be used to invest in new businesses. The vast majority, $6 billion, will be plowed into stock repurchases that could reduce United Tech's share count by as much as 7%, concentrating companywide net profits among fewer shares, and boosting earnings per share.
Simultaneously, United Tech will be instituting "structural cost reductions in high-cost locations." In the short term, these will cost the company money -- management describes it as a "$1.5 billion multi-year restructuring plan" and says restructuring charges will rise to $400 million in 2015 alone. Longer term, though, United Tech says its cost-cutting will end up trimming $900 million in costs annually -- boosting pre-tax profits by perhaps $1 per share before the benefits of the buybacks are even accounted for.
What it means for investorsAfter a year that has seen United Technologies stock lose 20% of its value, investors may be beginning to lose patience with this conglomerate. But if you ask me, that would be a mistake. While I still don't agree with the decision to let Sikorsky go, CEO Gregory Hayes is at least making the right moves to redeploy his Sikorsky profits to the benefit of shareholders.
Cost-cutting and share buybacks promise something on the order of 20% improvement in per-share profits once fully implemented. Combined with a long-term earnings growth rate that analysts put at 8%, I suspect United Technologies shares will soon bottom, and begin to rise once more.
It may take some time for these profits to materialize, of course. But with United Technologies paying its shareholders a respectable 2.7% dividend for their patience, it may well pay to wait and see how this all plays out.
The article United Technologies Raises Guidance; Shares Sink (Wait. What?) originally appeared on Fool.com.
Rich Smithdoes not own shares of, nor is he short, any company named above. You can find him onMotley Fool CAPS, publicly pontificating under the handleTMFDitty, where he's currently ranked No. 300 out of more than 75,000 rated members.The Motley Fool has no position in any of the stocks mentioned. Try any of our Foolish newsletter services free for 30 days. We Fools may not all hold the same opinions, but we all believe that considering a diverse range of insights makes us better investors. The Motley Fool has a disclosure policy.
Copyright 1995 - 2015 The Motley Fool, LLC. All rights reserved. The Motley Fool has a disclosure policy.