United Technologies Lands a $1 Billion Engine Contract for the F-35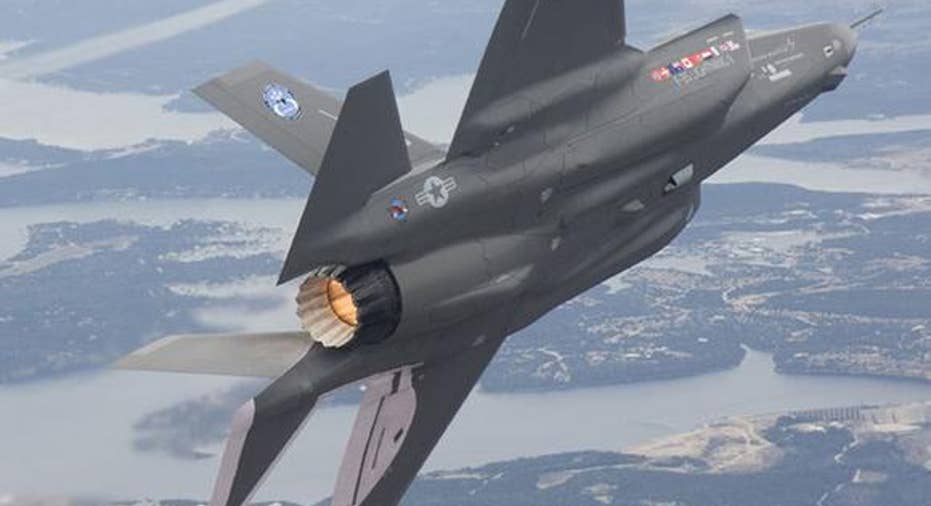 The F-35 sure is a pretty plane. But for investors, its engine may be its most attractive feature. Image source: United Technologies.
The U.S. Air Force may not be too fond of its fleet of A-10 Warthog fighter-bombers -- but boy, do they ever love their F-35s! That's great news for Lockheed Martin , certainly.
But as it turns out, it may be even better news for United Technologies -- and in a moment, I'll tell you why. But first, the news.
You get an F135 jet engine! And you get an F135 jet engine! Every! Body! Gets an F135 jet engine!Last week, on an incredibly good day for United Technologies, the U.S. Pentagon released its latest daily briefing of contracts awarded to private industry in support of the U.S. military. Topping the list of the day's biggest awards was a contract requiring United Technologies to supply:
the U.S. Air Force with 28 F135-PW-100 conventional take-off and landing propulsion systems (F-35A engines)
a further 18 F135-PW-100s to foreign buyers of the F-35
four more F135-PW-100s to the U.S. Navy
six F135-PW-600 engines for the Marine Corps' F-35B hoverjet
seven more F135-PW-600s for international customers
Tally them all up, and that's a contract for a total of 63 engines to power 63 aircraft (albeit 11 of the -100s are described as spares). And it's $1.04 billion in new revenue for United Technologies -- about $16.5 million per engine.
What it means to United Technologies Now admittedly, at an average per-plane unit cost of $138 million (per the GAO's latest assessment), this contract may, on its face, look like a bigger deal for Lockheed Martin, as it implies the imminent sale of at least 52 airplanes at their much higher sticker prices. But consider this:
At last report, Lockheed Martin was only earning about a 7% operating profit margin on its F-35s. That's far below the company's overall operating profit margin of 11.8%, according to data from S&P Global Market Intelligence. In contrast, United Technologies' Pratt & Whitney division, which builds the F135 engine for the military, earns a superb 22.5% profit margin on its products versus the 15% margin that United Technologies, as a whole, produces.
Translation: F135 fighter-jet engines are a very good business for United Technologies -- pound for pound, about 50% more profitable than the average widget that UTC produces in any other division.
What it means for investorsAccording to military experts around the globe, Lockheed Martin is expected to produce and sell upward of 3,100 F-35A, F-35B, and F-35C fighter jets to the U.S. and its allies during the next 60-odd years, producing well in excess of $1 trillion in revenue from product sales, service, maintenance, and upgrades to the craft. If all Lockheed Martin can manage is a 7% profit margin on those revenues, however, it will be one of the biggest instances of squandered profit potential in recorded history.
At the same time, though, if United Technologies can continue racking up 22.5% profit margins from building 3,100 engines (or more -- remember, nearly 20% of last Monday's order was for "spares") for the U.S. and its allies, well, United Technologies is going to be a simply fantastic stock to own.
And the kicker? Selling for 12 times earnings today, one share of United Technologies stock is already nearly 40% cheaper than Lockheed Martin. Invest accordingly.
The article United Technologies Lands a $1 Billion Engine Contract for the F-35 originally appeared on Fool.com.
Rich Smithdoes not own shares of, nor is he short, any company named above. You can find him onMotley Fool CAPS, publicly pontificating under the handleTMFDitty, where he's currently ranked No. 283 out of more than 75,000 rated members. Follow him on Facebook for the latest in defense news.The Motley Fool has no position in any of the stocks mentioned. Try any of our Foolish newsletter services free for 30 days. We Fools may not all hold the same opinions, but we all believe that considering a diverse range of insights makes us better investors. The Motley Fool has a disclosure policy.
Copyright 1995 - 2016 The Motley Fool, LLC. All rights reserved. The Motley Fool has a disclosure policy.