United Parcel Service Eeeks Out Decent Results, Thanks to Ecommerce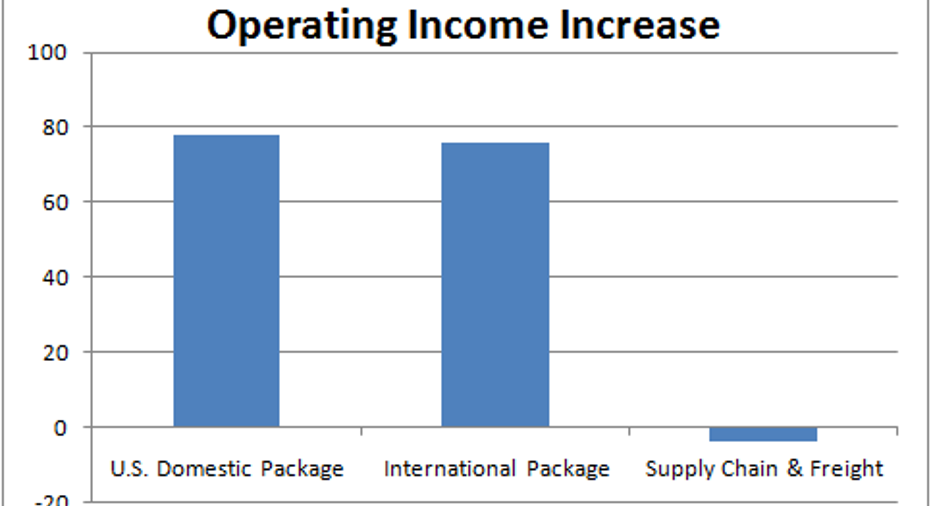 managed to navigate the waters of difficult economic conditions in the first-quarter in producing a pretty solid set of results. As with key rival , UPS is seeing strong e-commerce (particularly Business to Consumer, or B2C) growth supplant weakness in the industrial economy. This is unsurprising, as the theme of consumer-facing businesses outgrowing industrial-facing ones is a recurring one this earnings season. Let's see how the company managed to extract 9% operating income growth ina quarter when other companies have floundered.
United Parcel Service first quarter: The raw numbers Total revenue grew just 3.2%, but total operating expenses grew a more moderate 2.4% leading to a 9% increase in operating income. In other words, the key to the quarter was operating income margin expansion to 12.6% from 12% in last year's first-quarter. To get a feel for how UPS accomplished this feat, here is a segmental breakout.
| | | | | | |
| --- | --- | --- | --- | --- | --- |
| | Revenue | growth | Operating Income | growth | Margin Expansion (bp) |
| U.S. Domestic Package | 9084 | 3.1% | 1102 | 7.6% | 51 |
| International Package | 2914 | (1.9%) | 574 | 15.3% | 293 |
| Supply Chain & Freight | 2420 | 10.4% | 147 | (2.6%) | (81) |
| Total | 14418 | 3.2% | 1823 | 9% | 67 |
DATA SOURCE: UNITED PARCEL SERVICE PRESENTATIONS. ALL DATA IN MILLIONS OF US DOLLARS. BP IS BASIS POINTS, WHERE 100 BP EQUALS 1%
Obviously, UPS' supply chain and freight division was hit by weak industrial production. The revenue increase is due to the Coyote Logistics acquisition in the third-quarter of 2015. However, margins came under pressure from what management called "weak market conditions in the Air Freight Forwarding and LTL markets." LTL stands for Less-Than-Truckload, a particularly cyclical part of the logistics industry.
On a more positive note, UPS's international package segment continued its five-quarter streak of double-digit operating income growth, and margin expansion in the U.S. domestic segment was equally impressive. The question is how did UPS manage this?
DATA SOURCE: UNITED PARCEL SERVICE PRESENTATIONS. MILLIONS OF US DOLLARS
What happened in the quarter? Starting with the international segment, the key contributor to income growth were gains innetwork efficiency. As you can see above revenue fell 1.9% (flat on a currency neutral basis) and revenue per package fell 0.5% on a reported basis (up 1.6% on a currency neutral basis), so UPS got little help from end demand.
However, management has taken substantive action to strip out costs and generate productivity gains in the last year. It's an impressive result given that the first-quarter numbers came up against a 13.7% operating income increase in the same period last-year.
Turning to the key U.S. domestic segment, the tale of the quarter is best expressed by looking at a chart of the segment's revenue, revenue per piece, and volume growth. As you can see below revenue per piece turned negative as rate improvements were offset by lower fuel surcharges. In addition, the relative increase in B2C deliveries as opposed to B2B (business-to-business) deliveries pressured revenue per package.
However, good growth in daily package volume led by "High demand from e-commerce shippers contributed to fast growth in business-to-consumer (B2C) deliveries this quarter," according to management on the earnings release.
DATA SOURCE:UNITED PARCEL SERVICE PRESENTATIONS
Moreover, in common with FedEx's last earnings UPS is seeing good growth in its premium air services. UPS's next-day-air (a premium service) daily package volume increased 3% in the first-quarter, a rate only slightly below the 3.3% volume increase in ground. In contrast UPS's deferred volume fell 1.8% in the quarter.
Management put the improvement in next-day-air volumes down to expansion in its services. However, if it's also due to a shift in customer preferences to quicker, more expensive deliveries, then FedEx's express services could be a beneficiary.
Looking ahead Despite a weakening economy, management maintained full-year guidance for EPS in the range of $5.70 to $5.90 -- a follow-up on exceptional execution in the first-quarter. The environment isn't ideal but UPS and FedEx are wringing every bit of profit growth they can get out of burgeoning e-commerce demand. This strategy, coupled with productivity improvements, led to a decent first quarter showing by UPS.
The article United Parcel Service Eeeks Out Decent Results, Thanks to Ecommerce originally appeared on Fool.com.
Lee Samaha has no position in any stocks mentioned. The Motley Fool owns shares of and recommends FedEx. The Motley Fool recommends United Parcel Service. Try any of our Foolish newsletter services free for 30 days. We Fools may not all hold the same opinions, but we all believe that considering a diverse range of insights makes us better investors. The Motley Fool has a disclosure policy.
Copyright 1995 - 2016 The Motley Fool, LLC. All rights reserved. The Motley Fool has a disclosure policy.