United Continental's Revenue Slump Continues: Can American Airlines Do Better?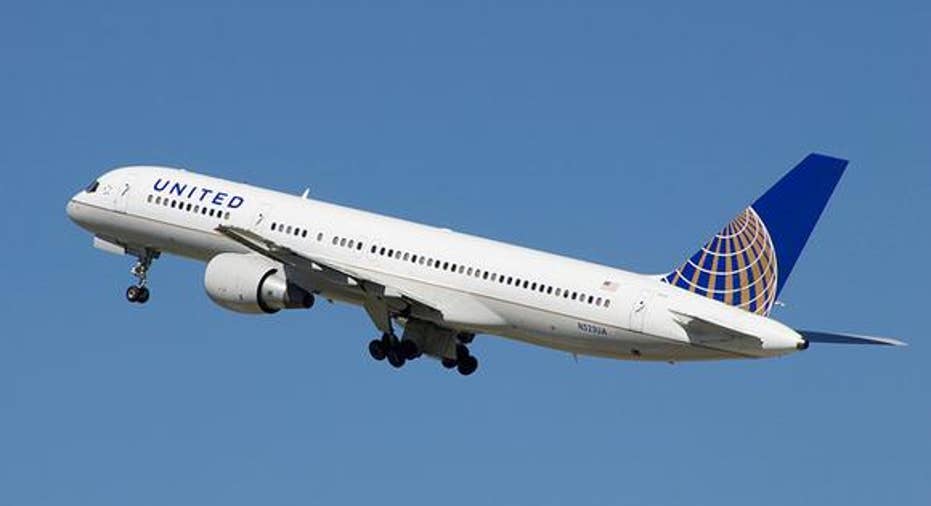 The three U.S. legacy carriers have encountered severe revenue pressure since early 2015 due to rising competition in the domestic market and the combined impact of the strong dollar, falling fuel surcharges, and weaker demand on international routes.
Last week, Delta Air Lines reported that unit revenue trends were starting to improve.However, on Wednesday afternoon, United Continental posted a steep unit revenue decline for Q1 and offered a gloomy forecast for Q2. This raises the stakes for American Airlines , which will report its earnings on Friday.
Weak unit revenue but solid Q1 earningsLast quarter, United's revenue fell 4.8% year over year to $8.2 billion as passenger revenue per available seat mile (PRASM) slumped 7.4%.
PRASM slumped 7.4% at United last quarter. Image source: The Motley Fool.
However, the company was able to fully offset this revenue decline thanks to vastly lower fuel costs and a modest improvement in fuel efficiency. United's total fuel expense fell by 35% year over year, delivering more than $600 million of savings.
As a result, United managed to produce earnings per share of $1.23, just ahead of the average analyst estimate of $1.18.
Guidance is the problemAirline investors are well aware of the revenue weakness that has affected all three legacy carriers since early 2015. However, with year-over-year comparisons starting to get easier in Q2, investors are hoping to see solid improvement over the next few quarters.
Delta Air Lines had some good news to report on this front. Delta's PRASM fell 4.6% in Q1, but the company projected a smaller 2.5% to 4.5% PRASM decline for Q2. Moreover, the company reiterated its forecast that unit revenue would return to growth at some point in 2016, and said that unit revenue would turn positive in the domestic market by the summer.
Unit revenue trends are starting to improve at Delta. Image source: The Motley Fool.
On the company's January earnings call, United's management projected sequential unit revenue improvements over the course of 2016. However, in an investor update released along with its earnings report on Wednesday, United forecast that PRASM would decline 6.5% to 8.5% in Q2. That's no better than its performance last quarter.
Some part of the unit revenue weakness is (deliberately) self-inflicted. United is in the midst of "upgauging" its fleet to larger aircraft. With more seats on each flight, unit revenue tends to be lower -- but this is more than offset by lower unit costs. However, this factor can only account for a small portion of United's ongoing unit revenue declines.
United is responding to the weak revenue outlook by dialing back its capacity growth. Back in January, the company said that it planned to increase capacity 1.5% to 2.5% year over year in 2016. Now it plans to increase capacity by just 1% to 2% for the full year. But cuts of this magnitude will only have a modest impact on United's unit revenue trajectory.
Can American Airlines do better?Delta shareholders have no reason to worry about this weak outlook from United. Delta has consistently posted the best unit revenue performance of the three legacy carriers over the past year or so. There's no reason to doubt Delta's more optimistic revenue outlook.
On the other hand, American Airlines has had just as much revenue trouble as United over the past year. American projects that PRASM declined 7% to 8% last quarter.
Can American Airlines mirror Delta's unit revenue recovery? Image source: American Airlines.
United's weak unit revenue guidance has to make American Airlines investors nervous about whether American will provide equally dismal guidance when it reports earnings on Friday. Its larger domestic presence relative to United may help it a bit, but American's large footprint in Brazil remains a big liability due to the turbulent political and economic situation there.
Thus, it's possible that Delta Air Lines is pulling further ahead of its rivals in terms of unit revenue and profitability. But it's also possible that American will keep pace with Delta, while United Continental is falling further behind. We'll find out which is the case on Friday.
The article United Continental's Revenue Slump Continues: Can American Airlines Do Better? originally appeared on Fool.com.
Adam Levine-Weinberg owns shares of United Continental Holdings, and is long January 2017 $40 calls on Delta Air Lines, and long January 2017 $30 calls on American Airlines Group. The Motley Fool is long January 2017 $35 calls on American Airlines Group. Try any of our Foolish newsletter services free for 30 days. We Fools may not all hold the same opinions, but we all believe that considering a diverse range of insights makes us better investors. The Motley Fool has a disclosure policy.
Copyright 1995 - 2016 The Motley Fool, LLC. All rights reserved. The Motley Fool has a disclosure policy.