United Airlines Keeps Making Life Better for Customers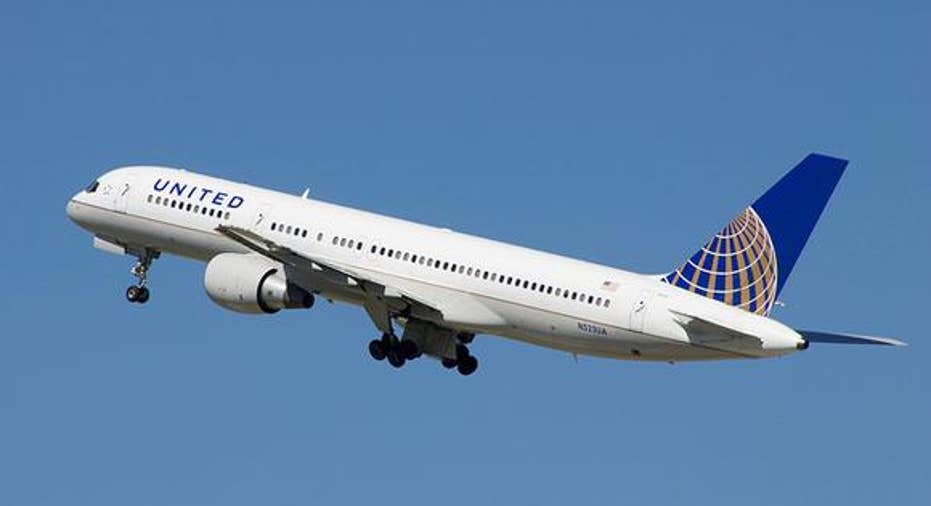 New United Continental CEO Oscar Munoz has made it clear that a key part of his plan to get the company back to industry-leading profitability is to regain customers' loyalty. Munoz is on medical leave until sometime next quarter, but the rest of the management team made it clear during United's October earnings call that they would get started in his absence.
United Airlines is working to rebuild its reputation with fliers. Image source: The Motley Fool.
Indeed, acting CEO Brett Hart and Chief Revenue Officer Jim Compton said that United would be rolling out multiple customer-friendly changes before the end of 2015. This week, they delivered yet another welcome improvement: free snacks.
Regaining loyalty, one step at a timeUnited announced its first change last month: serving better coffee. The carrier had been getting a lot of complaints about its coffee in recent years. While there probably aren't many people who decide which airline to fly based on the coffee, United serves more than 60 million cups a year, so this impacts lots of people.
United will begin serving illy coffee on all its flights by next summer. Image source: The Motley Fool.
United ran a new round of taste tests and the eventual winner was Italian premium coffee brand illy. The new illy coffee will be offered in some United Club locations beginning this month, and will be rolled out on all flights by next summer.
Earlier this month, United announced another nice change: economy passengers flying to Bogota, Colombia, and Quito, Ecuador, will now get complimentary meals. United will make beer and wine complimentary for economy-class passengers on flights to those cities and a few others as well. United is also rolling out an upgraded menu for business-class passengers on many Latin American routes.
This set of changes only affects a small subset of United's passengers -- but it will significantly improve the quality of their experience.
United's biggest change yetOn Wednesday, United announced its biggest customer-friendly improvement yet. It is bringing back free snacks for economy-class passengers on thousands of daily flights.
Continental Airlines stopped offering free snacks in March 2011, shortly after the United-Continental merger. (United had stopped giving away snacks before that.) It was a cost-cutting move at a time when airline profitability was being squeezed by soaring fuel prices.
Stroopwafel -- a Dutch caramel-filled waffle -- is one of United's new snacks. Image source: United Airlines.
Today, United Continental can clearly afford the cost of providing snacks. And it's going beyond the traditional peanuts and pretzels in an effort to stand out. For morning flights, United will provide a Dutch caramel-filled waffle. Flights taking off after 9:45 a.m. will have options like an Asian-style snack mix of rice cakes, sesame sticks, and wasabi peas.
Turning the shipBringing back free snacks is a relatively small gesture. From a symbolic point of view, though, it's a highly visible change that may help reverse the perception that United is constantly nickel-and-diming its customers. It could also get skeptical customers to pay closer attention to the other service improvements United has been implementing.
This makes it more important than ever for United Continental to execute on basics like on-time arrivals and friendly customer service. The company is already improving on these metrics. It is also rolling out new tools to improve customer service, such as equipping more than 6,000 customer service agents at its hubs with iPhone 6 Plus devices that will allow them to print customers' boarding passes and rebook flights on the go.
It will take time for United Continental to overcome negative customer perceptions that have become deeply ingrained over the past several years. However, the company appears to be on the right track.
The article United Airlines Keeps Making Life Better for Customers originally appeared on Fool.com.
Adam Levine-Weinberg owns shares of United Continental Holdings, The Motley Fool has no position in any of the stocks mentioned. Try any of our Foolish newsletter services free for 30 days. We Fools may not all hold the same opinions, but we all believe that considering a diverse range of insights makes us better investors. The Motley Fool has a disclosure policy.
Copyright 1995 - 2015 The Motley Fool, LLC. All rights reserved. The Motley Fool has a disclosure policy.